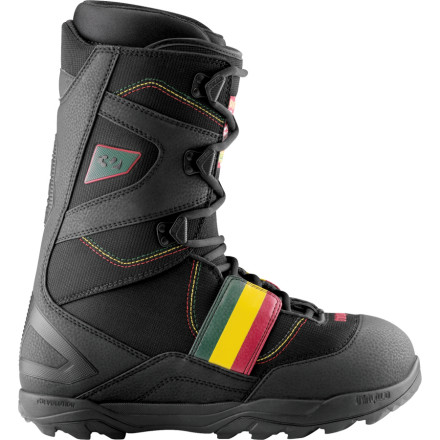 Community Images
We???re not about to claim that wearing the ThirtyTwo Men???s JP Prospect Snowboard Boot will turn you into a snowboard legend overnight. That would be preying on your weak, gullible mind. But working your ass off to push your own personal envelope while rocking this lightweight, flexy boot, just might make you worthy of carrying JP Walker???s board for him someday. Or yeah, OK, maybe someday starring in your own film.
STI Evolution Foam EVA outsole reduces weight and absorbs shock for a cushy ride
Articulating-cuff shell construction delivers smooth flex and reduces heel lift
Independent eyestays in the Power Wrap system lock down your forefoot for enhanced control
3-D, molded tongue enhances fit and feel
Heat-moldable Level 2 liner includes full-length lacing system and hook-and-loop closure on the cuff
Hidden loop on toe box attaches to your pants gaiter to seal out snow
Aegis antimicrobial coating in the liner prevents your boot from becoming a weapon of mass destruction when you pull it off
WHAT HAPPENED TO THE QUALITY.
I had an old pair of thirtytwo "Prospect" model boots that i rode for over 6 seasons. So i bought these thinking they would be just as great. right!? Well they started ripping at the laces first season, and are to soft of a boot. the new linners suck too. Seems like thirtytwo has lost their drive for a quality product. they used to be the best boot in the business. I hope all the new models liners are not like the ones i got. good beginner boot but that is about it.
Intermediate wakeboarder, but beginner snowboarder. Wanted something not too flexy with enough support as my Liquid Force Transit bindings. Took a gamble on this, and voila!... was very much pleased. Ample support, lightweight, and bang-for-your-buck. 'Nuff said.
Used to ride the ultralights but have had the prospects for the last 2 seasons. They are pretty trashed at this point but still doing alright considering I've ridden them in 3 dif seasons. They aren't "too stiff". They are what you would expect from a solid 32 boot. Like all boots you need to break them in to get that nice feel. "Too squeeky"? Lol, what is that even supposed to mean man.

I never have any problems with circulation. Maybe you just need to loosen them a little bit. Good boot. Not sure If I will be purchasing these specific ones again but def staying withing the 32 line. 11 or 12 season riding. Will never buy anything other than 32 boots again. Never done me wrong the last 5 years. Best switch I ever made.
not as good as you would think
I have last years prospects. these boots are terrible for me at least. These boots cut off the circulation in the bottom half of my foot making it uncomfortable to ride. Boots are ver loud and squeaky. Lastly the boots are very stiff. I ride mostly park and these boots have been nothing but a pain in the ass. The only good things about them were the looks. I've tried other 32 boots and they've all been a lot comfier its not the brand its the boot