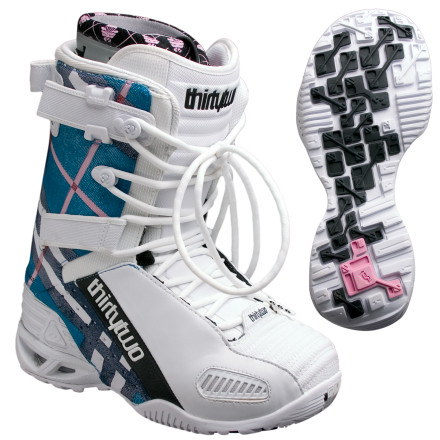 Detail Images
A little stiff at first like any other boot. After riding 7 days straight getting better every time, with molding to your feet. Great control boot in carving. True to shoe size. Very cush on landings.
These Boots feel soooo nice! The moldable liners are incredible. It's kind of a pain to get them on and off, but when they are on they fit so well. I really like the pulley system that pushes the tongue back into my shin and holds my heel down. The lacing system for the inside boot is pretty cool too. Overall, I love these boots!
I got these boots in black, and I can say only one word- CLEAN. I wanted black to match the rest of my gear but these puppies stand out, in my mind anyways. Super lite and comfy, can't go wrong. The lacing system on these boots is H-CORE. It pulls everything together tightly with the last tug on the laces making the boot fit snug and mold to my foot:) Definitely nicer than I thought they'd be AND I got express shipping because I was going to the mountains in five days; I was worried the boots wouldn't be here in time but it only took one business day:) OVERALL = HAPPY WITH THIS GOOD CHOICE
, ☃bcs_badge_alumni_label☃
Throw Bangers with the 306
I had a pair of 305's last season and loved them. The 306 are the next version of the 305. The flex is simular to the TM-2, but these have a tighter feel around the top/closure area. Great all-around boot. You can't go wrong....
, ☃bcs_badge_alumni_label☃
Super Comfy
These boots fit like a slipper right out of the box. I liked that the sizing was exactly the same as my shoes. These boots are great because they have a system that when you tighten the laces, it pulls the tongue of the boot back into your shin, helping to eliminate the gap that can limit response on toe side turns. The flex is not too stiff but not soft, which is great because I ride all over the mountain. I also love that the bottom of the liner does not have a footbed, so it molds around the bottom of your foot. I have a high arch, and it filled in the area, and I do not have any pain after riding for several hours like I used to with other boots.