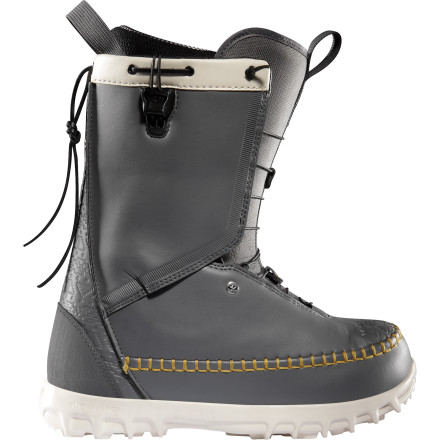 Do you remember baseless bindings? Do you long for the days of chicken-salad grabs and buttered muffins? If you answered yes to the above, you may be qualified for the ThirtyTwo Juhyo FT Lace Boot. Plenty of cush and a medium-stiff flex make the Juhyo ideal for all-mountain mayhem, while the vintage styling takes you back to the good-ol-days when snowboards weren???t allowed at most resorts and halfpipes were still dug by hand.
FastTrack lacing system independently tightens the boot???s upper and lower zones with the pull of a cord, for a convenient and customizable fit
STI Evolution Foam outsole with a G2 gel heel insert improves cushioning and reduces weight compared to traditional rubber soles
Articulating cuff allows a smooth, kink-free flex throughout the boot???s range of motion
What do you think about this product?
Have questions about this product?
The perfect flex! My board felt instantly more responsive charging but I could still butter and press with ease. The heel cushioning is great for spins in the park that leave you landing a bit too hard on edge. The real test - Tailgate AK where these boots kept my feet warm and dry thru many days of backcountry riding and ice cave camping. In terms of style, they turn heads and make skiers want to quit as you slacken the quick laces and chill at the bar. The BEST boots I have ridden!
I got to demo these boots last year at Mammoth and they're insane. So easy to get on and off. The Fast Track lacing system is so simple and awesome. I just bought a pair. HYPED
Unanswered Question
How do these run size wise? I wear a 10.5...
How do these run size wise? I wear a 10.5 shoe, will a 10.5 boot suffice?