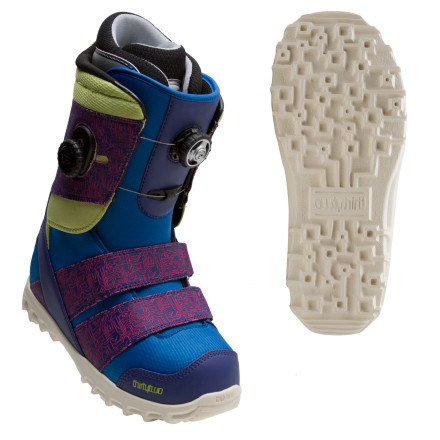 Detail Images
Unanswered Question
where can I get Mens Circuit and Focus...
where can I get Mens Circuit and Focus boas in a mens size 38 european = mens size 5 U.K. = mens USA size 6
Sick design, cool sole patter, multiple tightening systems. easy to get on and off. I'll never go with laces again. Thank you 32
I got the circuit boas and the dc judge core this year.
i like how the circuit boa fit and tighten. my feet specially my toes were quite comfortable in 'em. they were just a bit too stiff for me on every day riding. Although they were great on powder days when you really need control. I also found the liners to be very hard at first but softens after a bit. They fit pretty nice and comfy after heat molding it. the dc judge core were, in comparison, medium in flex, which was forgiving enough on any type of riding. The fit was a bit too tight for me on the toe part and also the top of my foot. I guess they are meant for regular to slim footed riders. side by side, the dc's had a smaller food bed compared to the thirtytwo's. the judge's liners were a bit softer feeling inside overall. Despite of this, the circuit boas were still a bit lighter somehow. Also, i think the circuit's wrap lacing is less susceptible to board edge cutting of wires since they are on the sides and not on the top of the foot . Over all, i like the circuits a lot if only they were a bit softer in flex.
considering i didnt even ride in them, only tried them on and found them too small i think they may be a good boot. i feel like thirty two's tie up so tight that i can loose circulation to my feet while at the same time still be able to move my feet and raise my heel.
I was wondering if anyone could tell me...
I was wondering if anyone could tell me about the fit of ThirtyTwo boots, do they fit true to size and are they suitable for narrow feet?
i just tried on a couple pairs, one was the lashed the other was a single boa. Put on a fat sock and it felt right on with just a tad of wiggle room. I'd say they're pretty true to size, if I had to pick i'd say order up a half size rather than down. I wear an 8 street shoe, 8.5 DC boots(on the snug side) and both 8.5 32's felt perfect.