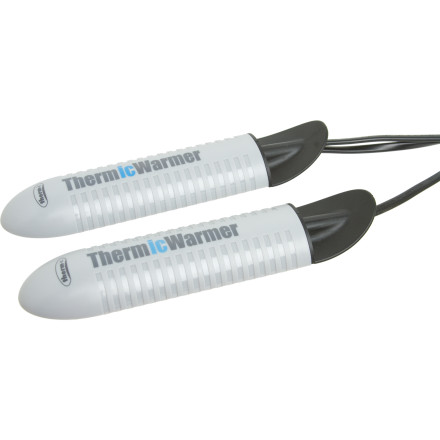 Detail Images
Oops—your boots spend the night on the porch; last weekend you had to pull them on straight after a night in the car. Since you seem to have a chronic problem with remembering to bring you boots in somewhere warm for the night, maybe you'd better invest in the Therm-ic Boot Warmer. Simply plug it into your car's lighter plug, drop the warming units in your boots, and let it do its work as you drive to the mountain. Now you'll be able to enjoy warm, dry boots—no matter where they spent the night.
Reaches operating temperature in minutes, and provides optimal heat circulation
Built-in overheating prevention protects your liners
Works for shoes and gloves, too
What do you think about this product?
Have questions about this product?
I use the Thermic boot heaters for two reasons.

1. Heating up my boots in the morning makes getting the boots on much easier
2. Drying my boots after a day of skiing helps keep the stink factor down.
Therm-ic Boot Warmer - 12V with Car Lighter Plug
This is perfect if you're one of those people whose ski boots live in the car. Plug 'em in on the way up and your boots are nice and toasty when you get to the mountain.