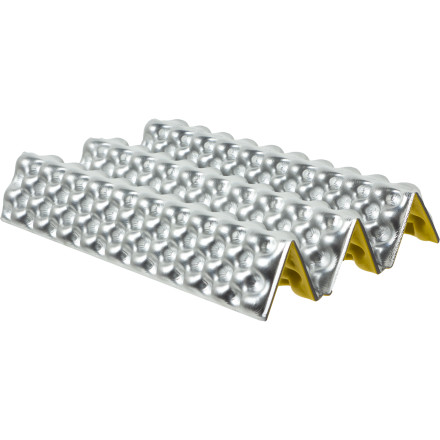 We've all been there: that point after a long hike or the tedium of setting up camp when you just want to give your legs a rest and take a seat without freezing your butt or getting a mix of pointy rocks and mud lodged in your pants. But, if you're like most reasonable folk, you didn't haul your recliner up the mountain. The Therm-a-Rest Z-Seat Camp Chair turns any old log, rock, or snowbank into a luxurious place to plant your butt.
Accordion-style shape folds up neatly
Closed-cell foam is durable and lightweight
Pad's insulation has a 2.2 R-value and is 0.75in (2cm) thick
Smart design stays flat and resists curling
Get your own!
Familiarity:

I've put it through the wringer
After using the Z-rest on pretty much every backpacking trip over the last 5 years, I figured I had to have this little beauty for long day hikes. Most of my long day hikes are either in the soggy Uintas, along the sandy slickrock of Southern Utah, or end up at a beyond rocky peak, and this perfect little Z-Seat brings me much needed comfort after a long slog.

On most long days in the Uintas you are certain to find yourself in a proper rainstorm, this is the perfect seat to relax on under your makeshift shelter to weather the storm.

This little seat also folds in half perfect to add extra comfort and support to most daypacks.

Only issue I have had with this, is feeling bad when I am beyond comfortable and my adventure buddy is stuck looking for creative ways of staying dry or comfy. Well worth having one of these in your kit and you will not even notice the weight or size.
Can't beat this seat!
Familiarity:

I've used it once or twice and have initial impressions
Durable, comfy enough, light, and a great price.
This is awesome!
Familiarity:

I've used it several times
It really takes up very little room and makes whatever ground (or seat) you are sitting on pretty comfortable. Who likes a wet butt? Or a cold one? Quick to open, quick to stuff back in your pack. Highly recommended!
Got my money's worth
Familiarity:

I've put it through the wringer
This seat is light enough to always be with you when a bit of cushion and a dry behind is a well appreciated luxury. After several trips that included stuffing it down to the smallest size daily the pad finally lost some of its loft making a replacement purchase necessary.
I have a Therm-a-Rest Z Lite SOL,

What would be the disadvantages for cutting my pad to use a short section as a seat, compared to purchasing this seat? Respectively, what would be the advantages to having this in addition to my Z Lite Sol?
A butt-saver
Familiarity:

I've used it once or twice and have initial impressions
For such a low-tech addition to my pack, I got an amazing amount of use out of it on a recent weekender with the family. We each had one and it made the camp so much more versatile. I never realized how much effort I put into just sitting down in a dry spot or trying to keep clean. At two different camp sites we were fortunate to have some rocks and logs to sit on, and this seat draped over a log was just wonderful (worked fine in the dirt too). Wife and son actually used them for pillows. We tried using them as insulated warmers for our bagged food, but that was pretty awkward -- will have to figure that one out. Overall, sure it adds some bulk, but it's virtually weightless and it wasn't an issue. On day two I just strapped it to the outside of the pack and never gave it another thought. These will definitely be going with us on future outings.
Smart Price & Lifespan of Yoda
To understand this chair, let's temporarily take aim at its Parent: The Therm-a-Rest Z Lite Sleeping Pad is well known in the outdoor rec. community because it's durable, ultra-light, multi-functional, and low-priced. It folds up accordion style for quick-n-easy packing, and you don't need to worry about campfire embers or thorns popping it. Granted, you won't sleep like a baby, but you'll sleep through the night well enough to wake up ready for brekkie.



Now let's translate those key qualities into the chair: It's compact, durable, low-priced and functional--not to mention it weighs less than a Clif Bar. This may not be a piece of key gear for many of you, BUT some people--especially those who like to be comfortable outdoors-- will set up their (inflatable) sleeping pad inside the tent while this chair can be placed in the dirt, snow (R-Value!), thorns, etc. so that you can enjoy your sick campsite without your fanny having to pay the piper.



Bottom Line: If you want a chair, this one is at a smart price and it'll outlast you.
"Ok, who took my z-seat?!?"
This little item is a fabulous accessory to take for all kinds of activities. I first bought it when I had to resort to sitting on my backpack because the ground was too wet on a back country adventure. This pad not only makes it MUCH more comfortable to sit on the ground or any of the other hard and uneven surfaces available when camping, but also make canoes, bleachers and gym floors and hardwood floors more comfortable, too. The waterproof and dirtproof feature is also a big plus--who wants a wet, dirty backside to have to deal with? If you go on a trip, fully expect that your z-seat will always be in use anytime someone is sitting down and will be the most borrowed item in you pack. It's that good and that much of an improvement.



Issues: 1) People borrow it all the time, 2) It is a little bulky, but very light and flexible. 3) I find myself wanting more coverage. It is a perfect size for making anywhere you sit instantly more comfortable. It is a minimalist size so it's very portable and can even fit in a purse. But if you are sitting on the ground it provides no coverage for your legs or feet. I am going to order a small z-lite pad and cut it in half for two larger seats and see if I like it better.