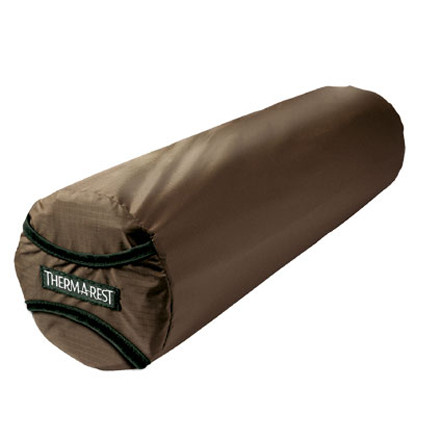 Keep your sleeping pad protected from dirt, moisture, and stains with the Therm-a-Rest Waterproof Stuff Sack. The coated nylon fabric and taped seams make this sack ideal for river trips or soggy backpacking, and the D-ring and handle straps make it easy to lash to your pack. When you don't need your pad the sack can also be used to keep clothes or food dry.
Unanswered Question
Will th eXL version of this sack be big...
Will th eXL version of this sack be big enought for my basecamp xl?
I have a ridge rest pad 25x77, what size...
I have a ridge rest pad 25x77, what size bag should I order?
Hey,

The XL would for sure fit but most likely is overkill. I'm thinking the small is too small too. Medium or Large should be perfect but we're unfortunately sold out at the moment. Keep an eye out for more inventory though.
Therm-a-rest Waterproof stuff sack
I bought this for my Therm-a-rest sleeping pad and did not what size to roder so I ordered the largest one. It was too big for my pad but was perfect for my down sleeping bag. It is durable and my sleeping bag fits in it perfectly. Now I can be sure my sleeping bag will stay dry.
Hey I just purchased a Thermarest Ridge...
Hey I just purchased a Thermarest Ridge Rest Regular size. As we all know Thermarest does not provide you with a stuff sack when they sell their pads. Which stuff sack should I use for my Ridge Rest?
Best Answer
Good question.

Since the diameter of the Ridgerest is larger than other pads, you need to get a specific stuff sack or one large enough to fit. I had one a few years ago but they don't seem to be as readily available now as they once used to be.

After doing a little research, I found this. Hope it helps:

http://www.technicalbackpacks.com/brand/Thermarest-Ridge-Rest-Deluxe-Stuff-Sack.html
Yeah i searched and tried them but everytime I try to purchase the stuff sack it wont add it to my cart and takes it me straight to the home page. There isn't even a picture for it. I don't know if the site is glitching. Is there any other stuff sack by another brand that may work?
Another good question sar.

I don't know of another one that would work but try Campmor by calling them direct @ 1-888-226-7667. That's where I bought the one for my Ridgerest & also my square Z-Rest. They were the only one's that had them. Good Luck!
Or, there's always Plan B- try this link too- you'll probably want the Large to accommodate the rolled width.

http://cascadedesigns.com/therm-a-rest/stuff-sacks/gearview-dry-sack/product

BTW- I can click through to the cart without any problem. Chat BC to see what's up.
therm-a-rest waterproof stuff sack
this product is well made. the large size sack (7.25 x 32 inches) accommodates the therm-a-rest base camp large (26 x 6 inches) sleeping pad. the additional 6 inches of length of the sack allows for you to fold the end three times, then clasp. the slightly larger diameter makes it just easy enough to roll your pad and get it in the sack without frustration.
i originally ordered the regular size (6.25 x 26.5 inches) sack but it would not work with the large pad at all. backcountry was super cool about getting the new sack out to me very quickly. my bank account was credited for the old one as soon as ups scanned it for return. and if that's not good enough, they even paid return shipping!
New size Therm-a-Rest Waterproof Stuff Sack is so much better! No problem getting air matress inside.
Good Stuff Bag, just was not the correct size.
I needed a durable and effective stuff sack for my Elk Camp XL Therm-a-Rest hunting mattress. If you had any doubts, this is most certainly the stuff sack you're looking for--price was darn good too!
The PERFECT sack for sleeping pads.
I already had a sleeping pad that came from another supplier (sorry Backcountry- but you WILL be getting all my future business!) When originally purchased, the pad did not come with a sack. The company I got the pad from was zero help with getting a proper stuff sack. I needed one to be waterproof, because the pad was going to be strapped to my motorcycle on a week-long trip. I had a couple days of heavy rain. Even at high speed in pouring rain, my pad was completely dry each night!
does it close with a zipper or a sinch...
does it close with a zipper or a sinch string????????
It actually closes by folding down the opening similar to a dry bag. The proper way is folding it three times which will give it extremely good water resistance (IPX7 or 1 meter of water for 30 minutes waterproofness). It also makes it easy to get the pad in and out. This is much easier than a zipper and much more water resistant than a draw string.
Write your question here... What's the...
Write your question here...
What's the best stuff sack for a regular sized trail lite?
Therm-a-Rest Trail Lite Stuff Sack - http://www.backcountry.com/store/CAS0317/Therm-a-Rest-Trail-Lite-Stuff-Sack.html
Write your question here... What size works...
Write your question here... What size works with Term-a-Rest Luxury Camp pad Large? Regular or large stuff sack?
I would get the Lg size. Although it's larger than the normal Thermarest Camp & Comfort Stuff Sack size Lg, the Medium is too small. I think it's always better to opt for the larger size making it easier to get it in and out of the bag. Remember this is also a roll-top closing bag so the larger size will make that easier as well.