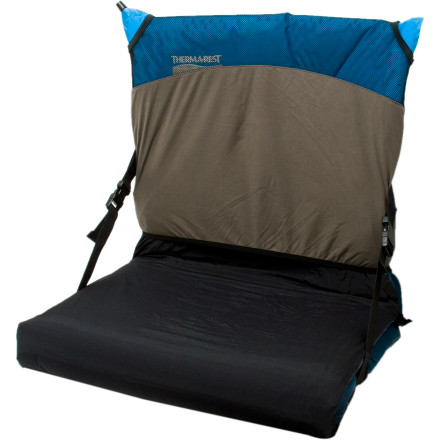 Colors

Detail Images

Videos

Community Images
Description
Sit more comfortably.
Therm-A-Rest's most luxurious chair set-up, the Trekker Lounge will turn your sleeping pad into a comfy seat in no time. It's made with a soft nylon Taslan top and durable nylon oxford bottom that fully encases the mattress. The removable back-support stays eliminate the need to remove the mattress for sleeping or packing. This chair sleeve fits full-length 20in or 25in mattresses in Therm-A-Rest's Trek & Travel and Camp & Comfort Series.
Unanswered Question
what is the real coloring of this pad?,..describes as blue,yet im seeing light blue/dark,tan/black/grey,etc...anyone know?...thanks
I've got an old Original Therm-A-Rest full-length 20" pad and was wondering if this chair kit will fit it. Thanks!
Hey Jason,



You shouldn't have any problems fitting you're sleeping pad with this lounge chair.
Therm-a-Rest Trekker Lounge Chair
Love it
Familiarity:

I've used it several times
I've used it a few times in the woods and at a football game
The most poorly designed product ever
Familiarity:

I've put it through the wringer
Ok, the title is a little strong, but really, this is one of the most poorly designed products ever. The stay rods, which make the chair a chair, require 1 of 2 things: 1. Interminable wrestling with them to get them into the rod sleeves or 2. Cutting the rod sleeves open so the poles can fit. Both are highly suboptimal. I had a chair kit for 15 years that worked beautifully until the seams ripped and replaced it with this one, expecting it to be better. It's really shocking that a great company like Therm-a-Rest would produce such a poorly designed product.
Used with Nemo Astro Air Full
Familiarity:

I've put it through the wringer
No problem fitting a 2.5 inch thick full length pad in this. It is one of the longer setup time chairs but once you've got it under your tired tush you'll be glad you did. Its fairly packable. I kept mine rolled up and in on of the external side pockets common to most backpacking packs. After sitting in it in the evening, I would keep my pad secured in the sleeve and simply release the tension straps and slept on it. In a way, its a 2 in 1 product. You get a 2 position chair and a sleeping pad liner to keep dirt/drool off your pad.
Unanswered Question
Does this chair fit the Therma rest pro...
Does this chair fit the Therma rest pro lite plus for both men and women? I'm worried about the mummy style pad with this frame.
Hi, is the trekker lounge compatible with...
Hi, is the trekker lounge compatible with the Neoair Xlite matrass?



Thanks for the great review!



Dimitri
This product is not designed to be used with the Neo Air mattresses.
That being said I have heard of people using them with the Neo Air, it just requires a bit of squeezing.
See how the Thermarest Trekker Works!
When I install the regular NeoAir Trekker...
When I install the regular NeoAir Trekker pad inside the lounge chair the length is reduced to 69" rather than 72". I thought the Lounge spec is 72". Am I missing something?
I inserted a 1.5" Thermarest Expedition pad (20x72) in lounge chair and it extends to the 72 inches. The added vertical height of NeoAir effects the length, so you loose 3" unfortunately.
I got the chair today but did not know it...
I got the chair today but did not know it didnt come w the pad,((( can anyone tell me which pad to buy??
any 20 inch 70 72 inch long will do. I recommend the thermarest or big agnes brands
Unanswered Question
Will this work with a NeoAir?
Will this work with a NeoAir?
I have just bought the Thermarest Trekker...
I have just bought the Thermarest Trekker Lounge and an Exped Downmat 9 deluxe. I had read that this would work out, but hadn't realised that the deluxe version of the Exped downmat is a little wider than the regular pump version. I do read here that a trick is to inflate the matress after you put on the Trekker Lounge. But do anyone know if the Downmat which is 65 cm wide, could fit at all in the 25" Trekker Lounge? Please - I need to know before ordering!
I guess I'm too late to be of any use to mona.ostda1285423 but I had the same question and couldn't find an answer.

I have an Exped Synmat 7M (50 cm wide, 7 cm thick) and it works with a Thermarest Trekker Chair 20' (NOT the lounge version). It looks a bit puffy but it's actually really comfy and easy to fit.

Please note: I haven't had a chance to try the lounge version and if you have a larger Exped (LW) pad, you probably would need the 25' chair.
Took some time to get it on the pad, but once on, it stays, and it truly holds up as a campsite lounge chair. I'm very happy with it. It's also good as extra protection for the Thermarest pad. The only problem I see with it is that campmates are going to be trying to get to it before I do...
I don't mean to sound redundant of previous reviews but this chair makes camping, backpacking, or anything where you need a rest so much more comfortable that I feel it is worth reiterating. The Trekker is lightweight, protects your pad, and gives your weary back the rest it deserves. If you can master removing and replacing the stays (which at first can seem like quite the chore) then you can convert it quickly and kick back while your friends sit on rocks and lean against trees. If your worried about spending the $$$ on something that seems less than necessary I would strongly recommend picking this item up. You won't be sorry.
Would a Trekker Lounge 25 work with a 20"...
Would a Trekker Lounge 25 work with a 20" pad?
I have a 20" wide Therm-a-rest pad that is getting old. I'd like to get a Trekker Lounge 25 in case I get a wider pad one day but I'm worried about the 20" pad working in the Trekker 25 because of the way it folds and straps into a chair. Anyone have any experience with this?
There's a Trekker Lounge 20" too. The 25" is going to be too wide for a 20" pad and having had a 25" pad with the Trekker Lounge 25", I would imagine a 20" pad in a 25" sleeve would fit, but would make for an uncomfortable chair. I'd highly suggest looking for the Trekker Lounge 20" instead. When I was searching fro it, that model was cheaper anyway and was the exact same thing except designed for a 20" pad. Good luck.