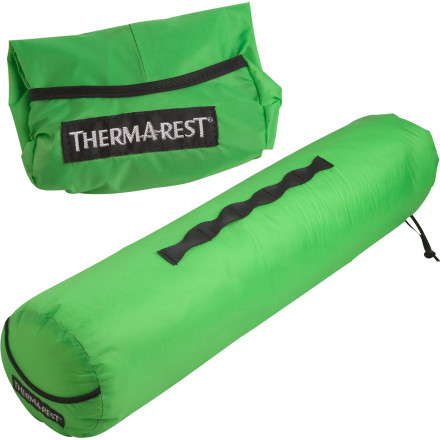 Detail Images

Community Images
It was two bucks on S&C. Wasn't even sure if it'd fit my TaR pad but I pulled the trigger anyway.



Turns out it doesn't fit.



But it is a decent product non-the-less. I'm positive it'll have its uses for me down the road.
I have one of the older bags and these new ones are much lighter and seam just a tough. These are essential to keep your pad clean and working properly.
I bought this for my women's trail lite pad. My pad goes in easy and has room to spare in it. I love that it packs down into itself. Essential for any thermarest!
the one time i put my therm-a-rest in it, it rips, totally SUCKS!!!!!
Bought a Therm-a-Rest Trail Lite Sleeping Pad , its a slightly tight fit with folding then rolling once, third roll fits nicely. Its worth the money for the dryness that it gives and its super light.
Why buy a nice pad and not protect it. Keeps the pad compact, clean and makes it easy to attach it to the backpack.
Thermarest should offer these free with the pad, but since they don't I bought one and it was a great investment. This is much better than struggling with tying the pad to your pack with straps.
It fits my pad perfectly, and keeps most moisture out. Easily strap this to the outside of your pack and forget about it getting dirty or wet. Highly recommended for the price/peace of mind.
I bought this sack to pack my 3/4 sleep pad. Works great.
if you are planning on using this for the Z-lite
I just received this product and I was planning on using it for my Z-lite sleeping pad. I did manage to get the pad in there......but it wasn't an easy process by any means. If the sack will stretch just a bit, should be perfect. Just throwing out a heads up.. maybe folks have a better suggestion for the Z-lite. Only giving it a lower rating because of my situation...... I'm sure it will be great for use with the recommended product.
Essential accessory to your trail lite!