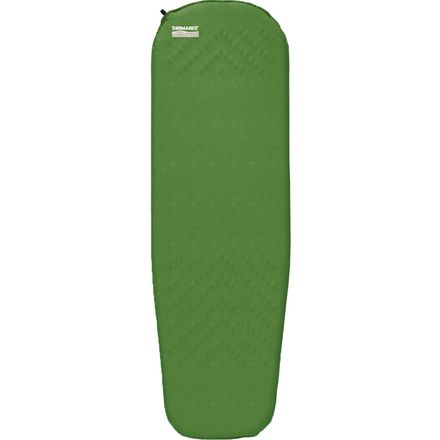 Colors

Detail Images
Description
Made for sweet dreams.
Therm-a-Rest's Women?s Trail Lite Sleeping Pad may help you shave extra weight from your pack on long trips into the woods, but it doesn't stint on comfort. Thanks to the new streamlined shape and 1.5-inch thickness, the pad rolls tightly to fit in or strap onto your pack easily; despite this thin profile, the Women's Trail Lite provides the warmth and cushioning you need to wake up in the morning ready for a new day of trekking adventure.
Great Pad
Familiarity:

I've put it through the wringer
I've used this quite a few times now and I really like it. True, it does not pack very small but it's still worth it for me. I tend to get cold when I sleep and this pad has really helped solve the issue. I'm willing to carry it if it means I sleep comfortably and don't freeze!
How big is this pad when rolled tightly?...
How big is this pad when rolled tightly? I am wanting something very small.
Best Answer
Description says 28 x 18 inches when rolled... but that sounds suspicious to me. Still, this will not roll up very small. If packed size is a priority, consider a Thermarest NeoAir pad, or something similar from BigAgnes or Nemo. Bottom line is that an air-only pad will pack much smaller.
Guys get a great deal
Familiarity:

I've used it several times
I bought this sleeping pad because I'm only 5'5" and the R-value was good (never felt the cold ground during non-snowy shoulder seasons). For some reason "girl" camping gear is cheaper but also has a more supportive pad. Packs a bit bulky for my tastes (like 1.5-2 grape fruits in size)
This sleeping pad was perfectly sized for myself (5'7"). It's light, a breeze to inflate, and easy to deflate/pack up. It keeps air in for a full nights sleep. The warmth is awesome for how slim the pad is. Would recommend for anyone looking for a no-worry, no-huff-puff, and warm sleeping pad!
Yes, I'm a guy who uses a woman's pad. I can sleep on anything so when I wanted to get a pad I was more concerned about weight and size, the women's pad provides some padding and warmth without being obnoxiously huge. I also use the ultra light half pads and I really like those. As long as my shoulders have something to rest on, I'm happy. I don't seem to have any sleep issues with my hips or feet laying directly on the ground.
Unanswered Question
the rolled size of 28 x 18 in seems too...
the rolled size of 28 x 18 in seems too large for this item. Is the sizing correct?
I like this pad, but as a tall woman, it...
I like this pad, but as a tall woman, it has been agrivating that they are pretty much all 66". Does anyone know of longer women's pads? I am looking for something to use backpacking, has a good R value and is at least 1.5". Thank you!
Best Answer
The LONG variants in Big Agnes pads are 78" long and their regulars are 72" For example http://www.backcountry.com/big-agnes-air-core-sleeping-pad-bag0011
I love this pad. It's really comfortable and I especially like in the winter because I used have a thermarest Z-lite but snow used to get stuck in the little cavities and I would wake up with little wet spots on my bag. With this pad, I don't.
The women's Trail Lite has a higher "R" value for warmth than the men's. I took it on a weekend backpacking trip up to 9,000 feet in September. It got to freezing that night but I stayed warm and comfortable.
What makes this a women's pad. Just the...
What makes this a women's pad. Just the length? I was thinking about buying a matching pair for me and my g/f. I am 5'11 she is 5'7
Best Answer
Pretty much. at 5'11" your feet will hang off, but it's not a big deal. Women's pads are often just a little shorter, sometimes the shape/width varies from the men's versions, but I don't think it matters much.
not THE MOST comfy- but very light and convenient
This item is very light, rolls up very small, and the fit is lovely. I'm 5'7" and it was plenty long. It's definitely not the most comfortable thermarest on the planet but it's very convenient and easy
This pad seems to be essentially the same...
This pad seems to be essentially the same as Therm-a-Rest Trail Lite, but R-value stated here is 4.9, whereas Trial Lite - 3.4. Quite a difference. Where is the truth?
Best Answer
The men's version has cut outs of foam the entire length of the pad. The women's pad has solid foam through 3/4 of the pad. They are sized differently. The men's reg is 6ft and the women's is 5'8". With the men's being long and more cut outs the pads actually way nearly the same. If you are on the shorter side save the 5 bucks and buy the women's model. More warmth for the same weight.
if it's 66" long it's for someone less than 5'6"
I use the Therm-a-Rest Trail Lite Sleeping Pad for all sorts of applications. I take it bicycle touring, car camping, home for the holidays, or anywhere I may need to spend the night.

I've had mine for a little over a year and it has held up great. I'm 5'4" inches with wide shoulders for a female and the pad fits very comfortably.

The pad may be heavy for those who backpack and it takes up a bit of space, but it fits pretty well on the back of my bike and is easy to store in the car or wherever I may take it.

I'd definitely recommend the Trail Lite to anyone looking for a nice sleeping pad for a good price.
This is a solid sleeping pad. It kept me surprisingly warm on the still-frozen ground in Southern Utah this winter. It's comfy and light! I give it four stars because, while I love the pad, it's slick. I kept sliding off the pad, especially when I got anywhere near the edge. Since it's a sleeping pad you're pretty much always near an edge so that got irritating.

All in all, though, I'd say this is a great sleeping pad for the cost. Light, rolls up small, and comfy. I'm glad I switched to this pad.