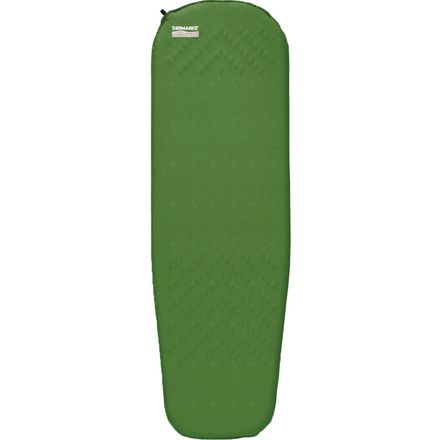 Colors

Detail Images

Community Images
Description
From trekking to traveling, you get a good night's sleep.
The Therm-a-Rest Trail Lite Sleeping Pad strikes just the right balance between comfort and compactness in a camp mattress. With a streamlined, bulk-reducing shape and new fabrics, the Trail Lite packs easily and won't weigh you down on the trail. An inch and a half of padding when fully inflated ensures a restful night, wherever you pitch your tent.
Light and Comfy
Gender:

Female

Familiarity:

I've used it several times
My husband and I both use these for car camping in MN. He also plans to use it for his annual boundary waters trip as well. We both think they're fantastic - you can sleep on your side without feeling the ground! It feels good to buy something made in the USA as well.
Unanswered Question
What is the capacity of the included stuff sack in terms of Liters? Thanks
Works like a dream
Familiarity:

I've used it several times
To really get a feel for its limits I laid my ground cover on a patch of fist-sized sandstone chunks after a week of pleasant nights hiking across Escalante, and I couldn't even feel them underneath me when I slipped into my bag. I was pleasantly satisfied, I'd definitely call this a worthwhile investment.
Therm-a-Rest Trail Lite Sleep Pad (Reg)
Therm-a-Rest Trail Lite Sleeping Pad (L)
Rolled size information is correct?
Rolled Size:(regular) 28 x 18 in, (long) 33 x 18 in

i visited maker's home page...and checked

Packed dimension 11 x 6.1 / 28 x 15 for regular.

i ordered this and then canceled with big size information.

which is correct one ?
Unanswered Question
I don't believe the rolled size of these specs to be correct, that's practically filling a large pack.
what to do if THERMAREST PROLITE mat does not inflate automatically once unrolled ?????



plz help


It should inflate if you open the valve and let it sit in your tent for a bit. Usually i set up my tent first unroll my Thermarest to inflate and unpack my sleeping bag to loft. By the time I take my boots off and make dinner my pad is nearly full. Usually I give it 2-3 blows into the valve to finish inflating it. If yours in not inflating at all it may have a leak or there is a manufacturer defect in the pad. Try blowing it up using your breath and closing the valve to see if it will hold air.
Must have gotten a lemon...
Gender:

Female

Familiarity:

I've used it several times
I bought this for my husband. First time he thought it may have gotten a little low but he wanted to try it again. He took it out this past week for 4 nights... Flat... Now we're headed on another trip for two weeks and he's sleeping on the ground. HA! MINE WORKS GREAT THOUGH! Kind of bummed because we're just past the return time for the pad, now we have to send it to therm-a-rest. I think in the future we'll be going with a different company. My husband had the really cold weather therm-a-rest when he was living in Alaska, that lasted about a year. He says its the company, I say he needs to drop a couple pounds. Ha! I'll probably be in trouble if he reads this.



So just an update: sent it in to therm-a-rest. Got it back in under 2 weeks. Great customer service. Now just need to try out the repair!
Ok backpacking guys and girls. This is probably a stupid question but are these sleeping pads designed to fit into the sleeping bags or do you lay the sleeping bag on top of the sleeping pad. As you can tell I am fairly new to the backpacking world and am still learning gear do's and dont's . I have seen camping pics of it being done both ways. Is there a right or wrong? Thanks
Best Answer
Hi there Bill-

Not to worry, it can be done either way and it will depend on your sleeping bag that you have! Most sleeping bags are insulated all around and are laid atop the pad. However, some take out the back insulation and instead leave a large 'pocket' for your pad to slip into. In that case, your pad is meant to provide the insulation for the back of the bag.

If you have any further questions, please do get back to us!
Big Agnes (I think) pioneered the use of non-insulated sleeping bag bottoms, and (i know) they sell their "system bags" specifically for putting a pad inside.



Go here and choose "system bags" from the options at left:

https://www.bigagnes.com/Products/ProductFinder/Bag/



All that said, I've never used one of these, instead opting for a traditional bag because I tend to move around a bit when I sleep.
Good not Great
Familiarity:

I've put it through the wringer
So, I have a model that is a few years old, but I still feel obliged to write a review.

This is a pretty good sleeping pad. But I'm not going to praise it too much. It's definitely easy to compress and it's easy to sleep on your back or stomach. BUT, it isn't really that thick, so I often find myself struggling on my side for a good night's rest.

Granted, I have had plenty of good nights on this thing, and it sure is durable. However, if you're looking for a really good pad, I would go ahead and shell out a few extra bucks and get something really nice...you're hips will thank you later.
This air mattress was great. very light weight and easy to set up and easy to carry. Found it a little uncomfortable to sleep on my side on it but that isn't limited to just this mattress.
Light and comfy. I am 6' tall and the regular is just big enough for me, any taller and I would recommend moving up to the larger size.
Comfort
Gender:

Male

Familiarity:

I've used it several times
I love this mat. Things I love:



1. I'm 6'5" and I fit on it! (tall men- buy the large size)

2. I've never had a problem with the valve, air never leaks, and the construction makes me feel confident

3. It's warm

4. Super-comfy

5. The color..



Things I don't like:

1. The bag it comes in: in order to use it you have to fold the mat along the long way and then roll it up, which makes for a stumpy, thick lump in your pack. It bothers me because I want the bag to fit the mat after I've rolled it up without folding in half so that it will hang nicely on the outside of my pack. Alas, minor gripe.

2. The weight.... but, you pay for comfort, warmth, and for being tall i guess




What is the thickness of this pad?
What is the thickness of this pad?
Best Answer
Thank you John
Great pad
Gender:

Male

Familiarity:

I've used it once or twice and have initial impressions
Took it out on a trip to Moab. Encountered weather on different ends of the spectrum. 1st night was cold, around 20 degrees. Pad kept me comfy and warm.



Next night it was a huge turn around to about 50 degrees. Pad kept me comfy and warm.
Is there a pump that can be used to inflate...
Is there a pump that can be used to inflate a Therm-a-Rest pad?
First and probably the last sleeping pad I will need, unless this one gets a hole poked in it. The material is fantastic, super thick so it will take a sharp something to punch a hole in this bad boy. I went camping about a month back with no sleeping pad and I severely needed one, the ground is hard. This pad puts that in distant memories. I wish I could have gotten this in the long for a little wider so I can roll around, but this size is perfect for the minimalist. Rolls up small so you can put it in your pack or tie it to the side. Works great to have that extra warmth in a hammock. The one I got was not rectangular but it was the sleeping bag shape, which cuts down on space needed for other things while in the tent. Overall a great buy, cannot go wrong with this one.
what are the dimensions when pad is folded...
what are the dimensions when pad is folded in half and in stuff sack? similar to the prolite 4 (14" x 7") ?
Best Answer
Packed (Regular)
11 x 7.0 in / 28 x 18 cm
Packed (Large)
13 x 7.0 in / 33 x 18 cm
Can't use my other ones- this is my trusted one!
It just works, it's never had a leak in it, and it continues to perform. I've dragged it through ashes, squashed mosquitos with it, used it as my chair on the beach, around the fire, etc. It's the perfect size for me at 6'0". I have other therm-a-rests but I always end up going to my trusty green trail lite.