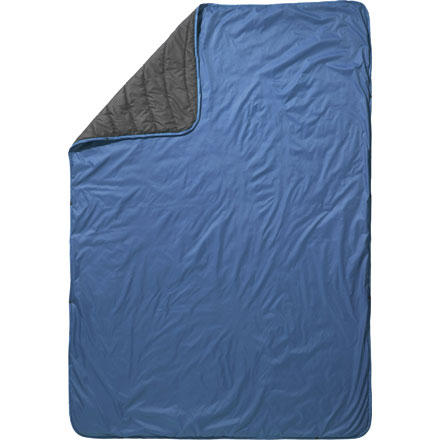 Description
When it's too warm to crawl into a sleeping bag, use Therm-A-Rest's Tech Blanket.
Thanks to a durable nylon exterior and soft, synthetic-fill interior, the Therm-a-Rest Tech Blanket has just the right amount of coziness for warm-weather camping. This blanket snaps into Therm-A-Rest's Fitted Sheet (sold separately) so your bedding won't wander off in the night, and a draw-cord at the foot end seals in heat or opens up for ventilation. When you're not out camping, pack the Tech Blanket into its included stuff sack and keep it in your car for emergencies.
Share your thoughts
What do you think of the
Therm-a-Rest
Tech Blanket
? Share a...
Nice Warm Weather Blanket
Familiarity:

I've put it through the wringer
Living here in Salt Lake City, Utah can have some super warm nights.

Rather than using my down comforter during the summer it was time to get a lighter/thinner blanket for sleeping at night. My friends all laughed saying my lady wouldn't like this because it's "too much like a sleeping bag" but both of us love the blanket and use it nightly.

It's thin and not a blanket that I'd be using on cold nights for camping, maybe to supplement a sleeping bag if I was car camping or for an outting if I had kids or something.

I haven't played much with the snap together feature but do know you can snap multiples together... so maybe it's time to buy a second.

I've got the large that measures in at 76x58 inches. In reality, this definitely is not big enough for two people. I'm just under 6'0'' tall and by myself it works great. With a partner, you each get less then half unless you like being close to each other while sleeping.

This works great for our needs as a quick / thin blanket that won't over heat us. But I'd never use this as a stand alone blanket when camping unless I was car camping and it was super warm during the night.

Jared D.
Gearhead
800.409.4502 ext 4055
Kinda Silly to me...
Familiarity:

I returned this product before using it
So, honestly I don't really get this blanket. I mean, yeah I "got it" in that it arrived in the mail to my waiting hands, but I had to return it. The sizing was ok and I think maybe my kids maybe would like it but it really never seemed to fit any need I would have. It was convenient, great built in pocket (probably the best built in pocket I've seen), but the usability for me and my family & friends never seemed to make sense to us. Would be a great fun little gift at $20 but at $50-70 it just didn't make sense to me. Good quality, medium to low insulation, easy to use. If you can find a good use of it good on ya.
Does good, but really for warmer weather
Took it camping once and discovered warm weather camping means warm weather. Anything below 50 and you can just use this for a pillow. Brought it in the house and it works great as a basement blanket to keep warm during another lord of the rings marathon.
Nice, not great, but nice.
This blanket is good for warm-weather camping, as the description suggests, though it may make you billow sweat in hot weather. The shell material is comfortable and the "fluff" is ample. The large size packs down well, but not enough for backpacking; great for canoe trips. If the night falls cold (below 50F) and you chill easily, you will probably shiver while using this blanket. One upside to the synthetic material is that it will insulate (best as it can) both above and below you, as it is not subject to the problems down has when compressed under the body of a sleeper. This can be very important when unexpected cold snaps hit you while using a low R value sleeping pad (again, within the limits of this blanket's insulation capacity, which is regrettably not specified by the manufacturer). Another nice feature is, if you're on the trim side, the snaps along the sides of this blanket can be joined together and the drawsting at the bottom pulled tight to create a makeshift sleeping bag that works very well. This has saved me some comfort more than once when I underpacked and weather turned for the worse. That approach works best if you roll the snapped edge of the blanket beneath you so cool air doesn't creep into the spaces between snaps.
Can you buy two and snap them together,...
Can you buy two and snap them together, or will it only snap to the sheet set?
Best Answer
Absolutely! This is one of the great things about this product. I love this blanket for a couple of reasons. One, it is durable and machine washable...it simply wants to be used. Two, it has a DWR (durable water resistant) coating that protects it against light moisture. The insulation is synthetic which means it will work when it gets wet and it dries out fast. And three, it snaps together to make a big blanket or it will snap to the fitted sheet. It will be one of the most used items you will ever buy.
Stuff size: 11 x 9 x 4 inches
All around great blanket.

For car rides, Bachelor Parties(in the woods), or on the couch it is a great investment.

I also plan on using it as a draft blocker for winter trips with my wife, when we zip our -40 bags together.
Ok Then... I've read mixed reviews about these comforters, but I suspect in some cases people were not sure what they wanted first. This is the third one we have purchased. So our family has been completely satisfied with the quality of workmanship and the durablity. We didn't buy the quilt for backpacking. It's lightweight, but not "down quality" lightweight. We use them for mid summer camping when the evening temps range from 30 to 50'F.
(We live in the far north,Great lakes region) We do use them in conjunction with the nice thermorest sheets with the matching snaps. We also carry them in the car and motor home for outdoor and indoor quilts. So they serve year round duty for us, not just camping. I think they are a good value for the money.
This blanket looks great in the pictures... but I was very disappointed. I would best describe this blanket as two very thin rain shells stuffed with very light toilet paper. On a scale of 1 to 10 ... I give it a 2 for warmth and a 8 for looks/style. Definitely not worth 50 bucks... maybe $20!
Good all round camp blanket
These are light weight and versatile. We use them in the car, at the campfire, and to snap on the Thermarest sheets. They pack up small in their self contained pocket but we use them so much that we don't bother. So far we have only used them for warm weather camping. They wash up in a snap and no one kicks them off during the night.
What are the dimensions of the stuff(ed)...
What are the dimensions of the stuff(ed) sack for the regular size?
Write your answer here...It stuffs into it's own pocket which creates a pillow approximately 12" X 9". One could probably compress it to about 1/2 that size if they wanted to,