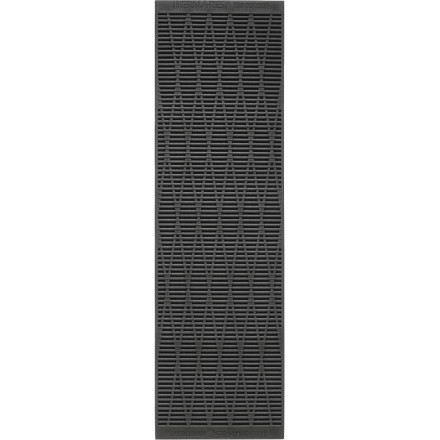 Colors

Detail Images

Community Images
Description
Good enough for your dad, good enough for you.
For lightweight durability, easy packing, and simple comfort, it's tough to beat the Therm-a-Rest Ridgerest Classic Sleeping Pad. Made with ultra-durable crosslink polyethylene foam with heat-trapping ridges, the Ridgerest has been around forever and hasn't changed much, because it hasn't needed to. If you're looking for simplicity and cost-effectiveness for the trail, you just can't beat it.
Made of crosslink polyethylene foam
Heat-trapping ridges
Ultra-durable
Sick as frick for the price!
Infinite Uses!
Familiarity:

I've put it through the wringer
These foam pads truly seem to have limitless uses. Obviously it could be a sleeping pad, lay right on top with an army blanket pulled over you and pretend you're a 17 year old version of your father! You could use it to enhance your inflatable pad, it'll keep the cold ground from pulling warm air out of your inflatable. Maybe my favorite... you could go rogue!!! Take an x-acto knife to your investment of 10 American dollars! Cut a small disc slightly larger in diameter than your backpacking stove's fuel canister. You can increase your stoves efficiency on cool days, simply by placing the foam disc between the canister and the ground. Also when packing large capacity Marine coolers, they're invaluable. Freeze water in half gallon milk jugs and line the bottom of your cooler. Then fill in the gaps with crushed ice, now cut a section of pad to fit the interior dimensions of your cooler. Place the pad on top of the ice, this will act to preserve your ice. Now fill the cooler with its contents keeping frozen foods at the bottom. Once the cooler is full, take an additional piece of foam cut to fit the cooler and place it on top of the contents prior to closing the lid.
School Group backpacking trip
Group of students in Dilijan Armenia.

Simple, durable pad for large groups
Bought them for the kids....
Familiarity:

I've put it through the wringer
the kids used them in yellowstone and a few other camping trips and slept warm and comfortably. I started using one of these with my air mattress for some added insulation in extremely cold winter camping conditions. Probably not adequate alone for comfortable adult sleep but they're perfect for the kids in warmer weather.
turn your 3 season pad into a 4 season.
Familiarity:

I've used it several times
I use this under my BA Q-Core SL to make it a true winter camping set. I also keep it in the car for crashing at friends houses. Not comfortable by itself but when paired for winter camping, it's great.



Kyle Brady

1-800-409-4502 ext 4420

kbrady@backcountry.com

Instagram: @kb4420


Bulk vs. Weight vs Comfort vs price.
Familiarity:

I've put it through the wringer
Simply put, at this price it wouldn't hurt to try it out. Mine is 10 years old and I still use it in winter when camping on snow. It is bulkier and not as comfortable as the new self-inflating models that are so popular, but it is adequate and weighs significantly less. So if you don't mind the bulk, and you don't need the extra comfort of an inflatable, and if you are concerned with weight you should try this one. A great bargin for the minimalist or ultralight backpacker/snow camper
Simple
Familiarity:

I've put it through the wringer
Good value, does a good job softening the cold hard ground under your sleeping bag. I went with a small and think a longer one would of been best @ 6'2". Have used it a lot and has held up well.
Worth it!
Familiarity:

I've used it several times
I will never go back to life without a sleeping pad. I was much warmer and more comfortable. The pad is kind of big, but barely bigger than other pads I've seen, and it weighs barely anything.
Nice low price option
Gender:

Male

Familiarity:

I've put it through the wringer
You can get a little better for more money, I've had this sleeping for a long time. I have been happy with it using it in the rockier Teton/Yellowstone/Montana regions. It is a good, basic option.
The Therm-a-Rest RidgeRest sleeping pad provides great warmth (2.6 R-value) over basic pads, but not too much comfort. With it's ridges, the Therm-a-Rest RidgeRest kind of flattens out compared to a basic one size pad, but it is comfy and you can get by with one. For all out comfort I say add a basic pad to the Therm-a-Rest RidgeRest.



www.captainberz.com
Great Starter or Backup Pad!
Familiarity:

I've put it through the wringer
The Therm-a-Rest RidgeRest sleeping pad provides great warmth (2.6 R-value) over basic pads, but not too much comfort. With it's ridges, the Therm-a-Rest RidgeRest kind of flattens out compared to a basic one size pad, but it is comfy and you can get by with one. For all out comfort I say add a basic pad to the Therm-a-Rest RidgeRest. The Therm-a-Rest RidgeRest is relativily durable and holds up to the elements well. Made in the USA and a lifetime guarantee round out the excellent package that is the Therm-a-Rest RidgeRest sleeping pad. Berz Rating: 84/100