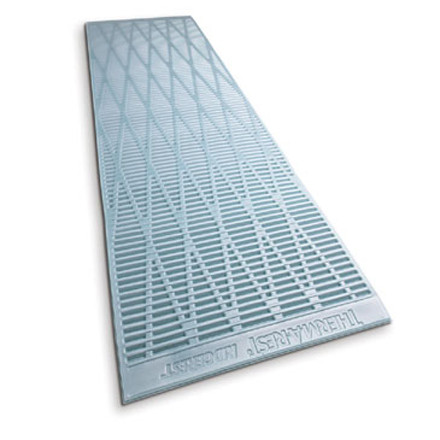 Community Images
Con: I am questioning the long term durability of this pad as there was mysteriously a small chunk taken out of the pad on its first trip. This may be a fluke as everyone else on the trip has had the same pad for years and are still in good shape.

Pros: Lightweight, comfortable, great for winter camping, and cheap.
Stupidproof And Failsafe!!
Bought two of these to replace my old Therm-a-Rest GuideLite pad after I found a slice in it during a Jan. '0-Dark-Hundred' Winter campout at Approx -15*C. I repaired the slice with their repair kit yet the pad still had a slow leak.

If the event happened in the Summer I would have just had a lumpy, semi-sleepless night. But in Winter the pad is REQUIRED when lying on the ground so that the ground doesn't suck the body heat from you and endangering you. Where, in the Summertime, it's just a comfort measure for the most part.

The experience/lesson was very well learned for me: I will never have an inflatable pad in the Winter back country again. My trusty inflatable pad kept me comfy year-round for ten years; until it sprung a leak; in the dead of Winter no-less.

What's interesting is the similarities with the two pads: weight is about the same (680g); R-value is real close (3.1/3.4). BUT; the crucial difference: one needs to be inflated and one doesn't.
For those of us that use hammocks, this is a great pad to use to keep the wind off your back. It can be cut to match the shape of your hammock, stays in place nicely, and doesn't ruin the comfort factor of the hammock.
It also works well for sitting around camp. durable and light.
Not Warm, Not Soft, Too Bulky
I thought this would be the solution to getting good insulation and protection from the snow with a lightweight pad. Wrong, it is only R2.5 rated and does not keep me warm enough without a bag with a temp rating better than conditions. The pad is quite light but you pay a price in bulk that make your pack awkward. I am going back to my guide light inflatable and with suck up the additional pound of weight to have a softer, warmer pad that fits inside my pack or at least easily on the outside.
plenty of cushion for my aging bones and very light. the terrain here is mostly rocks so as of right now i cant say about its durability but even if i wear it out i would buy another one in a heartbeat!
Unanswered Question
Hi, I am from Northern Australia so I am...
Hi, I am from Northern Australia so I am concerned about weight and comfort but not warmth. i don't want a self inflating mattress as i have had problems with moisture build up inside inside the mattress during very humid conditions.

What would you recommend as the best no inflatable mattress?
Very uncomfortable! I have the women's version of Thermarest which is comfortable but narrow. This was not comfortable. On a cold ground it did not appear to provide any insulation between me and the ground.
R-Value 3.1 + lightweight + durable = must have alpine gear
I sometimes use other Thermarest pads like the Prolite series for comfort, but for the maximum alpine solution nothing matches the Ridgerest Deluxe. As far as sleeping pads go, this model is overkill for sleeping on anything but snow and ice- unless you are looking for the ultimate cushy sleeping experience. Insulation from the ground is only critical in wintry conditions, as bare ground temps don't really cool enough to notice. But in winter or sleeping on snow or ice, cold can seep through your pad and make for long, sleepless nights. Inflatable pads lose most of their insulating values if they are punctured. On expeditions and climbing trips I can't afford to gamble on durability, so this pad had become my mainstay. Plus, it has an insulating value of R3.1, which is higher than any pad on the market for its weight. Solid, simple, and reliable.
This pad is way comfy. The one down fall is that it is way big and bulky. It will be a great cold weather pad. But if you are wanting light weight and space saver this is not the pad for you!
Write your question here...is this pad...
Write your question here...is this pad still made in states?
Best Answer
Yes, it still is! Even the closed-cell foam comes from the states.
These were pretty comfortable for sleeping on the ground. Didn't get really good sleep, but never do when camping. Good for the money.
Pretty comfortable, definate upgrade from plain CCF pad. Also, you never have to worry about leaks. Rolls up kind of large, but you can fold it if you need to or roll it up, put it in your pack vertically and let it unroll in you pack. Then pack your stuff inside. This technique works good with frameless rucks like Golite and others.
Nick DeVore and Kirsten Kremer chillin' at 14k camp on Denali
I've used this on several backpacking trips and although its freakin huge (and I have the small, which isn't for sale on here) I've never felt like i've lost sleep due to my pad. I'ts comfortable - I always look foward to going to bed. As far as strapping it to my pack - my Klamath pack has straps on the bottom that hold it perfectly tight. If your looking at this, don't be afraid to go ahead and buy it...
I have used this pad a couple times, and it TOTALLY ROCKs every time i sleepon it, in 10 minutes... i am out cold. the bad thing about this, is that i move around alot when i sleep, so i am usually off the pad alot, but otherwise great
I have used this for years and will say it gets the job done. It's bulky and must be strapped outside the pack, but basically weightless. If you're looking for a no frills piece of gear that gets the job done, than this is it.
This is a great pad for tough conditions, take it places that you would fear poking a hole in your inflatable. Pad is easily modified with a sharp pair of scissors. I trimmed the length and the width and took the corners off at the head (All in a relentless pursuit of shaving grams off my pack). I use this pad with my ultralight backpack, it acts as the frame rolled into a tube and shoved into the pack. All the rest of the gear fits in the interior of the roll pad.