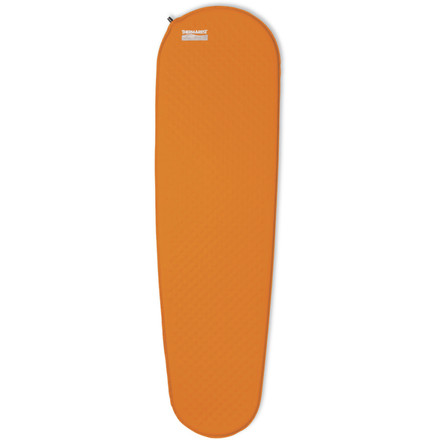 Community Images
Description
Wake up refreshed.
If you don't get a good sleep tonight, you're going to be hurting in the morning. Luckily, you'll be crashing on the Therm-a-Rest Prolite Sleeping Pad. This lightweight, three-season sleeping pad keeps you warmly and comfortably off of the ground so you can get the rest you need.
Self-inflating design requires almost no effort to set up
Diagonally cut foam provides better insulation and reduces bulk
Mummy-bag shape cuts down on weight and rolled size
Grippy bottom material and a textured top keep you and your sleeping pad from sliding around during the night
Share your thoughts
What do you think of the
Therm-a-Rest
Prolite Sleeping Pad
? Share a...
Great Value
Familiarity:

I've used it several times
I was really happy with how this sleeping pad performed. In 30-40 degree temps, it insulated well against the cold ground. As far as comfort, once I figured out how much to inflate it, it was decently comfortable. And it rolled up small enough to throw in my pack. It's a good deal for the price, but you can easily find a better sleeping pad if you're willing to spend more.
No thanks.Nah. Spend a wee bit more.
Gender:

Male

Familiarity:

I've used it several times
It is what it says it is... Very light, very compact.
I enjoy that a medium size is quite large.
But it isn't a winter pad by any means. Those who say it is may be confused with the near identical ProlitePlus, which is R3.8ish, not 2.4 (Prolite Regular model.)
Even on soft sand, it was a hard, cold sleep that shouldn't have been. It didn't seem to have an air level where your shoulder blades were off the ground, and yet also soft for the rest of the body.
This thin Pad barely self inflated, (not a big deal, I have lips and lungs) and it did stay in place on the sleeping bag.
I have never met a person who complained about spending a little more for a better pad. I say get at least 3.5 or 4 R-value, or a different set-up.
sweet dreams are made of these..
Familiarity:

I've put it through the wringer
I've only had this sleeping pad for about 4-6 weeks, but I can honestly say I have already gotten my fair share of use out of it! Putting it through the wringer is an understatement for what I expect of my gear and this bad mamma jamma is no exception! Comfort is its middle name and reliability is its first name. I have had bad luck with air mattress, but this one seems to be the one for me. Although, it does not pack as small as the X-Lite and is thinner than the X-Lite, as well, noise plays a LARGE roll for me and if I can't hear myself think when I make a small move in my sleeping bag that is a deal breaker. If you are like me, and respect the silence and solitude of a nice night in the woods, or tend to wrestle imaginary people in your sleep then this is the pad for you! I highly recommend it to anyone who doesn't mind a slightly thinner lightweight sleeping pad that is reliable and well built.
Leave the X-Therm At Home
Familiarity:

I've used it several times
A Prolite is more than enough R-rating for most winter camping I've done. I use a torso Prolite and a foam Z-Lite in deep winter and I sleep great, with absolutely no cold spots.

If you're a picky sleeper, you might want the comfort of an inflatable Neo-Air, but if you're pretty hardy like me and can sleep anywhere (or learn how to), you can save a lot of weight with a simple Prolite instead.
Great for minimalist backpacking.
Familiarity:

I've used it several times
Its great. I got the small and it is light, packs super small and provides enough comfort to get you through the night. Prob not the best for side sleepers but it gets the job done.
The real deal
Familiarity:

I've used it several times
As far as backpacking pads, the Prolite is about as good as it gets as bar as balancing weight, value, and comfort, especially for self-inflating pads. Sure, you can buy a NeoAir, but on a budget, the weight savings may not be worth it (4-6 oz is significant, but may not be worth the $80-100 price difference). The pad is really comfortable for its thickness, and the textured fabric does a great job of keeping your sleeping bag on the pad, as well as feels really durable. I've slept on it backpacking as well as on a friends floor a few times, and it isn't a great pad for side sleeping, but on your back, it does just fine. For those on a budget, or who want a good pad that's reasonably lightweight, comfortable, durable, and not too expensive, it's a great option. The only con I see is that it is a bit bulky, and the stuff sack included makes you fold it in half before rolling, which isn't the most efficient use of space in my opinion.
A classic
Familiarity:

I've used it several times
Light, durable, and reasonably comfortable. For an extra 6oz you can get some more comfort with something else, but this hits the spot for lightweight backpacking. It'll be going with me on trips until it pops.
TAR ProLite 3 Size Small
Familiarity:

I've used it once or twice and have initial impressions
I recently picked up the small (20 x 47) Prolite 3 to use for 3 season. This is actually an irregular pad, which all I can find is that the logo is a bit wrinkled looking. Other than this, it works fine, and has not noticeable defects.

My size small weighs 11.2 oz sans stuff sack. (Not sure on the weight of the stuff sack.. I never use them.)

I have been a fan of the ProLite 4 for a number of years, but stopped carrying it when I got my NeoAir due to the weight. However, I find that the ProLites are quite comfortable pads for me, and rate them high due to this.

As well, I like that this pad uses a heavier, yet more durable 70D material on the bottom. This makes site selection a little easier on the brain, however, as with any air pad, always bring a repair kit anyway.

I give this pad 5 stars cause it just works.
Long term quality
Gender:

Male

Familiarity:

I've put it through the wringer
I have been using this pad for around 7 years now, at times spending more nights on it than in a bed while working in the backcountry. This is the longest lasting pad I have had, and it still does a fantastic job while packing impressively small. My only complaint is that the oil from my unwashed hair has discolored the orange fabric on the pad, but again thats after 7 years of frequent use.
Adequate
Familiarity:

I've used it several times
This is a fairly good pad. Unless you have plenty of time for the self-inflating feature to kick in, get ready to inflate it yourself. That said, that's a minor nuance, and honestly, to be expected. The valve is awkward to inflate and every time I do I wish Therm-a-rest had designed a better valve.

If in doubt, get it. Packs next to nothing, weights next to nothing and you'll get a decent sleep with it.

Oh, and if size in your backpack is a concern, get a small, you don't really need that much padding on your legs, and the small hits all the important spots you do need a pad for.
self-inflating mattresses