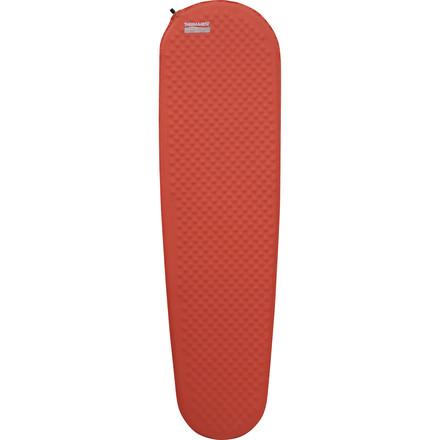 Colors

Detail Images
Description
Wake up ready to crush another day.
If you don't catch some solid Zzzs tonight you'll be hurting in the morning. Luckily, you'll be crashing on the Therm-a-Rest ProLite Sleeping Pad. This lightweight, three-season sleeping pad keeps you warm and comfortably raised off of the ground so you can get the rest you need to crush it another day.
50D mini-hex polyester
Self-inflating
Air pad with Atmos foam
Stuff sack included
Made in USA
Unanswered Question
Does this item come with a repair kit?
I'm not an inflatable pad fan to begin with but my wife recently started backpacking with me and asked if we could get inflatable pads instead of solids. I own a Z Lite SOL and have used it for a long time with no issues so I figured Therm-a-Rest would be a great choice for some inflatable pads, terrible choice. This seriously was less comfortable than my Z Lite, plus I don't have to waste air trying to blow up a Z Lite that will just leak from the holes in it like this one has. Really bummed out that these were so terrible, went back to my Z lite and convinced my wife to join me. Maybe I got some defected ones, but they had holes and signs of wear from just a few days out, not something I would ever trust for even a week long trip.
I was honestly expecting a lot more out of this pad for how much the retail price was and the positive reviews it had, but I'm returning it. Even for the sale price of $75 (large), I couldn't justify keeping it. It's only marginally more comfortable than a closed-cell pad and more than double the cost. I also had no luck with the self-inflation. After sitting out for thirty minutes the pad was still flat and it required approximately 5-6 breaths to inflate it.
Not for side-sleepers
Familiarity:

I've used it several times
I've used this a handful of times.Not super comfortable, but okay. After a long day of canyoneering and hiking resulting in a sore body, not comfortable at all. I didn't sleep well and woke up extra stiff and sore. I like to sleep on my side and my hips hit the ground through the mat. Probably great for back sleepers. Not for me.
Belly flop!
Familiarity:

I've used it several times
I got my Thermarest ProLite and my LuxuryLite cot at the same time thinking I would use the two together. Realizing that I'm not part mule, I opted to use the LuxuryLite most of the time and I stand by that decision.

However, I finally gave the ProLite a proper test and I can't believe how impressively this pad performs. Truly, it compares favorably with the LuxuryLite, particularly when you factor in weight and space savings.

I pulled out the ProLite recently because I was sharing my Copper Spur UL1 tent with my dog, Kimber. The UL1 is 40" across the top, I use the large, 25" wide ProLite - Kimber and I shared a few inches of the ProLite where I think I would have crowded her out with the cot.

We slept in a low of 38 F and I used Mountainsmith's new synthetic bag, the 2015 Arapaho 20. It paired nicely with the ProLite and I stayed warm, the ProLite is an impressive insulator.

I flop all over and the ProLite was comfortable when I was on my stomach. I was comfortable on my side the first night but noticed some stiffness the next day, the ProLite might not be ideal for committed side-sleepers. Obviously, the ProLite was most comfortable when I was on my back but I slept well in a variety of positions 2 nights in a row.

The compressibility is INSANE. I used to roll the ProLite but now I fold it. Either way, put your knees on it every fold/roll and you can flatten the ProLite down to nothing. The listed packed size of 4.5" x 13" (large) is accurate.

There are a lot of interesting, appealing pad/air mattress designs out there but the ProLite is the best approach, IMO. I've never been able to enjoy sleeping on an inflatable mattress or pillow - there's a weird, bouncy feeling at play that's just not comfortable to me.

The ProLite is nice because the air is enhancing some foam and it's not overly thick, thus, you don't get that uneasy air mattress sensation. Also, the ProLite looks and feels a lot more durable than some of those 3-4" thick air mattresses.

Look, most of the time, I'm still going to grab my cot because they're damned comfy but I have a renewed confidence and appreciation for the ProLite. Now, if weight and space are at a premium, I can see myself opting to reach for the ProLite instead - it's amazing what 2 nights of good sleep will do to your perspective.