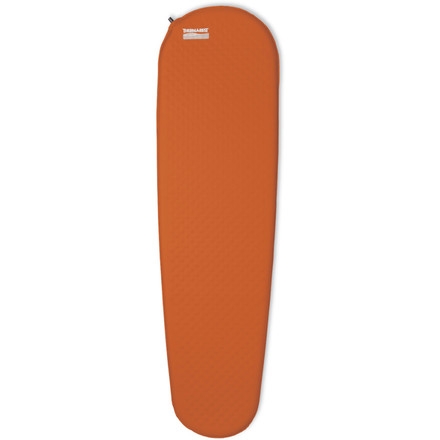 Description
Lightweight comfort.
Of course you want to pack light, but what you want even more is to get a good night's rest when you're on the trail. There are crazy-light, nearly-weightless pads out there, but you really don't feel like sleeping on what feels like the back of a sea urchin. The Therm-a-Rest Prolite Plus Sleeping Pad gives you a lightweight design that doesn't skimp on comfort.
Self-inflating style requires almost no effort to get ready
Diagonally cut foam shells out more insulation per ounce and cuts down on bulk
Nylon soft grip stops you from slipping off of your pad in the middle of the night
Tapered shape cuts down on weight and rolled size
Share your thoughts
What do you think of the
Therm-a-Rest
Prolite Plus Sleeping Pad
? Share a...
Leaked first night
Familiarity:

I've used it several times
Much to my disappointment, my prolite plus leaked out on me on my first night using it. This isn't the first time I've had this problem with a Thermarest self inflating pad, but this is the first time it's happened so soon. Can't identify the source of the leak, I was using my pad on the ground, but it was a grassy area and I checked for sticks/rocks before laying it down. I've looked/listened it over and can't figure out where the leak is, but I've used it again on subsequent trips with the same result, I'll blow it up and be fine in the evening, but wake up sleeping on the ground, with no air left in the pad.

I'm thankful I bought this pad on Backcountry as opposed to elsewhere for the great return policy!
Good if a bit on the heavy side but warm
Familiarity:

I've put it through the wringer
I like this mat a lot. Was looking to update my sleeping pad and wanted to add a little insulation for cold Wind River nights and winter camping missions. I like this mat, the rounded edges keep the weight down, even if this is still a bit on the heavy side. But to get that insulation it is well worth it. This is great mat, comfy and warm.
A bit firm but overall pretty good
Familiarity:

I've used it once or twice and have initial impressions
It was a bit firm and sleeping on snow I could feel cold coming up through it in my 19 degree sleeping bag but on solid ground I didn't feel any rocks or sticks so it definitely did it's job and it packs down to a pretty nice size.
Nice if you like firm
Familiarity:

I've put it through the wringer
Great sleeping pad, easy to inflate. My only issue is I tended to slide around on it a bit and it was a little firm. Never felt any rocks or anything like that poking through. Slept pretty well on it. I just like a softer mattress. I got the Big Agnes Q Core and it's more of what I need and is a bit lighter.
Solid, simple and reliable product
Gender:

Male

Familiarity:

I've put it through the wringer
I've used this product for much less demanding situations than it's meant for and it's held up perfectly. It's simplicity is what makes it so versatile. I'm 6'3" and fit the Large. I find that it takes a bit of fine tuning of blowing beyond the auto inflation max to get the right amount of support but nothing too taxing. Most recently used it on Black Tusk in BC for an over night 'bare bones' type trip. On our way up a man decending, looking very seasoned asked us if we even had pants. We replied we dont even have a tent.
Packs nice and tight in its sack and doesn't slip around.
Make sure you don't leave it packed up for an extended period of time or it will be a pain to auto-reinflate
Not bad
Familiarity:

I've used it several times
I suppose for what it is, it's not bad. I had problems with under or over inflating it and either being against the ground at some spots or feeling like I was laying on a board. But I never did get cold though, and it held up well considering some of the ground conditions it was exposed to. The self inflating feature was nice also, one less thing to deal with after a day of packing. I am 5'11" and weigh 165 lbs. I went with the large because I was using it in colder temps- high 20's low 30's- and I figured the large would be the way to go so I don't roll onto the cold ground at night. I have a regular size pro lite and never had a problem with comfort or having it inflated just right. So for this reason, maybe I should have gone with the regular size for the Plus also. Or maybe I'm just getting old and soft.
Great Pad
Familiarity:

I've put it through the wringer
I got the short version and it works great for me. It packs small, hardly has any weight to it and I sleep much better with it. Its also pretty durable and I expect it will last a long time
Awesome!
Familiarity:

I've used it several times
This is a solid pad. Warmth to weight ratio is good. I considered the neo-air. Comparing price, self inflate vs. blowing up and so on... this was the pad for me. The neo-air is lighter packs smaller and is thicker when filled; but, overall, all conditions considered, the prolite plus is amazing and still the pad for me.

Considerations when choosing included weight, R-value (warmth/insulation), packed size and price.

If I were recommending a pad to anyone, the short list would be this or the Neo-air. They are different enough that personal preference in features would be needed to make the final decision.
Therm-a-Rest Prolite Plus Sleeping Pad
Snow Camping
Familiarity:

I've used it several times
I used this mat on a snow camping trip in New Zealand amongst other things. It kept me warm every night and I was surprised how comfortable it was.
This pad has the perfect combination of weight, size, and comfort. Never leave home without it.
Simple, comfortable, small
I really like this pad a lot. It packs down to a very packable size/shape, and when it's inflated, is more comfortable than a lot of the car camping-oriented pads out there. It is a little slippery if you're someone who moves around a bit when sleeping, but silicone dots or something along those lines would fix it.
Thermarests Mattress descriptions
Goldilocks' favorite sleeping pad!
I currently own the 2010 model of this pad. I would own the most recent model, but this thing is a tank and I don't fix it if it isn't broken. To review, I've compared this mat to several styles of mat. First and foremost, the foam mats. I've always been a fan of these (because I am cheap and poor). This mat is clearly WAY more compressible. On an ultralight weekend I have the joy of keeping this beauty INSIDE of my 40L pack. On the other end of the spectrum are the "NeoAir" style of pads. These are hyper expensive, and in my experience, less durable. Also, because I usually sleep in a bivy sack, the large NeoAir mats leave less room (I'm a squirmy sleeper). I've found this mat to strike a perfect balance of light weight, high durability, and compact size (both packed and unpacked). It is a very comfortable mat (it is currently my bed).
A few considerations if you plan to purchase this mat, or if you currently own it. It IS self inflating, but it takes an awful long time to do so, especially in cold weather and if you roll it up tight. Lay it out as soon as you set up your bivy site, don't wait until bed time. You may have to blow in it a bit, but be careful, any condensation inside the mat will freeze up on you. Also, my first few nights on the mat I thought it was super uncomfortable. This being my first self inflating mat, I had a tendency to overinflate. Let the mat puff up to it's "resting state" and close the valve. This allows the perfect amount of give and will be an extremely comfortable setting (depending on what your sleep number is ....). ;-)
Just got the pad. Returned a Big Agnes to get this one. BA just felt (as people have testified) susceptible to punctures. Love non-slip bottom. Will update after summer Colorado Trail trip. So far I'm very happy with what I have here.
It worked great!
Gender:

Female

Familiarity:

I've used it once or twice and have initial impressions
I've only used it once, so I can't really say much about durability of versatility in different environments. First night was pretty cold and rainy, pad worked great. I was comfy and warm, I just had to inflate it a bit myself and stayed inflated the whole night. You don't slip from it which is great so you don't end up off the pad in the middle of the night. Comes with stuffing bag which is great.
Great Pad!
Gender:

Male

Familiarity:

I've put it through the wringer
I have nothing bad to say about this pad. It is light, comfortable, and takes up very little space in my pack. I used it all summer backpacking in Northern New Mexico without any punctures or tears, (many of those nights were outside of a tent). It is easily rolled up to tale up less space in your pack and when inflated is extremely comfortable. I would highly recommend this to anyone.
Light packable and comfortable
Gender:

Male

Familiarity:

I've used it several times
I have loved this pad. I have the prolite as well and it is a good pad but this one it much better. they weigh about the same and pack the same but the plus is much more comfortable. I have not had any issues with durability.