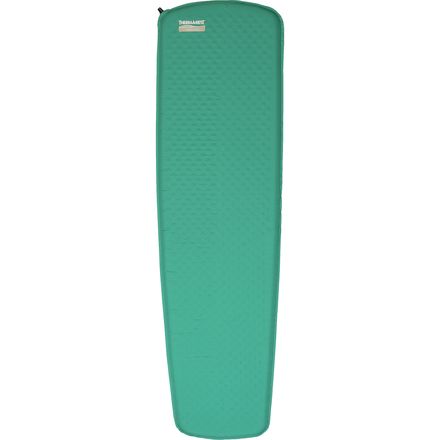 Community Images
Description
Lighter is faster.
The Therm-a-Rest ProLite 4 Sleeping Pad is a lightweight, multi-functional, self-inflating sleeping pad. It is engineered to accommodate people who are carrying everything needed to survive from alpinists to adventure racers and long-distance backpackers. Therm-a-Rest's urethane foam is extremely lightweight but still packs a warm punch to help you through those chilly nights. The ProLite 4 is thick enough for four-season use and features a sticky-dot non-slip surface that ensures your mattress stays put for a full night's sleep. It's also compatible with the Lite Chair Kit for added backcountry comfort. Pair it up with a Fast Light Stuff Sack for protection and portability.
Urethane foam
Mummy bag shape
Stick-dot, nonslip surface on bottom
First sleeping pad
Gender:

Male

Familiarity:

I've put it through the wringer
This was my first sleeping pad. I am a side sleeper and I sleep pretty well on it. It is not loud and helps to keep me warm. Still, I am going to upgrade soon. It is heavier than I would like, especially for a pad that is so thin. It is also bulky and does not pack very well. It is a good pad, but the weight and size aren't doing it for me.
Great value for 6- 10 miles a day hiker
Familiarity:

I've used it several times
I have the large and do find it a little heavy, but we are talking 6 or so ounces more compared to other similar pads with insulation. I am very comfortable while sleeping and for me, when I am camping out in the boonies, that is what matters most. Sleep is vital. For reference, I'm was 6 feet tall, 220 lbs when I used it. Thankfully, I'm down to 200 now so it should be even better.

However, if I were purchase it all over again, I would probably buy the regular because the extra inches really only affect my calves or feet and the sleeping bag takes care of that.

The only flaw with it and it's my fault, is that I did slide down a little bit. 2 or 3 inches max. While out backpacking I like to sleep with my upper body slightly elevated. I guess I am just a weirdo like that. For those side sleepers out there, I found it comfortable, but I'm not a strictly side sleeper anyways. I switch constantly throughout the night, so don't rely on this review on whether you could make it through the night on your side.

For the price, especially now that it is on sale, it is worth it.

TL;DR-
Great comfort for the value
I find it great for 6 to 10 miles a day, any more than that and you may want something different, but that will come at a cost.

1 tip- When you get it, unroll it and just place it under you bed so that it can self inflate overnight. It is packed tighter than those oh so delicious sushi rolls. It will take some breaths to finish the job though. Lastly, if you can, keep it stored under your bed when you aren't using it with the valve opened. Take care, good luck, and most importantly be safe in the backcountry. Don't rush it, you don't want to be like the guy I saw get air lifted off Mount Whitney due to a hasty decision to go too fast. He only had 11 miles left after already completing 100 miles. It's a hike, enjoy it.

Thanks for reading my book.
Easy, fairly lightweight, and comfy!
Familiarity:

I've used it several times
Got one of these for myself and for my boyfriend who is a forester who spent almost the entire summer out in the field. He gave it 2 thumbs up! This is a great sleeping pad! It's fairly lightweight, easy to fold up, and surprisingly comfortable. It's not the lightest or smallest pad out there but for the extra comfort it is worth it! The only reason I didn't give it 5 stars is because you need to store it inflated and flat to project the self-inflatable feature. This means that our two pads are standing up behind a desk in our office. Really not that big of a deal, but storage is a bit of a pain. Otherwise, great product and a good price!
Functional and Practical
Familiarity:

I've used it several times
This sleeping pad has met every expectation I have had for it. I used it on two trips already as it now has become a staple in my pack. It maintains body heat while providing great comfort. This is my go-to pad for 4 season backpacking. It packs light and is a reasonable size. I look forward to using it this winter for the trip I take. The price point is a great aspect as well. Very comprable to other leading brands and models. I believe this pad will meet or exceed your expectations. It will put your mind to rest when you know you have a dependable pad to count on.
4-season comfort
Familiarity:

I've used it several times
I've been backpacking and car camping with a corrugated foam pad for 4 years. It's been great in so many ways: yes, it's big and bulky but would just attach it to the exterior of my pack and it would work out fine, it's light as a freaking feather! However, I finally had to admit that I just don't sleep well with that foam pad. It's too thin for side sleeping and doesn't provide enough insulation for warmth on cold nights. I always sleep poorly and wake up sore. I bought this to solve that problem and boy, is it such an improvement!

The Therm-a-Rest ProLite 4 is significantly heavier than my foam pad but packs much smaller. It still packs larger than I would like but it fits in my pack no problem. I keep reminding myself that the extra weight is due to the fact that I purchased the Regular size and it's 1.5 inches of pure comfort that's meant for 4-season use. It truly does offer awesome thermal insulation when I've camped at temperatures well-below freezing. Plus, I'm 5'5.5" and about 125 lbs and I'm a side sleeper with bony hips and I don't think I've ever been more comfortable while camping or backpacking.

Due to the size and weight, I will likely keep this as my go-to car camping pad for sure. I will also continue to use it for late-season backpacking and short trips due to the excellent thermal insulation and how comfortably I sleep. I will probably try to find something else that packs smaller and lighter for any serious backpacking in my future.
I don't know why this is recommended as ultra light. It's the largest thing in my pack. If you're looking to do something other than car camping, do not buy this. I'd also consider something smaller for car camping as well.
Does it come with a stuff sack?
Hey Libardo,



Yes, this comes with a stuff sack.
Great quality, but not for side sleeping
Familiarity:

I've used it several times
This is regarding the Large size and I'm 5' 9" and 165 pounds. I gave this 4 stars because it is made of real quality materials, and it packs small enough to fit in my 60L pack for an extended hike. It is lightweight and a huge upgrade if you are sleeping on a yoga mat or just a flat ground pad. I couldn't give it that 5th star because it is not for side sleepers. I am a restless sleeper and sleep mostly on my front, but back and sides at times. During a recent 3 night hike in cool temps, I used this and slept on my side more and each night my hip and shoulders hurt and my shoulders were sore in the morning. If you stay on your front or back, it is great! Like others have said, the side sleeping is a definite "con" to this pad. The pad itself is a great pad other than that. The packed size stated is a little small. 13" x 6.5" is more like it unless you are a factory machine that can roll it back up to factory tightness. I pictured it here with a ruler and DVD case on it's side to give a size perspective. It fits good in a pack with other stuff sacks for food/clothing and a tent and jet boil.
Great pad for the price
Familiarity:

I've used it several times
TThis was my first sleeping pad and it worked great. I did a lot of research prior to making the purchase, and finally settled on the ProLite 4 because of its great price point (at 20% off sale), and its relative size and weight to other pads at that price.

I got a regular size and at 5'10" and ~175 lbs. I had more than enough pad to sleep on and was kept very comfortable all night. I sleep on my front so keep that in mind, but did notice it may not have been the most supportive or comfortable for anyone that sleeps on their side.

Overall a great pad for a great price, with no complaints a out its size, weight, or general performance.

Also, have used in a hammock and works equally well.
Huge upgrade from thin foam roll up mat
Familiarity:

I've used it several times
I have been tent camping with a thin foal roll up mat for several years with the assumption that spending the extra $ on a sleeping pad like this just wouldn't be worth the extra cost - but after a few trips this summer involving some uncomfortable and very restless nights, I decided to go for it, and I could not be more pleased with the quality of sleep I am getting - It has made a world of difference.

- I am 6'4" and just under 200lbs and the large mat suits my size and weight very well.

- Other reviewers are correct in that the pad only self inflates to a certain point, and you need to help it along after that - but it doesn't require much and is very easy to do. (no reason to drop a star from the review in my opinion)

- The quality seems to be great. No complaints so far.

- The packed size is accurate. A little large for longer backpacking trips when rolled up into the stuff sack (included with purchase). It takes up a good portion of my 74 liter pack - but considering the comfort it offers, I won't hesitate to take it on weekend trips when I have a little space to spare.

Overall extremely happy with this sleeping pad and would highly recommend to anyone upgrading from a simple roll-up foam mat - although it should be noted that I have little reference to other air/foam pads like this, so it's possible that there are better options out there - but at this point I see no reason to look any further than this.
Helps with a great night sleep!
Familiarity:

I've used it several times
this has been a great sleep pad for introductory backpacking trips as well as long weekend camping trips! It packs down to a nice size, not an ideal weight though. Perfect size for fitting underneath my 6' 5" sleeping bag- doesn't have me slipping off of it during the night! And the price was awesome!
Love it for the great price.
Familiarity:

I've put it through the wringer
I Got this sleeping pad because a friend recommended it to me and it was a great price! I've taken it out many time now and am overall happy with the purchase.

Pros:
-Love the foam, I think it makes it a lot more comfortable than just an air sleeping pad.
-It is partially self inflating which is just nice.
-It doesn't slip around when you flip flop in the middle of the night

Cons:
-It doesn't pack up as small as i'd like, but I think most foam sleeping pads don't
-It is a little thin when I sleep on my side and I notice my hip bone does end up digging into the ground.

But I mostly sleep on my back, so it hasn't been bad.

Overall, I like the pad, but I think when I am ready to upgrade I will find a different sleeping pad.
Pretty Neat
Familiarity:

I've used it once or twice and have initial impressions
Took this sleeping pad with me on my first backpacking trip and it was great. Lightweight, easy to inflate (partial self-inflation is a plus), and prevented me from feeling discomfort from the pines on the ground.

Shady glade is a beautiful color.
A Cloud
Familiarity:

I've put it through the wringer
This is is probably the best sleeping pad I have owned. I have always traditionally stuck to using foam pads, but boy, I missing out.

Pros:
• Packs small and I can fit it into my bag.
• Very comfy for back sleeping
• It is lighter than any other pad I have used

Cons:
• It's not the most comfortable on my boney hips when side sleeping, but with that said, I still wake up fresh and without soreness.
Awesome
Familiarity:

I've used it several times
This is a great product worked as it was supposed to. I used it for some over night hikes in the white mountains of NH. I'm 5'8" 160lbs and slept comfortably with no back pain. It self inflates but you can always blow a little more air in the pad if you need a little more comfort. It is also very compact and light weight. Normally I would store my sleeping pad at the bottom of my bag, but it packs so small I throw it right in the pack. The pack is definitely worth it for the price especially since I snagged it while was on sale pluse had and extra 20% the sale price.
Solid pad
Familiarity:

I've used it once or twice and have initial impressions
Packs down small, very comfortable. Self-inflation takes a while but does about 50% of the work. Otherwise takes maybe 30 seconds to fill. Seems pretty good. Got it on sale and very worth it compared to the competition.
I'm a pretty heavy dude, 6' 210lbs and i was worried it was a waste of my time. This sleeping pad was light and was great! I'm not sure it actually self inflates to where I need it but it takes 30 seconds to blow up. Great deal!
Like frosted flakes
Familiarity:

I've used it several times
...they're more than good, they're great!
Great for hammock camping.
Familiarity:

I've used it once or twice and have initial impressions
super light didn't add much weight to my pack. fit nicely in my hammock.