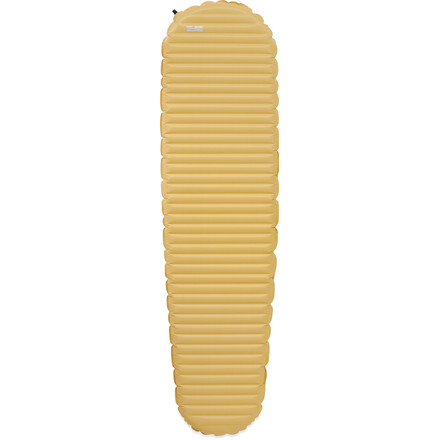 Detail Images
You're gearing up for week-long sprint down the Pacific Crest Trail and you need an ultra-light sleeping pad that won't weigh you down or take up precious cargo space in your pack, but you also realize that if you don't make your sleeping time count, you'll be exhausted and your pace will suffer. Not to worry, the Therm-a-Rest NeoAir XLite Sleeping Pad features a smart design and proven technology to keep you warm and comfy while minimizing weight and bulk.
Although it packs up smaller than a one-liter water bottle when you stuff it into your pack, it delivers comfort fit for a king once inflated. Lightweight, yet tough nylon can handle sharp jabs from rocky campsites, while the soft no-slip top fabric boosts comfort and keeps you from slipping off your pad when you're sleeping on uneven ground. ThermaCapture layers within the pad reflect body heat, and Triangular Core Matrix construction maximizes insulating properties to keep the cold ground from robbing all your warmth. Whether you're a minimalist backpacker or a dedicated thru-hiker, get the rest you need for the long trek ahead with the NeoAir XLite sleeping pad.

Ripstop nylon and polyester fabric
ThermaCapture layers
Triangular Core Matrix construction
Mummy shape
Stuff sack included
Repair kit included
Light weight and packs well
Familiarity:

I've used it once or twice and have initial impressions
I have never really bothered with sleeping pads because of the space they take up. This one is different. I have only taken it on a few trips (3 or 4 trips of 3-5 days each) but so far no signs of wear. You can squeeze all the air out of it and it packs up pretty small. This will be something I keep in my pack.
Excellent Light Weight Sleeping Pad
Familiarity:

I've used it once or twice and have initial impressions
Initially I bought the Sea to Summit Comfort Plus sleeping pad based on the backpacking.com review. Although it was a good pad, I bought the NeoAir XLite on sale in a large. I inflated both pads and tried them out side by side. The NeoAir XLite was larger, thicker, lighter, and had an higher R-Value. It was ultimately more comfortable as well. The only two downsides are that the Sea to Summit Comfort Plus packed down to a smaller volume, but not by much, the XLite took quite a few more breaths to blow it up, and Comfort Plus has two chambers for redundancy. I ultimately returned the Sea to Summit Comfort Plus and kept the NeoAir XLite. I had the chance to use this on a recent trip to the northern 30 miles of the SHT. The nights got down to the low 50's and upper 40's. The pad kept me warm and comfortable. I used it in combination with an Enlightened Equipment 20 degreee Revelation Quilt. Many review complained about the pad being noisy when you shift around at night. I can assure you that this pad is more noisy than any others I have used and I shift around a lot in my sleep. I was comfortable on my side, my back, and my stomach. I highly recommend this pad.
More durable than I was lead to believe
Familiarity:

I've put it through the wringer
This pad is definitely thin and light, but after countless nights spent on it, even at campgrounds with sticks, rocks, and broken glass, I have yet to pop this pad. All you have to do it clean the area some and you're good. It definitely takes many breaths to air it up. I have used it down to 25 degrees and I feel like that was the limit for me. The noise doesn't bother me or any tent mates either, and I am far from being a deep sleeper. I have the large and it packs down super small. I am 6'2 and have about 4 inches of extra room on the pad, and plenty of width. I love the extra width of the large. My biggest complaint is that , since I'm a side sleeper, it makes my arm go to sleep and wakes me up. There isn't a lot of give and it makes it somewhat uncomfortable when sleeping on my side. I feel that the weight and space savings make it worth while though. Most of my friends bought a x-lite after I did. They loved the packability. There aren't too many pads out there that pack so small and have that high of an R-value. Definitely a hard value to beat!
The NeoAir takes care of you!
Familiarity:

I've put it through the wringer
If you take care of this sleeping pad, it will take care of you. I broke my back last year and I decided that I needed to upgrade my sleep system. Spending this much money on what appears to be a glorified pool toy is hard to stomach - but it is worth every penny. Just make sure you sleep on a ground sheet or CAREFULLY inspect the area you are going to sleep in. While this is durable, it does collect holes easily. It can be a pain to replace in the field if you don't have a lake nearby, so I pack in a small spray bottle with a little bit of soap in it just in case. I have used the patches provided, as well as, Tenacious Tape and Seam Seal and both methods have worked well. I also had to send it in to Thermarest for repair - they charged me $20 to patch one hole that was so tiny I had trouble finding it when I submerged the pad.

I have used this pad snow camping coupled with a foam pad, and on its own throughout Spring, Summer and Fall. I have used this pad in all conditions! It does not fail to deliver.
Super Light
Familiarity:

I've put it through the wringer
I really love this sleeping pad for backpacking! It is super light and packs down very small! If I was car camping I would want something a little thicker, but most of the time this ends up coming with me because its easy and still comfortable.
THE lightweight standard
Familiarity:

I've put it through the wringer
There's a reason these are often sold out. Absolutely phenomenal pad at an insane weight.

If you sleep cold, and you want a little more durability and almost double the r-value, check out its cousin, the neo air x-therm.
Light weight, very comfortable
Familiarity:

I've used it several times
If I'm bikepacking, I use this pad alone. If I'm backpacking, I pair this thermarest with a z-pad for extra warmth (I can do this since I have extra room in my backpack). I find this pad very comfy, but my feet tend to get cold so I need to throw some of my extra layers or bags beneath my lower legs. I especially like how small it is packed - important for bikepacking since storage volume is in demand.
NeoDreams
Familiarity:

I've put it through the wringer
This is hands down my favorite piece of gear ever. It really did revolutionize backcountry sleeping for me. I have spent 300-400 nights on my neoair and packed it around as a backcountry ranger and AT thru-hiker.

It packs down to something about as thick as a coffee cup and about 9 inches in length and weighs in at 12 oz. It take me 17 breaths to inflate mine. My first Xlite made it about 2.5 years until I had a baffle blow out when I left it inflated in a hot tent (totally my fault). I told Cascade Designs what had happened and they replaced it. Amazing customer service.

I have slept on it down to about 5 degrees-- it is cold at those temperatures; anything below 20 degrees and I feel cold spots with it as I turn during the night.

I had 3 punctures in my pad over its lifetime. The type A patches worked great. Two holes were my fault--broken glass and a knife :) and the patches held for over a year with no sign of failing. So in nearly a full year of sleeping on it I got one pinhole pop that I did not know where it came from. Durability should not be a concern with these, as long as you are not putting it on rocks and using it as a campfire seat--be sensible.

While long distance hiking my IT bands used to be so tight I could not sleep on my side with my old Zlite, but not with the neoair, sleeping on the side is not a problem. You can also place your tent over roots and the pad can absorb the uneven ground below and still make for a great nights sleep.

My favorite feature of the pad is inflating it for use in rivers/lake along the trail. You hiking buddies will be quite envious when you have packed in you own ultralight pool toy.

Finally, they can be a bit crinkly at first, or if you leave it inflated for a few days in a row. But, the noise goes almost entirely away with a little use and saliva :) There is a reason we have trouble keeping these in-stock. I have seen Big Agnes' Q-core in action throughout the AT--it is noisier than the neoair, does not pack as well, and had real durability issues. Sea to Summit has some cool pads, but I have not had good experience with their warranty, and they are still not as warm for the weight and size as the neoair. This pad is real deal. Get one while they last!
Comfort but not too durable
Familiarity:

I've used it several times
I have four different versions of the neoair and they all offer great comfort when I am out. The light weight and small size when it's packed is great. But with this one I encountered a problem I have not seen before. One off The internal baffles tore after 10 nights and left what looks like a hole inside the mattress. The comfort is still the same but I guess I will feel a cold spot if the temperature drops? Anyway, I'll check if the warranty covers it and if not it's still a good pad for summer use.
Light, fast... perfect!
Familiarity:

I've used it several times
I have been using other sleeping pad before but nothing compare to this one. Super lite, pretty foldable, and its fast to inflate and deflate. A bit expensive, but for this quality I can understand. I definitely recommend it.
ThermaRest is super light!
Familiarity:

I've used it once or twice and have initial impressions
My husband and I got a pair of these for our backpacking trips, and cause we wanted to travel light this was our top pick! This is more than light, it's incredibly light and easily packable. And honestly very comfortable too! Only downside is that it's pretty noisy if you happen to toss and turn as much as I (sorry honey!) kind of like stomping on a bag of potato chips all night.. But if you are a sound sleeper, the noise may not bother you at all? So give it a try!
Awesome... just plain awesome!
Familiarity:

I've used it several times
This pad has been a blessing! Finally a great night's sleep! Definitely far from "roughing it" Pair this with a great comfy sleeping bag and when you climb in the tent at night, it's luxury! It's super light and comfortable. When I first got it, it was a bit noisy... hubby said "Well, I hope a bear doesn't think you're a bag of potato chips" (that kind of noisy) but within a few nights it got quieter. I love it and am extremely glad that I got it!
Great sleeping pad. Super light and doesn't take much lung power to fill up. My only complaint is the noise. It's not bad, not like the sun chips degradable bag sound. It's just not completely quiet. Other than that, it's an excellent, lights weight, cooler weather pad.
Awesome
Familiarity:

I've used it once or twice and have initial impressions
This is my first sleeping pad so I have nothing to compare to, but it worked great. I didn't find it to be loud at all. I slept on both sides, back and stomach perfectly comfortable. No air was lost whatsoever. Only took about 2 minutes to blow up. My small 18 lb dog even walked around and laid on it, which worried me, but it held up.

Can't wait to try again.
How can you tell that it's the 2015 model?
It says 2015 on the box plus "New, Softer Fabrics" and it not noisy at all.
Lightweight and Noisy
Familiarity:

I've put it through the wringer
Imagine sleeping on a cloud that is made of the noisy paper you sit on at the doctors. Loud but comfy even for this side sleeper.
Sleep like a babe in the woods
Familiarity:

I've put it through the wringer
I have two fused disks in my vertebrae so sleeping pads are not something to skimp on for me. I am also an obsessive ultralight gear hound, so I suffered long nights on thin, hard, ounce-counting pads (Therm-a-Rest ProLite+a Zrest), and then I tried some thick wobbly pool-floaty looking pads (Big Agnes Air Core) for a couple of seasons before Therm-a-Rest came up with this fabulous invention. Now I sleep like a babe in the woods, even on my side, and none of that wobbling off the mattress thing. My only complaints are these: No, you can't take it out on rocks and do extreme yoga. It doesn't come in orange. And it crackles a bit loudly when you move around on it.
Hey nic105813661,



Yes, this is the Spring/Summer 2015 model.
dream on!
Familiarity:

I've used it several times
Ultralight is an understatement for this incredibly luxurious sleeping pad, or should I say mattress. I honestly get better sleep using this than my own bed. I am 6'1" and have the large version and have yet to find myself hanging off either end and even side to side is fairly wide. Before purchasing the NeoAir I always used the ZLite and ProLite and was totally content, but now that I have given the XLite a try I don't think I can go back! Pack size is incomparable and the total weight of 16oz is hardly noticeable in my pack. My ONLY complaint is that it takes some XL lung catapcity to blow this bad boy up, and after a long hike that is a royal pain! hahah I regress, I remember the XLite's being really noisy and obnoxious, but the new version is surprisingly quiet and grips my groundsheet/tyvek/tent MUCH better than the earlier versions. I highly recommend this to anyone who is looking for a very comfortable, ultralight sleeping pad/air mattress, and a killer cardio workout inflating it!