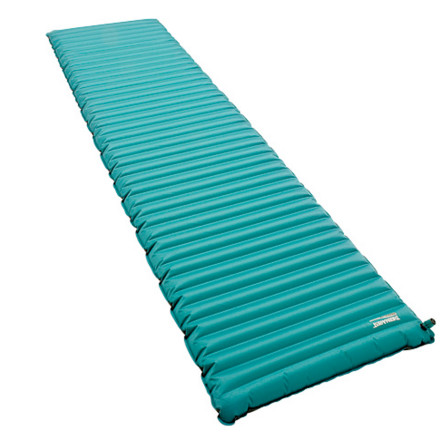 Detail Images

Videos

Community Images
Enjoy the comfort, durability and versatility of the lightweight, compact NeoAir Trekker Sleeping Pad. Thanks to Therm-a-Rest's Triangular Core Matrix technology, which creates over 100 internal cells that equalize air distribution and trap warm air, you enjoy terrific stability and warmth. Manual inflation shaves weight and helps the NeoAir Trekker to pack down into a small space. The tough 75D polyester bottom and supple 50D polyester top ensure durability, so you can use the pad in the most rugged conditions.
Comfortable and Durable
Familiarity:

I've put it through the wringer
I've used the Therm-a-Rest NeoAir Trekker for a few months now, and took it with me on the John Muir Trail. I had been using the Z-Lite for a few years before that, but felt it was time to move away from the closed cell pad to an inflatable. My research had me looking at the Trekker, XTherm, and XLite. All are great pads, but there are a few differences that lead me to selecting the Trekker. The XTherm has a higher R-value, but also a much higher cost. For my needs I didn't need the extra warmth, and have found the R value of 3.0 to be more than adequate for my 3 season backpacking. The closer competitor in my eyes was the XLite, which comes in 5oz lighter for only $30 more. I tried the XLite and didn't like the amount of crinkling noise it made when I moved around. I also didn't like the tapered shape of the XLite. The Trekker uses a heavier 50D polyester top that makes very little noise. I also like the rectangular shape, which is better for my body. I've been using this pad on all types of terrain in the Sierra this summer, and it shows no signs of letting up.
Much better than my old thermarest
Familiarity:

I've used it several times
I had an old self-inflating 1-inch thermarest. My brother told me about the 3-inch Neo-Air. Made a huge difference. Most comfortable camping sleep I have had on our 5 nights in the BWCA.
Lightweight and Comfy
Familiarity:

I've used it several times
I just used this pad for the first time on a week long camping trip and I was very pleased. Its super lightweight, packs down super small, and doesn't seem to sacrifice anything in the comfort department. I have never slept better on a camping trip. My only complaint is that the pad is a little bit noisy, it kind of has this crinkly sound. Its something that you get used to, but I can see how some people might find it annoying
Do you have to blow this up yourself, and if so, how long does it take?
Yes, this is not a self inflating sleeping pad. It should only take a couple of minutes to inflate.
great pad
Familiarity:

I've used it once or twice and have initial impressions
We bought two of these, and used them in the Whites. Kept us warm, and comfy. I sleep on my side, and was able to do that.
They do squeak...so we could hear each other anytime we moved. All in all, very happy
Unanswered Question
Hello,

Could you please fix your specs to differentiate between the radiant orange and the pistachio? The orange is the older version and only has an r-value of 2, and is 3 oz. heavier.

Thank you!
Won't Disappoint
Familiarity:

I've put it through the wringer
I got this pad in the beginning of December just before leaving to drive home for christmas. I live in Orange County and I drive all the way to Connecticut (Just under 3,000 miles) a few times a year to see the familia. This pad fits great in the back of my Subaru outback. I have probably spent 20+ nights comfortably in my car since buying this pad. Aside from the car I've used the pad for all the normal reasons. It did great for a four night hike on the appalachian trail in New York. Temps dropped into the 10's and 20's even during the day but I stayed pretty warm at night with a nice down bag and this pad. Also has served me well in the deserts of California and Utah. At 16-17 ounces I really can't complain about anything on this pad. Sure its a little less thermally efficient and slightly heavier than other neo-air models, but its more durable and it works for me.
Is there a big difference, warmth-wise, between the NeoAir Trekker and the All-Season? Trying to decide between the two.
Hey BexOnHood,



In terms of wamth, the NeoAir All-Season will be a warmer pad; it has an R-Value of 4.9 as opposed to the Trekker's 3.0. Let me know if you have any other questions!



Ben



1-800-409-4502 ext. 4767

brabinowitz@backcountry.com
Quite Remarkable
Familiarity:

I've used it once or twice and have initial impressions
As a newcomer to camping (properly) I am very impressed with the manner in which this pad keeps me from hitting the ground. Formerly I had used a "cheap" rollup self inflating type of pad which neither kept my hip from the ground as a side sleeper nor maintained equal inflation top to bottom.

This pad came as a result of rave reviews and so far it has performed extremely well. Any discomfort or mid sleep waking is not a result of the pad. I tested in home for a few nights and then in the field for a camping trip. If it were wider Id probably ditch my mattress at home.

I love its compact size.
Light and Comfortable
Familiarity:

I've put it through the wringer
There are multiple sizes to fit all but the Backpacking size is GREAT for long adventures where you want a pad but need to shave some weight. It is just long enough to hit the back of your knee and then let your feet hang off the pad. This size shrinks down for easy packing! Awesome for backpacking and still keeps you warm even though it's 2/3 of a pad!
Morning at Angel's Cove.
So far so good!
Familiarity:

I've used it several times
Light weight, small pack size, good R-value and pretty comfy. It does make some noise as others claim, but it is not a deal breaker, nor does it wake the dead. We bought 2. We're not die hard ultralight minimalists. For us, it was the perfect middle ground of pads and it weighs the same as our Z-lites. The huffing and puffing does get a little old. But again not a deal breaker. I only gave it 4 stars because of slight noise, huffing and puffing and I know it will fail on me some night. But, so far so good!
Trying to decide between the NeoAir Trekker,...
Trying to decide between the NeoAir Trekker, NeoAir XTherm, or the NeoAir X-Lite sleeping pads. Lots of reviews claim the X-Lite and X-Therm to be rather noisy, wondering if the Trekker equally as noisy? If it isnt as noisy, what is the difference that makes it quieter?
Best Answer
I've used the Xlite, camper and all season pads. I do not believe they're all that noise. the Xlite is crinkly but its not noticeable once you're on it. If you're looking to save space and weight, the noise doesn't matter.

The difference is the reflective material on the inside that reflects heat. Also the Trekker has a thicker outside material that keeps the sound inside.

The NeoAir camper doesn't have any of the reflective stuff inside and makes zero noise. But has a much lower R-value.

Hope that helps
I have the X-Therm and I think the reports of noise are exaggerated. If you toss and turn all night while you sleep, my guess is that it's not the sleeping pad keeping you awake!
Trying to decide between the following...
Trying to decide between the following pads:

1.Big Agnes Q-Core SL Insulated Sleeping Pad

2.Big Agnes Insulated Q-Core Sleeping Pad

3.Therm-a-Rest NeoAir Trekker Sleeping Pad

4.Therm-a-Rest NeoAir XLite Sleeping Pad



Can anyone shed some light? Lightness, packability, comfort, price?
Best Answer
Hey Adoraeleven,



The Lightness (weight), Packability (rolled size) and Price are all listed in the tech specs for each of these products. As far as the comfort, I would list them in this order:

1.Big Agnes Insulated Q-Core Sleeping Pad

2.Big Agnes Q-Core SL Insulated Sleeping Pad

3.Therm-a-Rest NeoAir XLite Sleeping Pad

4.Therm-a-Rest NeoAir Trekker Sleeping Pad



If you have any questions at all please either chat in or give one of our gearheads a call and we can help narrow down your selection.
I'm a fan of the Xlite, mostly for its packablity. Its warm also.

Of all the pads I've used its my favorite. I use the neoair all season for cold weather and snow camping but the xlite for everyting else.
According to the manufacturer's website,...
According to the manufacturer's website, the new 2014 models have an R-value of 3.0. The tech specs here list the R-value as 2.0. Could you please clarify?
Hey Paul!

The pistachio color is the new 2014 model with the R value of 3, since we still have the older Everglade color from last year the spec hasn't changed on the site. The R Value of the Everglade is 2.
love Therm-A-Rest
Familiarity:

I've put it through the wringer
Another excellent pad from Therm-A-Rest.
Will this work in a hammock also?
Will this work in a hammock also?
Best Answer
Hey Dale,



This will work with a hammock but might I suggest not filling it up all the way so the that air channels are a little more flexible and wont want to snap to being a flat surface as you roll around at night.
Hi Dale,



The NeoAir Trekker's are great in a hammock because of their additional width. Like Wayne says above don't completely inflate the matt that way the matt will shape to the hammock and with the extra width your shoulders will also stay warm. You can even tuck your knees up and not cold cold spots.



I have the LT and don't go anywhere in the backcountry without it and my hammock. I have heard from the friend the large is too large for a hammock and he's over six foot tall!
She loves it!
Familiarity:

I gave it as a gift but have feedback to share
I still own and use the original NeoAir as well as many other designs and brands of sleeping pads. Some are better than others depending on the environment and temps. The Trekker is no exception.



I was looking for the "perfect" pad for my gf, knowing she is a side and stomach sleeper. This virtually eliminated most pads.



The 2.0 R value is more than adequate for the type of environments in which it will be used. If not, she can always throw down an extra closed cell pad.



The Rectangular shape has more area than mummy shaped pads. It is more durable than all of my other air pads, inexpensive, and more comfortable than Exped's vertical baffles and Nemo's horizontal baffles as well as Big Agnes' grooves(very slippery too). I highly recommend this pad in either the older version (if you can still get your hands on one, Everglade) and the newer Pistachio/Seattle Gray.
Does the 2014 model come with a stuff sack...
Does the 2014 model come with a stuff sack and repair kit? Does it have significant advantages to the 2013 model? I've never bought/used anything aside from foam in the past.
Strongbow, the current Trekker (Pitstachio/Seattle) is supplied with a stuff sack and repair kit.

The previous model in (Everglade/Phantom), is 2 oz. heavier, has an R value of 2.0 compared to 3.0 with a stuff sack and repair kit included as well. Hope this helps.
LT = "Large Torso", not "Large Tall"
Gender:

Male

Familiarity:

I've used it once or twice and have initial impressions
I naively thought that "LT" had become synonymous with "Large Tall" in reference to sizing, but apparently the folks at Cascade Designs decided to throw a curve ball and have it stand for Large Torso. Confusing much? The reason the LT is on sale is because it's a little under 4ft in length, making it relatively useless unless you plan on using it for your child or dog.



I returned this and got the Regular length which at 6ft was plenty long for my 6'3" frame . Any longer and it would not fit in most tents. The NeoAir technology is really impressive. It has 3x the cushion of my ultralight Therm-a-Rest and rolls up to half the size. It may be a bit heavier, but it's an impressive leap in technology.