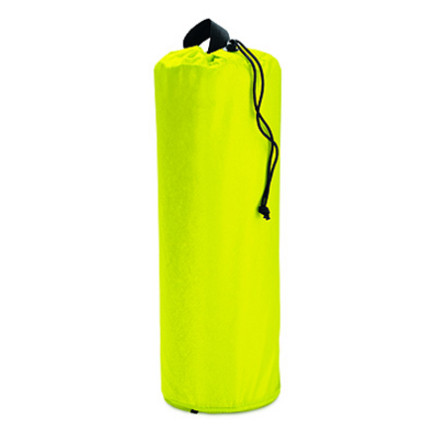 Community Images
Protect your ultralight sleeping pad from possible pokes and pops with the Therm-A-Rest NeoAir Stuff Sack. This ultralight sack stores your pad neatly in your pack to keep it safe from harm, ensuring you don't wake up on the ground.
Share your thoughts
What do you think of the
Therm-a-Rest
NeoAir Stuff Sack
? Share a...
Great stuff sack for the NeoAir. I use the large, and this stuff sack works great, I even have room to wad up my little velour pillowcase in the top before I cinch it closed.
...only wish Therm-a-Rest would have offered with the original NeoAir. The NeoAir was pricey enough. To my knowledge, the remaining pads offered by Cascade Designs come with a stuff sack and repair kit. Not so with the original NeoAir.
The new NeoAir XLite now comes with both. Hmm...
For 130 bones this should come with the sleeping pad. It's a nice stuff sack though, not too big, not too small. It's pretty important that you put the neoair inside something to protect it- why not this stuff sack?
Do you really need a stuff sack? It seems...
Do you really need a stuff sack? It seems like it rolls up so well and its so light that all you need is a bungee cord maybe to keep it tight.
Best Answer
Not needed at all. Sure, it probably protects it a bit more and looks nice, but a small piece of cord or a bungee (as long as you're aware of the sharp hooks) would work just fine. A rubber band is what keeps mine rolled up!
Oh yeah forgot about the bungee hooks. Sounds like a rubber bands the way to go. Thanks!
Do you ship to Australia?
Do you ship to Australia?
Cascade Designs (Thermarest, MSR, Platypus, Sealine and Tracks) cannot be shipped to Australia. See 'What Brands Cannot Be Shipped Out Of The US" on this site (under the 'Help' menu).
Love this product and the NeoAir...spent six days in high desert and the stuff sack kept my NeoAir compact and I could easily distinguish that sack from others due to the color. worth it.
Well made and lightweight.
It is well worth the price of the stuff sack to protect your NeoAir Sleeping Pad!
There was even room in the stuff sack for my Cocoon Ultralight AirCore Travel Pillow stored in it's stuff sack.
worth it for the protection
4 stars because it should come with the pad. But if you're already spending $150 on a sleeping pad, I figured might as well spend the extra $15 to protect it. It is not really necessary, any stuff sack will do really, but it will provide adequate protection while in your pack or when it's just around around your house. I would note that while the stuff sack is made of Cordura, the top is not waterproof by any means. If water gets in through the top, your pad will get wet. I bought the R/M stuff sack for my R pad and it fits with room to spare. As long as you make some kind of effort to roll your pad up tight it will fit in the stuff sack. They are dead on when they say it is the size of Nalgene. One added benefit- you can store your NeoAir in the stuff sack when not in use, as opposed to a pad with foam (like the ProLite) which you have to store out of the stuff sack and in it's sleeping shape.
Will the regular mattress fit in the small...
Will the regular mattress fit in the small stuff sack? Thanks
Edit: Regular size NeoAir mattress
The regular Therm-a-Rest pad will not fit in this stuff sack. It's specifically designed for the NeoAir.
Do the medium and regular pads fit in size...
Do the medium and regular pads fit in size medium?

Or do you need a large for the regular size pad?
Best Answer
Each of the stuff sacks give approximately a 1/4 inch of the rolled diameter of its corresponding pad. Both the medium and regular pads are listed at 9x4" rolled (I confirmed this at http://cascadedesigns.com/therm-a-rest/mattresses/fast-and-light/neoair/product) so they would fit the medium stuff sack.
As advertised. It does have a pocket on the opposite end of the opening. Could fit a small flashlight, condoms, etc.
The pad fits inside easily as others stated. The bag's a bit too large but does make for quick packing. I actually add my silk bag liner (also in it's stuff sack) to the bag which makes for a good fit. The bag's light and durable, no complaints.
fits the neoair just fine (it's actually a little big so you won't have to work hard to get it to fit inside)...just wish it had come with the pad for free; oh well
I am not sure why people say this is a must have... Is it nice to have? Definitely. Is it a must have? I wouldnt say so. Any stuff sack or bag would really do just fine to hold the pad. I look at this as more of a Want then a Need. Maybe people arent folding the pad down properly but ive never had a problem with it fitting in the sack, infact I can almost fit 2 pads in there if I tried. But, I am not complaining.....I got it for free :)
Will this fit a Thermarest Ridge Rest...
Will this fit a Thermarest Ridge Rest (Regular)? I have a brand new ridge rest and don't want to upgrade to a NeoAir until I have to.
Best Answer
Unfortunately not even close. The NeoAir stuff sack has a much smaller diameter than the Ridge Rest stuff sack.
Three starts because I think the pad should have came with a stuff sack but this fits perfectly and even more important, the color matches.
I just completed a 52 mile, 5 day solo trek across the spectacular Uinta Highline trail. It was critical to cut my pack weight down to 35 lbs or less in order for me to make the time that I needed. I stewed and fretted about the negative reports of the NeoAir pad. I finally spent the money and am glad I did. It was amazing! I have never slept better. Besides the greatly reduced weight and size, I really liked the fact that I didn't have to spend a lot of time preparing a sleeping spot. The stuff about only being 20 inches wide was not a factor for me as the pad fits perfectly inside my REI Cruiser SM tent. With my mummy bag and tent constraints, never did I feel like the pad was too small. I highly recommend the pad! It was a critical part of reducing 20 lbs off my usual Uinta 55 lb pack. I totally agree, however, that it's a bummer to have to buy the stuff sack and repair kit separately. Come on, Thermorest! For the price, you should throw these in.
It is almost pointless to have the NeoAir and not have the stuff sack. The potential for ruining a NeoAir without the stuff sack is too high, either through exposing it to sharp objects, pinchflat potentials or tweaking the nozzle. It weighs less than an ounce. However, one could theoretically save on money by using a ziplock baggie or something similar, but the manufacturer stuff sack is a guaranteed good way to protect your investment.
Really, what is there to say about a stuff sack? Yes, for the price of the NeoAir it sure would have been nice for them to include the stuff sack, but I knew that they didn't when I bought it.

The bag is lightweight, and seems to provide adequate protection. The pad fits in the stuff sack with room to spare. I have an old ProLite and it takes two rolls of it on firm ground for me to be able to stuff it into its sack (I'm not sure if the new ProLites are much better). But for the NeoAir, I fold it twice, roll it once, and it easily slips in the bag. This may sound like a small thing, but it is one less thing to deal with when breaking camp.
Therm-a-Rest NeoAir Stuff Sack Review
I mean, I guess it kinda sucks that the pad is sold without the stuff sack. While that is a bummer, my hands are tied because this stuff sack is obviously built for the pad.

I'll keep this review straight-forward... it is only a stuff sack and it holds the sleeping pad perfectly. Buying the Neo-Air without the stuff sack isn't a fair option as I tried to find house hold bags that would hold the pad. Take it from me... save yourself the time, fork out the $15 for this sack if you have the pad.