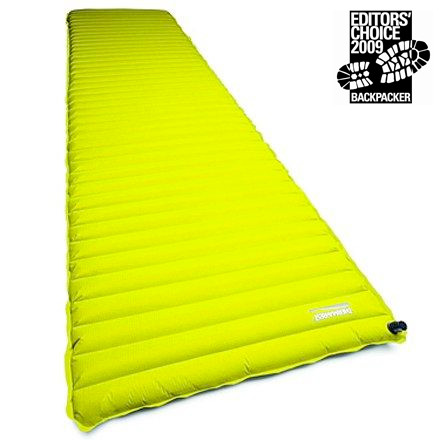 Community Images
Yes, the Therm-a-Rest NeoAir Sleeping pad packs down the size of a one-liter water bottle, and the regular size weighs a scant 14 ounces. But what sets the NeoAir apart from other non-insulated pads is its ability to keep you cozy on winter trips. A reflective barrier reduces ground heat-loss and returns warmth to your body. The fact that there isn't down or synthetic insulation means you can blow this mattress up without a heavy pump, and without worrying that exhaled moisture will ruin the interior.
Ours are still going strong.
Familiarity:

I've put it through the wringer
We purchased the large ones. I think they are great. Plenty of width and length.

My only gripe was the fact they are too wide especially because the head is square and not rounded and they won't fit into bivy bags very well.

For car camping, hiking and Sea kayaking they are awesome.
Solid 1 Year of Use
Familiarity:

I've put it through the wringer
So I've been using the NeoAir for over a year now. In colder conditions I blow it all the way up to increase my distance from the ground. In warmer weather I prefer to deflate it some and enjoy "my sleep number". It's light, easy to inflate, packs small and is surprisingly durable. I sleep like a baby on this thing! Hands down one of the best gear purchases I've ever made.



Bottom Line: worth every penny, and then some.
I've been using this for a year now, and I love it. Definitely worth the money.
...compared to Xlite
Familiarity:

I've used it several times
I actually prefer the original NeoAir to the XLite that replaced it. Yes, the Xlite is 2 oz lighter, (regular size) and has a higher R-value of 3.2 to 2.5, but the edges of the XLite pad collapse under load and make the pad feel narrower than it is. The orginal does this as well, but the straight corners make up the difference. I'll stick with the original!
i have used it only once up to now. it is feather light after my camping thermarest pad of 900 gr. i am a bit uneasy because it seems very thin and could get punctures from a stony surface. i always use my inflatable pads with a thin pad underneath for protection. it is very very comfortable. one small and useful item in your backpack.
Best sleeping pad of all time, as long as you don't need a lot of warmth
I'll preface this review with my cut and paste statement that I work as a backcountry backpacking guide in Yosemite National Park. Nearly all of the products I take the time to review have seen at least a half a season, if not more, of use... and I'm committed to not bothering to write a review until I feel like I've really gotten to know a product. I never thought I'd bother to write reviews, but I've recently decided that since I've spent so much time over these last many years reading reviews, and finding a tremendous amount of value in articulate and well-informed opinions, that I wanted to give back to the community. So, with that being said, here we go...

My NeoAir has seen a lot of use. And not just normal wear and tear, but it sees a lot of Sierra granite. I've never had a leak of any sort. I keep the patch kit in my stuff sack for it, but have yet to use it. Granted, I'm not using it as a sit pad on bare granite, nor do I take it surfing on Tenaya Lake. I treat it with care, and its served me well in return.

It is incredibly light, packs down nearly to the size of one liter bottle of Coke, and is very, very comfortable to sleep on. Also, though its well known and marked on the package, the r rating for insulation on this pad is very low. It essentially offers no insulation value. However, I've slept with this and my Western Mountaineering Versalite (a 10 degree bag) down to the low 20s and been just fine.

The complaints about the noise it makes are not problematic for me. Sure, it makes a little noise when you're moving around, but its not like you're sleeping on a bag of broken potato chips. I have no problem with slipping off of it either. The only minor quibble is that since it lacks any insulation it will initially 'deflate' once the breath you've blown into it cools. My formula is this - pitch my tent, inflate the NeoAir, throw my bag on it, and the get dinner or hors d'oeuvres going, then come back in an hour and top it off so its nice and tight. If you like it a little soft its easy to tweak via the valve for just the right amount of cushion. I've turned a few friends onto this pad, and all of them love it, and none of them have had leaks.

All in all its as good as sleeping pads gets. Sadly, it looks like Thermarest has moved on to another design thatis a bit heavier. Maybe I'll find out if the few extra ounces are an improvement once this old faithful kicks the can, but I'm hoping that's a long way off.
Sounds like you are sleeping in a bag of jiffy pop
This pad is a great blend of features that are important to most. EXCELLENT comfort, EXCELLENT weight and pack-ability, FAIR on insulation. The only downside to this pad is how loud it is. It sounds like you are sleeping in a bag of jiffy pop popcorn.
is the neotrekker thermarest pad you show...
is the neotrekker thermarest pad you show the all season model and what
is your cost for the 2 1/2 inch 77x20 model
I just spent 8 days & nights winter camping. Night temp. -30, day temp. -20. The NeoAir worked great. The pad was comfortable,easy to blow up & it kept me warm. Not once did I get cold from underneath me, not even at-30. I did put a hole in it, but it was very easy to fix. This is an excellent pad for winter camping. Eric Boehmler , Alaska.
NeoAir - Cloud 9 is Yellow
Along with the Big Agnes sleeping bag with which I use this pad, the NeoAir is the single most valuable (not expensive, valuable) piece of camping gear I own. At home, I have a Sleep Number bed...the NeoAir is as close as you are going to get to that in a tent. I have used it in 95+ degree (at night) weather in Texas and it was comfortable. I have used it in 27 degree weather in Oklahoma and I was toasty warm sleeping directly on the ground. In a Big Agnes, the sleeping pad provides 100% of the bottom insulation. I have owned my NeoAir for over 18 months now and spent over 30 nights on it. Zero complaints. Well worth the money.

I am a classic Big & Tall sort of person (more big than tall, but tall too) and the NeoAir pad allows me to roll over on my side without my hip ever touching ground. Sure, it takes 40 breaths to blow it up - but then it's heaven all week. When slipped in to the pad pouch on the bottom of the Big Agnes I can roll, toss, turn, and SLEEP in any position in complete comfort. Every campout (I am a Scouter) I make the folks with big blowup mattresses and self-inflators alike jealous as I fold the NeoAir into thirds and roll it into a bag smaller than a loaf of bread.

I have seen others complain of punctures on the first use - try clearing your sleeping site of sharp stones and burrs before you pitch your tent (duh).
I have seen others complain of awaking on the ground in the morning. A little lesson in science - your breath is approximately 98 degrees when you blow up the pad. Warm air is expanded. As your warm breath in the pad cools down, the air contracts and so does the pad. This is especially pronounced in cold weather. Just top it up with a few breaths and sleep happy. As a matter of habit, the NeoAir is the first thing I set up after my tent. I blow it all the way up, toss it in the tent, and then finish setting up camp. Then, right before I go to sleep it needs topping up because the air I used to inflate it has cooled down and contracted. Once the pad and the ground temperature reach an equilibrium point, there is no problem. But, if you blow it up right before you get in the bag - yup - you are going to wake up on the ground. Don't blame the NeoAir, blame science.

Buy the stuff sack. Ridiculous that you have to spend an extra $15 when you are spending $100+ on a pad, I know, but the stuff sack is just the right size. I have seen others complain about the stuff sack. Here we go again...if there is ANY air left in your NeoAir when you try to roll it up - you got it - too thick to go in the bag. Make sure all of the air is out, roll it up, and it slides into the stuff sack with room to spare. There is absolutely NO problem with the NeoAir, or its stuff sack.

One other tip - blow it up the minute you get it and let it sit over night. Notice how it deflates a little. Top it up. Notice how it stays inflated. If there is a manufacturing problem this is where it will show up. If you buy it, never test inflate it, and wait until your first night out to discover a problem, whose fault is that? (Hint - it's not the NeoAir's fault. Be Prepared.)
This is probably not a good idea for...
This is probably not a good idea for sleeping on wooden planks (AT shelters), no? I am thinking the Pro-lite would be a better choice, it has a higher r-value and although 1.5' thick vs. 2.5', it is much more resistant to puncturing. Any suggestions, confirmations?
Best Answer
Just don't sleep directly on the wood (put down a groundsheet of tyvek) and you'll be fine. The shelters have pretty worn floors, there aren't a lot of splinters.
This pad is awesome. It packs down to a size of a little bigger than a nalgene bottle. When blown up it is just about 3 inches thick and comfy as heck. The only drawback is that it takes a bit of time to blow up and also to pack it down correctly. If you are dirtbike camping like me, or just need need gear to take up as little room as possible, this is the pad for you. If you are on the fence, pull the trigger. You won't regret it.
great pad. of course super lightweight and compact, but if just sleeping on ground I would recommend bringing a tarp to sleep on because the pads fabric is not as thick as the older therm-a-rests.
Do any of you know what the "LARGE" size...
Do any of you know what the "LARGE" size dimensions are un-inflated?
25x77x2.5 - fits perfectly in a Big Agnes modified mummy (Park series) pouch.
At 6'2'' The regular is perfect length for me to keep my head on the pad and not hang off the end. It provides great comfort even when sleeping on your side on a rocky river bank. Just another great product form cascade design!
love the pad, skip the stuff bag
great comfort, feather weight, love this pad

make sure to use a ground cloth for puncture protection (not that that has been a problem after 10 months of use - Olympic Peninsula Coast, North Cascades, Grand Canyon, etc) - it's just that it would really suck to have to sleep on the rocks and roots in the middle of a hump

i deflate mine, roll it into a cylinder and wrap my space socks around each end, then into the pack

what's with the comments about the lung effort to blow this up? can't blow this up? really? go home
Being a serious gear head, I can honestly say that I have tried most lightweight pads out there -- either in store or in the wilderness. The Neo far surpasses any pad I have ever used in terms of compact weight, comfort and stability. This baby is tiny and featherweight in a backpack. It will slide into some of those tiny voids while packing. This pad is simply the most comfortable pad I have ever laid my trail weary spine upon. Some pads cause added rolling when turning from back to side sleeping and back again. I for one tend to move around during the night and the Neo is neither noisy (as some people claim) or unstable. I think its the horizontal baffles that offer improved stability and warmth. I have the 20 and 25" models. The 20 is a bit too narrow, but works fine while the 25 feels like a queen size mountain matress. It literally fills the entire floor space of my MSR Hubba HP. I simply add a 1/8" or 1/4" closed cell foam pad between the Neo and my bag during colder conditions - perfect!

I cannot put a higher rating or I would. The only thing that could improve this pad is a material that is more durable for using in a camp chair, however this would then be detrimental to the insan lightness of this pad. For that I will be more careful!

Get it today!!
I'm looking at the therm a rest prolite...
I'm looking at the therm a rest prolite plus and the NeoAir Sleeping Pads. At the present time we are car to the camp site family so weight is not a big issue. Other than price what are the differences?
Best Answer
If weight is no issue, you can find a much cheaper mattress out there that will suffice in both warmth and comfort. The Neo Air is meant to serve backpacking enthusiasts with the lightest most comfortable pad Thermarest can off. The differences you will find are thickness and insulative quality. While the Prolite has more foam for insulation, it is also much thinner and therefore less comfortable. The Neo is a true air matress with a thin layer of insulation laminated to the interior wall for added warmth. Check the warmth rating and go try them out in a store. I'll bet you will find the Neo to be the most comfortable matress out there.
I'm looking at the therm a rest prolite...
I'm looking at the therm a rest prolite plus and the NeoAir Sleeping Pads. At the present time we are car to the camp site family so weight is not a big issue. Other than price what are the differences?
The neoair is an ultralight pad, I would not recommend it for car camping. The material is very lightweight and I'm affraid of a puncture. I've used the prolite plus and like its ease of use, warmth, comfort\ weight ratio very much. If weight is not an issue the trail pro is a good pad also. Hope that helped.