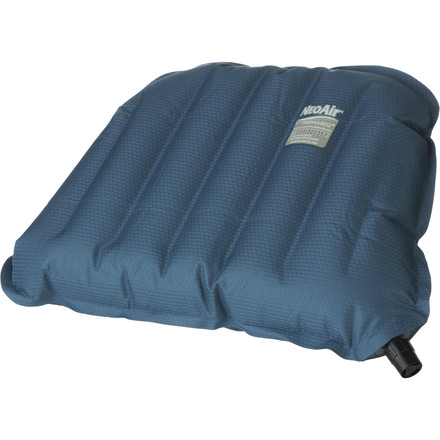 Community Images
Stash the Therma-a-Rest NeoAir Pillow in your backpacking bag and hit the long trail with a little added luxury at the end of the day. This pillow inflates with just a few quick breaths, deflates to pack down small, and provides all the support you need so you can sleep in a tent and wake up without a stiff neck.
Synthetic shell material is highly resistant to both abrasions and punctures
Air valve screws open to easily inflation and screws closed to securely hold air without leaks
Large size has a wide shape that contours around your neck and small size has a rectangular shape that uses tent head-space sparingly
Wouldn't do it again if I had the choice
Familiarity:

I've put it through the wringer
I bought two of these NeoAir pillows during a sale. If I could do it again, I would have done more research and would not have gotten them. Why? They are not thick enough for me. I like my pillows with more height. The pillows inflate in almost no time if you blow into it. I tested my Therm-a-Rest mini pump on this pillow and it inflated the best it could (before air starts flowing back out the pump) at 18-19 seconds. Then you have to finish it off with a breath or two. I would say this pillow is good enough for the job, but I wouldn't recommend it if you are like me and like to have higher pillows.
Pretty good, but I wish it were thicker
Familiarity:

I've used it once or twice and have initial impressions
I got one of these because I can't sleep without something under my head, and this was a space saving pillow that works good for motorcycle camping.I got a medium, and I thought it felt pretty good when I tried it out at home. I am usually a side sleeper and in the middle of the night on my first night out with this pillow I was wishing for some additional thickness. On the other hand, I didn't wake up with a stiff neck so I guess it did it's job.
Lumbar Support
Familiarity:

I've put it through the wringer
This little pillow is a life saver. Well....for my lower back.



Valve:

The valve on this sucker does a great job of keeping the air in with out deflating. I use this in my car for lumbar support while driving and needless to say, it has not lost any air.



Material:

I don't and have not used this as a pillow for sleeping but am not opposed to using it as a pillow. It is kind of crinkly which would take some getting used to but it's not a deal breaker.



Inflated Size:

I got the small and think that it's more than sufficient for using while sleeping but it suites me perfectly for additional lumbar support in my car.



Compact Size:

When deflated this thing takes up next to no space. So for those gram weenies out there, this wouldn't be something to flinch at.



Chances are I'll be getting a few more of these pillows!



Jared D.

Gearhead

800.409.4502 ext 4055
Killa Pilla!
Familiarity:

I've used it several times
This pillow is super compact and functional, I throw it in the stuff sack with my sleeping bag so it doesnt get misplaced in my pack, takes a breath to fill up(lungs of steel!) and fits perfectly into the hood of a mummy style sleeping bag. Great alternative to a more bulky down pillow or using your boots as a pillow like a ruffian. The lighter orange color seemed to get a bit stained by the oil on my face and hair, but it washed off easily with soap and water, would recommend for anyone needing a light comfortable pillow for camping
Light pillow!
Familiarity:

I've put it through the wringer
This pillow is great, it's very lightweight and packs so small. I throw it in the same bag as my sleeping pad. It fits well in my Big Agnes sleeping bag pillow sleeve. Super quick inflation! I don't believe this pillow is nosy, especially in my sleeve. Great buy!
Is this made out of the same "crinkly"...
Is this made out of the same "crinkly" material as the Neo air mattersses?



I tried laying on the Neo Air in the store and was put off by how loud the material was every time I rolled over. I'm sure that by the end of the night my GF would be smothering me with her thermarest down pillow.
Best Answer
Oh yeah, it's crunchy too. Like laying your head on a bag of chips. You'll wish your girlfriend would smother you.



What I use and recommend is the medium Therm-a-Rest compressible pillow. It's not as small or light, but it always fits into even my crammed pack. Some things like pillows need to be familiar and comfortable more than they need to be super small and high tech.
Extremely small and light. Takes up about the space of a shot glass. Light as a feather or a few feathers. I love to use if partially inflated and wrap my down jacket around it. It takes about 30 seconds max to inflate.
I've always talked about bringing a pillow camping but inevitibly resorted to a pile of clothes stuffed into a stuff sack. This is much better as it just lives with my sleeping pad and slips perfectly into the pillow pockets of my various sleeping bags. It packs down to nothing so I just always have it for a good night of rest.