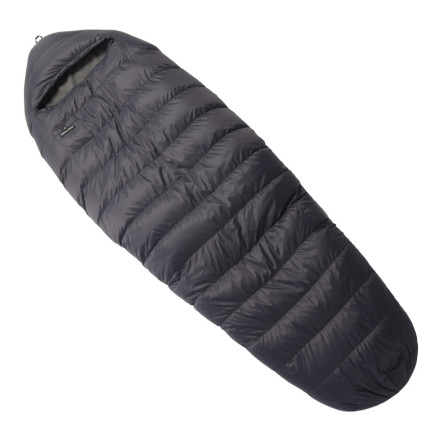 Community Images
The Therm-A-Rest 20 Degree Down Haven Sleep System Sleeping Bag was chosen as one of the 26 most ground-breaking products for 2010 by National Geographic Adventure magazine, and for good reason. Built with an ultralight, zipperless construction, this down-insulated bag dispenses with insulation on the bottom and instead interfaces with your Therm-A-Rest sleeping pad for exquisite comfort and real weight-savings.
Bag does not have bottom insulation in order to save weight and also because down compressed by your body weight loses most of its insulating value; bag is designed to be used with a sleeping pad to be fully insulated
Bag is compatible with virtually any mattress but features a specially tailored sleeve ideal for the Therm-a-Rest ProLite and ProLite Plus mattresses (sleeping pad available separately)
Lightweight nylon ripstop outer shell provides durable protection, packs down well, and resists abrasion and tears
DWR coating protects the down insulation from condensation, frost, spindrift, and small spills
The 700-fill down compresses and rebounds well and features a high warmth-to-weight ratio
Zipperless design may take some getting used to, but it saves a lot of weight and helps reduce drafts
Recognized as one of National Geographic Adventure Magazine's 2010 most ground-breaking products
This is a radical idea for a sleeping bag, no doubt. It comes sans zipper and has a big, oval hole surrounded with elastic. If this isn't known before purchase, I would encourage you to do some homework. It does take some getting used to, but if used properly, with the right pad, it's very comfortable. I've personally slept in it down to 30 degrees F and been very comfortable (I'm a moderate sleeper). It is European rated, the only standard currently for down bags, down to 20 degrees F while using the Prolite Plus pad. If you use any other pad, including the rectangle NeoAir mattresses (it will work with the new tapered NeoAir Xlite down to 20 degrees F), you will probably not get the 20 degree rating. I will tell you that, once you understand the bag and how to get in and out, it is much easier than one with a zipper. At 1lb 6oz for regular and rated at 20 degrees, especially for $240, it's worth considering...
This looked like a great bag. Lightweight, trimmed down, and supposedly rated fairly warm. Unfortunately, that's not the case and I'm out two C-notes because of my hopeful-but-backfired purchase. The down slides to either side of your body, leaving very little to keep you warm if you sleep on your back. The straps are cumbersome (I didn't use them after the first try) and the hole in the back doesn't make it very fun for side- or stomach-sleepers. I'm thoroughly disappointed because I expected more from Thermarest (since I love my NeoAir) and I've opted to purchase a Mountain Hardwear bag that's half the price. Sure it's a pound heavier, but it also doesn't have what my partner affectionately calls a '[posterior] hole' AND it'll keep me warm. I've slept in temps as warm as 55 and as low as 19 and froze my butt off anywhere cooler than 40 degrees. For the record, I sleep quite warm. Oh - and I'm 5'9" and the regular was too short for my comfort. Hopefully Thermarest will re-tool this for future seasons.
Does this bag work with the rectangular...
Does this bag work with the rectangular trail lite pad or only the tapered prolite?
The tapered one is the only one that fits inside the pad sleeve, but you can strap it to any pad if you have a rectangular one.
when using this bag on a thermarest will...
when using this bag on a thermarest will one be in "direct" contact to the pad or is there a bottom layer to this bag? i.e. will i need a pad sheet?
There is not really a bottom layer so yes you'd be in "direct" contact with the bag.
Again, yes you will be in direct contact with the pad underneath. Just to be clear, the best pad to use with the Haven is the Prolite pad. The next best (and warmer option) is the Prolite Plus pad. If sleeping on a nylon surface bothers you, I would recommend getting the fitted sheet. They are sized according to the length and width of the pad. The fitted sheet is polyester but feels like brushed cotton and is easy to clean. It will help maintain the longevity of the pad.
how would it go with a neoair and fitted sheet? 20x66?
, ☃bcs_badge_alumni_label☃
Zipper free, rear entry.