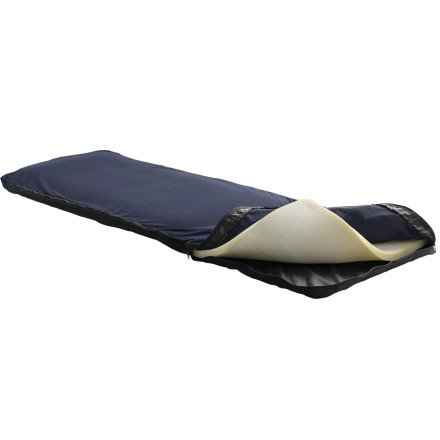 The Therm-a-Rest Dreamtime Comfort Cover upgrades your current camping mattress into a plush outdoor sleeping pad. Slip this cover over any mattress up to 3in thick to add comfy Isotonic memory foam to your bedtime. A machine-washable microfiber top protects your mattress from spills and body oils, and you can easily move the Comfort Cover between locales with two compression straps and an easy carry handle.
So cushy and comfy. You'll love it.
I have the Big Agnes Insulated Air Core...
I have the Big Agnes Insulated Air Core (20x78x2.5). How will the Large Dreamtime Cover (25x77) fit the Big Agnes Pad? Will the inch short in length be a problem? And will the extra 5" be too wide? Any suggestions? I assume the best foam sleeping pad addition would be the Big Agnes Sleeping Giant Memory Foam Sleeping Pad since it's made for the pad I already have. But I do think I would prefer the plush cover as opposed to the slick nylon cover of the Big Agnes Sleeping Giant. Thanks for the help...
I don't think it would be a problem. It's pretty wide so I don't think you'll need all the space and the extra inch is no problem at all.
I bought this one and the Big Agnes Sleeping Giant to compare, and the Big Anges won. The foam either wasn't re-shaping, or it was cut VERY un-even. You also end up exposing the foam when you put your sleeping pad in and out (the BA has another cover over it's foam when you unzip the main cover). The overall quality of the cover was suspect as well... a lot of loose threads hanging all over the place. It looks like Therm-a-rest decided to compete with the BA Sleeping Giant and pulled this thing together in less than a week's time.


One thing that could be a plus is the soft texture in the Dreamtime cover. The BA has a very slick nylon, and my camp pillow is always sliding off. Although, I think the slick nylon is easier to clean than the plush texture. So that's more of a personal preference thing there.


And don't get me wrong, I like Therm-a-rest. In fact I am using a therm-a-rest sleeping pad along with my Sleeping Giant. Unfortunately I think they missed the mark on this Dreamtime cover.
This is such a great addition to your current sleeping pad. It felt like I was sleeping at home in my own bed. This is a great item if you are car camping, or just camping where you dont have to hike in a long ways, because it is a very large item. All you do is throw your sleeping pad into it, for the added cushion and warmth. Pretty awesome and I slept great all week. :)