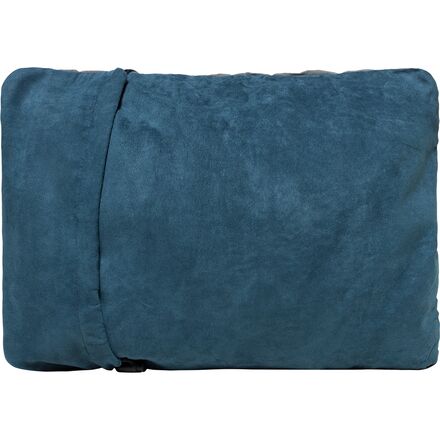 Colors

Community Images
Description
Pack Therm-a-Rest's Compressible Pillow for all sorts of travels.
Using your jacket as a pillow isn't too comfortable, and a zipper to the eye never feels good either. Sleep comfortably, even when you're on the move, with the Therm-a-Rest Compressible Pillow. Whip the portable Compressible Pillow out on road trips, during airplane travel, or on car-camping adventures.
Share your thoughts
What do you think of the
Therm-a-Rest
Compressible Pillow
? Share a...
Lumpy and returned
Familiarity:

I returned this product before using it
Ordered two of these for backpacking. Way too big, and never fluffed up, but remained hard and lumpy. Both were returned, never used.
Very Fluffy Pillow
Familiarity:

I've put it through the wringer
Like many of the reviewers, I took my pillow out of the box and was skeptical. But then I let it chill out for a couple of minutes and it turned into a fluffy, cloud-like item.

This pillow is very comfortable and great for car camping. I have a medium one, which is plenty big. I probably would be comfortable on a small as well. It packs down to about half of its size, but it's a little difficult to do and still is on the bulky side.

My only complaint about this pillow is that it's a little too firm and tall. I sleep mostly on my side with my arm under my pillow and sometimes this position makes my neck hurt with this pillow.
Great car camp pillow
Familiarity:

I've put it through the wringer
We now have several of these pillows and they are awesome. Comfortable, easy to pack and easy to wash. Best for car camping, take up too much space to backpack with.
Great Camp Pillow
Familiarity:

I've used it once or twice and have initial impressions
This is a great camp pillow! I agree, it doesn't pack down super small so it's not ideal for backpacking, but definitely useable for backpacking if you have the space. Probably better for car camping or long road trips/traveling. But it is relatively light weight, soft, and comfortable for sleeping. After you unroll it, it takes a while to fluff up, so don't be concerned that it's not going to be plush enough.

I'd recommend keeping it unrolled when not in use so the foam isn't constantly compressed. But it is quite easy to roll back up, just do it like a sleeping pad.
Great pillow
Familiarity:

I've used it once or twice and have initial impressions
I ordered this last week and tried it out last night while I slept in my bed. Once you get the pillow fluffed up properly, it is very comfortable. It is a little difficult to stuff back into its little bag after it is really fluffed up though. I suggest rolling it like a sleeping bag.
Works great
Familiarity:

I've put it through the wringer
I bought this in a M and also have one in S. The M isn't all that much bigger than the small when compressed, but noticeably cushier when open. I use it for car camping and backpacking. Definitely gets smooshed down a bit after a couple of nights, but if you just machine wash and dry it it fluffs right back up (even after storing rolled up).
Makes me happy
Familiarity:

I've used it several times
I am not a camper. I wasn't too thrilled the first time I camped, sliding around all night on a pad, waking up and feeling like I couldn't move in the sleeping bag, and not being able to get comfortable on a fake pillow stuffed with clothes. Then I ordered this pillow (X Large) and slept great. It was firm and comfortable. My daughter slept on different pillow, hated it, and asked for the Therm a Rest for her birthday. The pillow rolls down much smaller but fluffs back up once opened up. I usually unroll it when we put up the tent. I also am planning on taking it on a long airplane trip and think it will work great.
does it come with a stuff sack ? is it shipped compact inside the stuff sack ?
John, it will come with a stuff sack. There are a few community pictures where you can see what it actually looks like.

Bill Porreca
bporreca@backcountry.com
801-736-6398
Great for camping and travel
Familiarity:

I've put it through the wringer
I've owned this pillow for a couple years now and use it for all my travel naps. I originally purchased it for plane rides because it rolls up small and I'm not a fan of the neck pillow style most travelers rock.

Places you can nap with this pillow:
-Airplanes
-Road Trips
-Camping/Backpacking
-Work (kidding)

Pros:
-It's easy to roll up and condense.
-It is easy to fluff-up
-So comfy!
-Washer friendly- After taking on a trip, throw it in the wash and all the padding gets a re-boost!

I ordered a size Medium which is great for travel, however, it is a little large for camping and backpacking. If you are looking to purchase this mainly for backpacking, the small will be perfect.

nice pillow
Familiarity:

I've put it through the wringer
makes a great pillow tucks right inside your mummy bag head spot leave it open for a few minutes to fluff up ,the only down size is ,it dosent compress down very small for backpacking ,but well worth it if you have the room
Didn't work for us
Familiarity:

I returned this product before using it
Saw this lovely pillow fluffed up at REI store, based on reviews and in-person impression decided to order - pillow did not fluff up as expected despite leaving it out for a couple of days. Pillow also did not compress as small as necessary for our back country MTB trip.
Amazing
Familiarity:

I've used it once or twice and have initial impressions
I was skeptical when my two pillows showed up, but wow are they amazing. The foam really puffs up one you open them up and let them relax. This is my go-to traveling/camping/flying pillow. Only wish they came with a cover...I tend to drool a little :)
Don't judge it after the first uses.
Familiarity:

I've put it through the wringer
After the first 4 night trip I was ready to return it. Even leaving it out a couple days before it still wasn't all that good. I then forgot another pillow and only had this option on a 7 night trip. It was fantastic, it puffed up big and held up amazingly. The XL might be a bit to large for back country use but it's perfect for car camping.
What are the dimensions of the large pillow?
Hey Matthew,

The large dimensions are 23 x 16 x 4 inches.
Good Addition
Familiarity:

I've used it several times
This is a pretty good addition to my sleep set. Sleep is a sore subject for me when camping but this little guy gave me just enough support and comfort to not even cross my mind. I guess if I slept well and didn't even think about the pillow then it did its job? Compresses decently down and is super light.
Great pillow; a little too much loft
Familiarity:

I've used it once or twice and have initial impressions
I've been using my fleece rolled up as a pillow for as long as I have been camping. I decided to try something a bit different just to see if I was missing anything other than sleep. I was happy to see the size of the pillow. I washed and ran the pillow through the dryer to get the full loft effect of the pillow. It certainly filled out. It was a tad too much. I did sleep better but wished it would depress a bit more.
Almost great
Familiarity:

I've used it several times
I like thin pillows so this worked nicely for me. Compressed size not an issue because I have only been "cabin camping" with my 6 year old.

I might have missed it, but I don't recall seeing any cleaning instructions. In any case, I am deducting one star for not even offering a pillow case...luckily my wife loves to sew.
Sweet Dreams Zzzz
Gender:

Female

Familiarity:

I've put it through the wringer
I have slept on rolled up clothes, my arm, my sleep pad etc. trying to save weight/space etc. but finally decided a decent packable pillow (not one filled with air) was worth putting me in a much better mood(Everyone thanked me in the morning... after my coffee of course).

The loft on this thing (after you let it breath and expand) is what really takes the cake. It feels and sleeps like a real pillow, with nice thickness and is super soft. WAY better than the feel of an air filled one. I got the small and it fits into my Big Agnes sleeping bag pillow sack perfectly. And due to my outrageous OCD packing skills and a firmly placed knee I can get this thing rolled down pretty tight into the pocket sewed into it, to around the size of a pair of rolled pants. It's not THE lightest or smallest pack pillow, but for those of us with head/neck/mood issues its worth it.

PS -After much use (and buying my dad a brand new one) I noticed it didn't loft up as much. I sent it through the wash and dryer like it says and it was back to full loft like new!
Way better than inflatable pillows
Familiarity:

I've used it several times
I bought the Fillo Pillow, an inflatable pillow from Nemo Equipment Inc and found it too bouncy and 'hard but soft', something I think all air pillows have a problem with.

My brother had this and swore by it. So I bought one and man is it good! It's better than my regular pillow on my bed I think. I bought the medium which is perfect for a little extra luxury comfort when hiking.

The medium fits into the hood of my Marmot Plasma 15 fine, a little on the big side actually so if you're trying to save space, maybe the small would work.

Now it doesn't pack down very small. In fact it takes up quite a bit of room. So I put it in a compression sack (an extra small Sea To Summit eVent compression dry sack) just because I have a spare.

The trick with this pillow is to unpack it at least an hour or so before you plan to use it. It needs time to breathe and fill out. I've had it unpacked in my room for weeks and it's twice the size as on the trail, so they really expand with time.

To wash it, I just put it in the washing machine as the cover is not removable.
great pillow
Familiarity:

I've used it several times
good compact size, takes a little while to fully expand, but fluffs up to luxurious size, especially comfortable if you've been using rolled up clothes as a pillow in the past. good stiffness and very affordable.