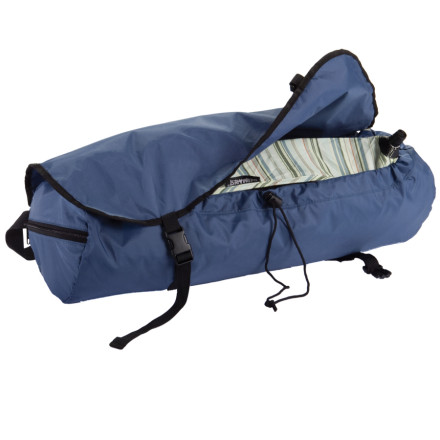 Detail Images
A wide side opening on the Therm-a-Rest Camp N' Carry Bag makes the morning struggle to pack your your bedding into a stuff sack a thing of the past. This generously sized sack accommodates a wide range of mattresses, has room to spare for other sleep essentials, and cinches down for a custom fit. A handy shoulder strap makes carrying it around a breeze, and it even includes an end pocket for your lullaby-loaded MP3 player.
The Therm Carry Bag is doing what I had expected it to do and that was to carry my Native Style Flutes(28" - 23")long and some shorter, the end pocket works great for my headlamp and other small items. Over all the carry bag has worked out just great....
Native Flute Carrier Bag....
Great little bag for what I use it for,hopefully it'll stay together alitte longer this time round, will be more careful on cinching down on my load. Thank you Backcountry for your speedy service again....
The small metal eye at the drawstring has...
The small metal eye at the drawstring has broken away from the material. Is this covered by the warranty ????
Best Answer
It most likely is but either way just hit the chat button or call the number in the top right of the screen and talk to a helpful representative and you will be on your way to a full replacement or refund no questions asked
Having the Therm Bag replaced with another, the bag is a very handy unit for my flutes(not to large or not to small).... Thank backcountry for it's very fast service in getting another bag sent to me....
Native Flute Carrying Bag ....
Orded the (L)9"X 28" bag to carry 9 of my native style flutes plus sound equipment(Vortex Walkabout)worked out just great.. Really liked both the Draw down String/front closure cinch down straps, Keeps everything staying tightly in place.. Small pocket holds headlamp plus afew other small items ....
Wish the bag was made of thicker material and water proof, both would be a plus to the bag.
Will the older Thermarest "Camp Rest"...
Will the older Thermarest "Camp Rest" regular fit a regular Carry Bag? Camp Rest would probably fall into the "Camp and Comfort" category.
It should. The dimensions haven't changed for any of the sizes over the years. Also, the Camp N' Carry Bag has been made a bit larger to accommodate pads that aren't rolled up super tight. The width is also a tad bigger just to make it easier to pack. I don't think you should have any problem getting this to work with your pad.
Just wasn't large enough.
Will the Therm-a-Rest Dream Time Sleeping...
Will the Therm-a-Rest Dream Time Sleeping Pad fit inside this bag?
It would be a tight fit. The XL stuff sack is 10.5" x 33". The XL Dream Time packaged dimension (rolled up) is 11" x 30". Since the stuff sack has compression straps there is a good chance that the sack has a 1/2" play in it. So yeah it could probably fit. Your best bet is to get a BC rep on chat and ask them to put the dream time in the sack for you to see if it fits.