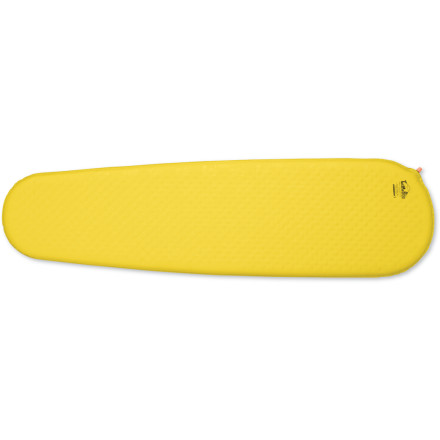 The Thermarest 40th Anniversary Edition Fast and Light Sleeping Pad combines retro-throwback colors and style with modern technology to celebrate 40 years of self-inflating goodness.
Limited edition 1972 color and logo
2 inches of self-inflating foam for extra comfort
Lightweight shape and design for hiker-friendly packability
Diagonal-cut foam provides added warmth
Man is this thing awesome. Unbelievably light compared to my old Alps Mountaineering pad (which was a BEAST at 3lbs! but amazing comfortable) and it packs down to a size that can actually make it's way to the inside of my pack instead of becoming the unevitable victim of the lone thorn when strapped to the side or bottom. Didn't lose any comfort due to its 2" thickness, and was well insulated in 25° weather.



In the pic is my 20° Pinole - I'm 6'2-3"and the bag fits me perfect. My last pad was a long, and not only wanting to cut weight but to also cut the crappy 10-20 bucks tall guys have to spend, I grabbed the regular. Underneath, as you can see, is the 40th, and when I sleep on it, my feet hang off by just a little. But nothing that bothers me at least.

So far she's a beaut. Hiking the AT SoBo later this year; we'll see if she holds out til Springer.
Best Pad Option For Lightweight Comfort
Gender:

Male

Familiarity:

I've used it several times
This pad is definitely not the smallest for packability, but it is for sure among the lightest, most durable, and most comfortable options out there. It self-inflates quickly (be sure to store it inflated if possible) and rolls up faster and easier than my sleeping bag. I also have the Therm-a-Rest stuff sack pillow in a size small and the two pair up perfectly. I've attached a photo with this pad stuffed into the pillow stuff sack next to some Quaker Oats for a size comparison.



Here is a link for the pillow stuff sack (highly recommended):

http://www.backcountry.com/therm-a-rest-stuff-sack-pillow?wallE=1&_requestid=622404
I used to use my Thermarest Z-lite for nearly all my backpacking trips. I used it probably 30+ nights and every single time I would wake up extremely sore. Although I was hesitant to add the weight of a thicker inflatable pad, I figured it would be worth it for a decent nights sleep. I decided on this one. Its the best camping purchase I've ever made, hands down. I got the small size, since I don't really care if my legs are on a pad or not. The small size packs down *alot* smaller than my z-lite, and it even weighs less. Its about 10X more comfortable to sleep on than the crappy z-lite foam. I've gotten plenty of good nights of sleep on this thing. I've never really had any experience with other self-inflating type pads, but this one self inflates as advertised. I usually just let it sit in my tent for 10-20 minutes, come back, give it one, maybe 2 puffs of air, and its good to go.
i am a side sleeper, which causes pain on...
i am a side sleeper, which causes pain on my legs during the night when i sleep on the floor. This model is comfortable enough for my needs? It comes with a cover to keep?
Is it better than the ProLite Plus in this sense?
I'm a side sleeper too (: look at the "Them-a-Rest NeoAir" I use it and it like a dreem....(no cover that I find. but never look for)
Me too. I've found that the self-inflating pads just aren't thick enough--not enough give in the middle. Even the thickest don't do it for me. The Exped DownMat (even the 7cm one) was a revelation for me. Not quite as comfortable but still adequate in the summer (and much lighter than the DownMat) is the NeoAir.

Also, I've found that it's very worthwhile carrying a pillow. I use the Cocoon inflatable one that weighs 70 grams, but it's not very warm in winter, and I haven't found a solution to that problem yet. It'd work okay to put between your knees to relieve back strain while you sleep, but something wider such as a sit-pad might work better for that.
I am a side sleeper and although its not spectacular its still a better choice than the prolite plus
The thermarest website lists all 3 sizes...
The thermarest website lists all 3 sizes as having an R-value of 4. I think backcountry has made an error with the R-value for the Reg. size.
Hey Salonick Nalod,

Thanks for catching that. We'll have that fixed to the correct R-Value of 4.0 shortly.
Bought the new Prolite Plus which has a supposed weight of 22oz, at 1.5" thickness and 3.8 R-value. Slept on it, was decent, but it actually weighed 23oz.

Not a big deal until I saw the 40th anniversary edition, which is basically an improved version of the Prolite Plus. Supposed weight of 24oz., at 2" thickness and a 4 R-value.

I was very pleasantly surprised with the 40th anniversary edition version. The extra half-inch is noticeable for side sleepers like me. Additionally, it had a scale weight of exactly 24oz, so only 1 oz more than the Plus. Additional benefits: the same sticky bottom as the new Plus, a glow-in-the-dark nozzle, cool vintage logo on pad and the included stuff sack, bright yellow color, but also a great addition: a free patch kit. The free patch kit really sealed the deal, as the plus didn't come with one.

Very happy with my pad. Rolls up the same size as the Plus, but more comfortable, more warmth, more features at a slightly higher price. If you could already justify buying the Plus at 23oz, you can definitely (and should) justify buying the 40th anniversary edition too.