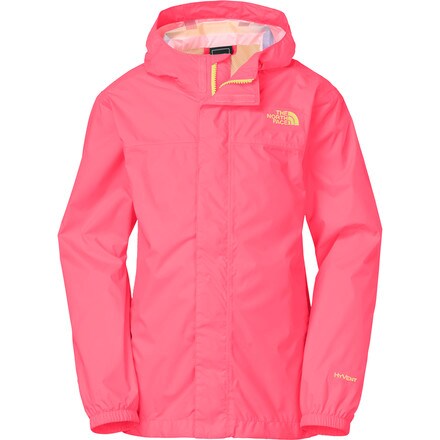 Description
Dry girls are happy girls.
Nuking, puking, dumping, hammering—however you describe a good rainstorm, The North Face Zipline Girls' Rain Jacket is up for it. A two-layer HyVent waterproof and breathable membrane and fully taped seams keep nature's soggy surprises at bay, and the Zipline's mesh lining helps her stay cool and comfortable from the playground to the campground.

HyVent 2L waterproof and breathable membrane
Nylon fabric
Polyester mesh lining
Fully taped seams
Elastic cuffs
Two hand pockets
Bluesign approved
Share your thoughts
What do you think of the
The North Face
Zipline Rain Jacket - Girls'
? Share a...
Posted on
Leaves lots to be desired
We guarantee complete satisfaction and an unlimited lifetime warranty. If at any time -- now, next month, in 30 years -- you're not 100% satisfied, send your gear back for a full refund. No questions asked."
That is how backcountry.com described their warranty when I purchased I pair of ski pants five years ago.

I just went through a nightmare warranty battle with backcountry.com. I have purchased thousands of dollars of gear from here over the years and I have even recommended this site to friends. That all changed today. I purchased a pair of $500 norrona ski pants when backcountry offered lifetime warranty on all their products. The issue I had with the pants is that the inseam tore and the stitching came out resulting in a hole in the crotch. No problem I figured, this is the first time I have needed anything repaired or returned that I purchased from here, the item has a lifetime warranty and it should be a simple fix, so I gave them a call. To my dismay I discovered the warranty was false and that backcountry essentially sold me on a lie. On the phone I was told by three different people that the warranty policy had been changed and there was nothing they could do to compensate me besides giving me the contact of the manufacturer, but they were even unable to do that. The pants I had purchased were from a subsidiary of Norrona called Whiteout. I made three calls to backcountry and no one could even give me a number for the manufacturer because they didn't know who made the pants. I guess I had to find that out on my own. The person I talked to the first time said they did not know the manufacturer's contact but they would send an email to me of proof of purchase so I could show the manufacturer since I no longer had a receipt. I never got an email. I called again and still no information on who to contact however I did get an email this time but it was from a different purchase I had made and the pants were not on it. The third time I called I had already figured out who made the item and just wanted the contact information for the manufacturer. I was advised I should just try contacting gore-tex to get the problem fixed even though it was a seam that went bad and not the fabric itself. At that point I gave up talking to them and never did I receive the reciept or proof of purchase.

I understand that backcountry probably did need to get rid of the no questions lifetime garuntee because it was being abused or they were getting way more returns than they had expected. However, for them to make no offer to compensate a loyal customer on an item with "no questions lifetime warranty" who had never claimed warranty before. Refusing to even take a look at a simple problem to see if there is anything they could do to help is arrogant. What backcountry has done is unethical and I will no longer do business with them. I advise doing business with local retailers who actually care about their customer, stand true to their word and know their product inside and out, in the long run it will be worth it. And you won't feel guilty about trying it on locally then turning around and buying it online! If you still choose to shop here because they have a lot of good brands be forewarned of the slippery policies and lack of warranty. I have no affiliation to active junky but if you still are going to shop here get an account with them and get an additional 12% back. I'd rather see you with the extra cash! This is the first time I have ever written a negative review on anything but I feel that it is well deserved.