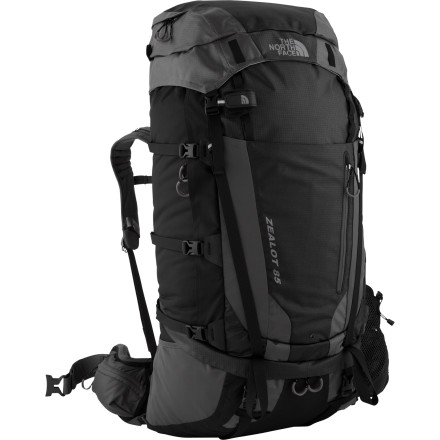 Your back and shoulders will be happy to hear that The North Face Zealot 85 Backpack carries expedition-sized loads without causing crippling discomfort. The advanced X Radial 2.0 suspension adds comfort and the Opti Fit torso adjustment systems lets you adjust this pack to fit your body size. Pack it up, and get ready to trek through the wild with the pack's lightweight frame keeping the heavy load steady.
The lightweight X Radial 2.0 frame and foam back panel provide unmatched support and excellent breathability thanks to a perforated frame sheet and a mesh overlay
Opti Fit technology allows you to measure your torso and then set the pack to fit your body's dimensions
Ergonomic shoulder harness and dual-pivot waist belt spread out the pack's weight (up to 70lbs) while you climb and stride over rocky trails
Pack extends to provide over 600cu inches (10L) of additional space for long distance trails or expeditions
Lightweight and tough ripstop fabrics hold up to a lifetime of trail abuse
Access through the top lid or side zipper ensures you don't have to unpack and repack every time you need a snack or change of socks
Several compression straps, two ice-axe or trekking pole straps, and exterior pockets give you countless options for carrying your gear
Proper Pack!
Gender:

Male

Familiarity:

I've used it once or twice and have initial impressions
As soon as I got my hands on this I was stoked on the material! You can tell that if your caught in the rain you contents will stay dry! I also loved the zippered pockets throughout the bag that allow access to different parts: top, middle, and bottom. Can't wait to have this on my back for the next adventure!
Only 1 of two packs that fit. Love the design, it lends itself to modifications ie., cinch cord, across the back. The hip blet pockets are larger than most. Very rugged, except for one thing. The inside lining that covers the X frame, is thin. I had place a 3L camelback hydration bladder in the pouch, but the pouch is too small and really designed for 1.5L. While hicking the Grand Canyon and hiking the Havasu reservation, tears formed on both corners of the pouch. I sent it in, but they could not repair it, so TNF gave me my money back. I really loved the pack, the Large is excellent for people with a long back. Since they could not repair it, I ended up with the Deuter Aircontact Pro 70 + 15L. There are advantages with the Deuter the TNF does not have, like more pockets and U Shaped entry to the main compartment. I would of stayed with the TNF if they provided a stronger fabric that divides the pack from the frame. I put the pack thru a thorough beating and still looked like new. Only exception was the tear on the corners of the pouch. Too avoid the tearing just use a 1.5L hydration bladdler. The pack is highly adjustable and easy to mod out. 4 out of 5 stars because of the tear and could not be repaired. I thought of taking it back, and repair it with a sealant or use a cloth patch to seal and stop the tear, much like one does with dungarees.
Good for the money but heavy and uncomfortable.
I hiked many miles with this pack, it will comfortably carry 50 pounds, any more than that I don't recommend. The shoulder and hip material is a little ruff and can blister me at times and the sternum straps are always freaking comming out of adjustment also its heavy even for a waterproof bag and the bottle holder is an after thought at best it ripped off first hike, it also has to be fully loaded or it just seems weird. Ok the good, It is one tuff bag you can beat the hell out of it and it adjusts easy, almost waterproof. If you want a waterproof bag go for the Arcteryx Arrakis 65L or a Naos 85L they are made in Canada, and are even more bombproof and way way more comfortable, has better item storage, also much lighter.
Unanswered Question
can't decide between this pack and arcteryx...
can't decide between this pack and arcteryx naos 85. any suggestions?
short strap above the water bottle, and...
short strap above the water bottle, and what's that all about...
maybe for holding the waterbottle from the top.(?)
The specific water bottle pocket is actually the mesh on the far side of the photo above. It has a draw-string top. The strap I believe you're referring to, along with the other two above it (and the three on the other side) is for load compression.

http://www.thenorthface.com/catalog/sc-gear/zealot-85.html
Hello! This is probably obvious, but what...
Hello! This is probably obvious, but what is the liter capacity for this pack?
85L. Most companies list it in the name somewhere. That's a big backpack.
More than what I expected
Hello! There seem to be no reviews for the...
Hello!
There seem to be no reviews for the product, and it looks the right size for me.
Could you, please, give me an idea about it's reliability (their x-radial system, buckles), possible issues in other costumers, if it is good for loads up to 50 lb? Any other information and comments will be welcome.
Thank you,
Pavel.
Best Answer
The Zealot is an update on the Primero series - I'd look at reviews of that. One complaint I've heard with about 50% of the people who purchased the Primero was that the foam in the lumbar would eat them up and spit them out as an abraded, raw mess. The Zealot has addressed that, and has a better foam. My experience with the X Radial (both on the Primero and El Lobo series) has been EXTREMELY positive on long hikes. I work for TNF retail and was able to borrow both packs from our demo gear to try them out. The frame does an excellent job of moving with your body. With the older X-Radial the complaints had been that the frame, although otherwise very durable, was too exposed. There is now a plastic coversheet on the frame. As far as buckles... they're the same heat-treated ones that come on most other packs, and you can expect the same sort of durability. The most common situation for the buckles breaking is checking them on an airplane...
It could carry a load up to 50 pounds, and as comfortably as you can expect a load of that much to be carried. Naturally, I have a lot of TNF brand loyalty but would honestly suggest either a Gregory or an Osprey over the Zealot. Despite that the X-Radial is SUPERB, the Zealot is a very heavy pack. If you're going to stick with TNF, look at the El Lobo. The Osprey Argon series or the Gregory Baltoro would also definitely be work looking into. Don't tell the boss I told you that.
Hopefully this answers your question!
Thank you, Peter! Your comment is very educational and helpful.
I went with the pack anyway, since it was the right volume and had nice features on the web; and I didn't like competitive Osprey Esther/Argon. I liked Arc'teryx Bora and still may come to it.
I received it and have some comments.
Good: looks extremely weatherproof, material looks waterproof and seams are taped; hence no need for rain cover.
Internal volume is great, just like I wanted.
It has useful pockets. Pocket on lid is spacious and has another zipped flat pocket for documents/keys. There are 2 small pockets on waist belt, which are useful, unlike primero.

Things I am not so sure about:
I would prefer complete zipped separation between sleeping bag and main compartment.
The water bottle holder will fit 750 ml bottle, not 1 liter Nalgen. (By the way, there is a special pouch for the holder with Velcro closure.)
Zip on lid pocket is glued to fabric, and there is a place , where it got separated right away (if I keep the pack, I will put stitching on it).
I still have some reservation about suspension system, since I have seen some negative comments about Primero 85, but it has to be seen in use.

I will update my impressions when I use it for a while.

Pavel.