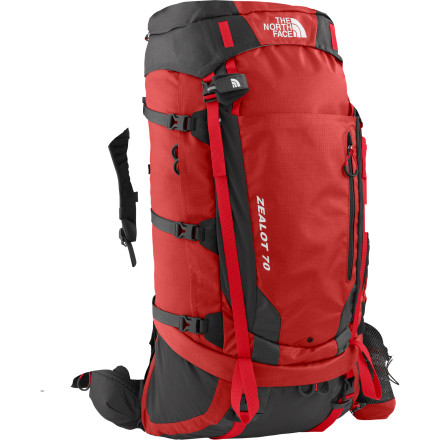 Rather than preach to the choir, you'd rather pack your weekend essentials into The North Face Zealot 70 Backpack, wander off the grid, and preach to a congregation of conifers. From weekend romps through the nearby National Forest to week-long treks into mysterious mountains. the Zealot has the support and adjustability you need to put away the miles.
Thanks to a perforated frame sheet and molded air channels, the lightweight X Radial 2.0 frame and foam back panel provide unmatched support and excellent breathability
Opti Fit technology allows you to measure your torso and then set the pack to fit your body like a glove
Molded, ergonomic shoulder harness and dual-pivot waist belt comfortably distribute the load (up to 70lbs) and feature a moisture-wicking fabric to help keep you cool
The Zealot extends to provide over 600cu inches (10L) of additional space for long distance trails or expeditions
Welded, waterproof ripstop fabrics help seal out the elements so your clothes and food stay dry and usable during the rainy season
Access through the top lid, side zipper, and through the pack's bottom sleeping bag compartment ensures you don't have to unpack and repack every time you need a snack or change of socks
Stowable side water bottle holsters keep your liquids within reach while you trek over a new trail
Several compression straps, two trekking pole straps, and exterior pockets give you countless options for carrying your gear
What do you think about this product?
Have questions about this product?
Great backpack and very comfortable.

I like how bullet proof it feels and has some weather proof treatment.

75 lt is fine for long trips into the mountain and trekking adventures!
Very well made pack with heavy duty materials is weather and bullet proof.
Lots of pockets and three apertures, top, side and bottom.
Nice attractive looks and very confortable.
70 liters is ok for weekend and multi day trekkings but also for longer expeditions.
Odd question, I'm flying next year, and...
Odd question, I'm flying next year, and I'm just curious, is this kind of bag "carry on" compatable??



I have never flown before so I don't know aha



thanks!
Hi,



Not an odd question at all...we get lots of them regarding what will work for carry on. Specifically, no, this pack will be too big. Now, as a general guideline for you to use in your selection process: The majority of airlines use a standard of your carry on luggage not exceeding 45 lineal inches. That means that your bag, when measured in length+width+height doesn't add up to more than that. Sometimes you can fudge it a bit, and often, domestic flights and international flights might vary a little, but not much. It is always best to check with your specific airline to be sure. So, when checking out backpacks, duffels, or luggage, it's good to know their dimensions and to balance them with your needs.



Also, since you've never flown before, checking bags always adds another level of pain in the butt...from start to finish. Usually not a big deal, just something that adds some time to getting in and out of the airport.



If you see anything else that you have any questions about, don't hesitate to ask. Someone is always happy to help. Good luck. Bon voyage.
Best Answer
Hey again,



Just as some guidance in your search, have a look at the North Face Base Camp Duffel. Pay particular attention to the size and capacity of the Medium...properly packed, it's the perfect carry on.