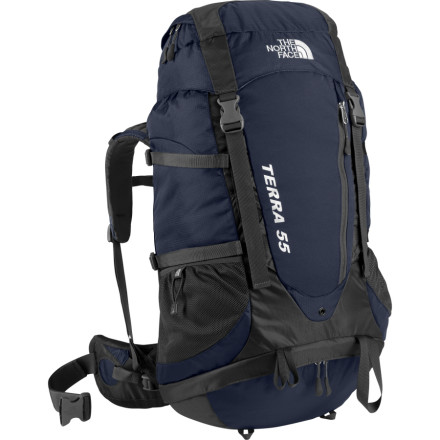 Detail Images

Community Images
Get your scout out of the house for a couple nights when you pack up their gear in The North Face Terra Youth 55 Backpack. Unlike Dad's pack, this pack fits the younger explorer. The soft shoulder straps and hip-belt angle the pack weight to the hiker's legs, helping to prevent sore backs and unhappy campers.
Opti Fit system adjusts to individual torso lengths for a truly custom fit
Mesh back panel includes a vertical channel that vents sweaty backs for summer trips
Large side-accessed main compartment is easy to get to while on the trail
Zippered, wide-mouthed sleeping bag compartment makes breaking down camp easier
Compression straps and loops attach sleeping pads and other necessities
Sternum strap features an emergency whistle in case your tenderfoot gets separated from the pack
Great backpack
Familiarity:

I've used it several times
I bought for my 13 year old daughter who is 5'4 90 pounds. She loves it great pack with lots of little extras. Wish is had the extra straps on the bottom of it for a tent or other gear though.
Great pack!
Familiarity:

I've used it once or twice and have initial impressions
I bought this for my first backpacking trip. I am a 5'2" female, and had tried this pack on in a store. It fit great! And can be adjusted for numerous sizes. I had NO problems with it at all. It is sturdy and well built. It has nice side pockets for water bottles or whatever. I do wish it had more outside zipper pockets - it only has one, but it still worked well. It fit very comfortably. A pocket on the hip belt would be nice, but I survived without it. I was very happy with my purchase.
We just got this pack and my son is taking...
We just got this pack and my son is taking it to Scout camp. He's taking a sleeping pad and I was wonder where was the best place to put it on the pack? It's a blue egg crate type sleeping pad that is rolled up.
Hey Jimmy,



Check out the detailed shot that Sunset Screamer posted below. That tike has their sleeping pad secured under the hood. Otherwise you have the loops at the bottom that some pads might fit through, or there are also the side compression straps. Personally, depending on how good your kid is a rigging I would suggest following Sunset's advice.
My 7-year-old recently tested out her first "trail pack" for an overnight on the AT. We kept the weight low in consideration of her age and the elevation gain of the hike. Pack is a bit big for her still but she absolutely loved it and I look forward to more adventures in the near future.

She weighs in at 55lbs, kept the pack weight to 10lbs.
Does this pack come with a rain cover?
Does this pack come with a rain cover?


The North Face Terra Youth 55 Backpack does not come with a rain cover, although I would highly recommend checking out Mountain Smith's Raincovers:



http://www.backcountry.com/mountainsmith-rain-covers?ti=U2VhcmNoIFJlc3VsdHM6cmFpbiBjb3ZlcjoxOjQ6cmFpbiBjb3Zlcg
Is this pack right for me ? I just purchased...
Is this pack right for me ? I just purchased this from a store and did not realize its a youth pack. I measured my torso and it's 17.5. I am 5-11 yet skinny. The pack feels fine and I even put some weight in it and it still felt fine. I'm just unsure if there are any benefits of getting an adult pack vs this one. I will be using the pack for one night hikes
Hey,



So this pack is designed to fit a frame of 15 - 18 inches and a waist from 22-34 inches. Based on the specs you have listed it sounds like you probably have a pack for you. I might suggest getting your measurements again because I am about 2 inches shorter than you and my torso length is about 19 inches. We might just have a different body type though, you might have killer long legs as opposed to my caveman frame.




Can an adult use this pack, will it fit...
Can an adult use this pack, will it fit properly when adjusted? Capacity is great not to big nor to small for multiple day traveling. Charlie
Hey Charlie



The torso length for this pack is 15 - 18 INCHES and the waist belt is designed for 22 - 34 INCHES. That's a pretty small frame, most adults do not fit within this range but if you do then this pack would work well. With a 45 lb max load this is a workhorse for its size.
I gave this pack to my nephew for his birthday for a scout camp he had coming up. I chose this one because I like that it is adjustable so he can use it for years as he grows and his younger brothers can use it too. He LOVED the pack! It's really functional, had room for all of his gear, and it's a great looking pack.
My oldest son is 5, he's just getting...
My oldest son is 5, he's just getting interested in coming out with me, I need a pack that will fit him now as a tall skinny kid and still give him room to grow, he wants to carry his own gear pull his own weight, I just dont want to start him off with a bad pack experience, any thoughts bout how this pack might do?
Brandon, you can measure his torso length (15"-18")but I think he might still be a little small for this pack. Nice looking boy and dog. It is great that you are getting him started young.
Best Answer
Hi Brandon,

Great moment, but a hard thing to get right. Not many full featured packs out there for younger kids. Definitely fit him, load him up, and take him for a test hike before you commit to the longer trail. The other piece of advice I can give you from experience is that, whatever pack you go with for your son, take as much of his load as possible, and bring as many extra gear straps as possible to be prepared to take on more if you need to. That said, The Terra 55 is exactly the pack I started both my kids out with. Except for the Deuter, the lumbar adjustment had the smallest setting, and with my daughter, who was a little older, but about the same size as your son, we needed every bit of it...and then some. We had to really crank on her hip belt, but it wasn't too bad a ride. Padding on the shoulder and hip belt was good, verti-cool worked great, and the sternum strap had good adjustment and really helped. The Terra 55 also has a good, sensible, functional amount of volume, and best of all, a separate sleeping bag compartment and lots of pockets for smaller personal items. All the little stuff like cooking and other general group equipment I could (and did) transfer to my load, but the bulky clothes and sleeping bag would have been impossible, so we got her tuned about 3 miles in, and her pack carried and fit admirably for the rest of the trip. Her final load weighed in at about 23lbs, and she weighed in at about 60-70 at the time. Anyhow, that's the basic deal. It's a great pack that we still use regularly, Plenty of range for them to grow, but the only problem you'll find in the future is that their clothes and personal gear needs will outgrow the pack before they will. My gigantic 13 year old now uses a bigger pack, but my daughter still uses hers 4 years later, and comfortably did 60 miles last summer. Hope that helped. Very cool! Good luck, and Enjoy!
What size range of torso's will this...
What size range of torso's will this fit?