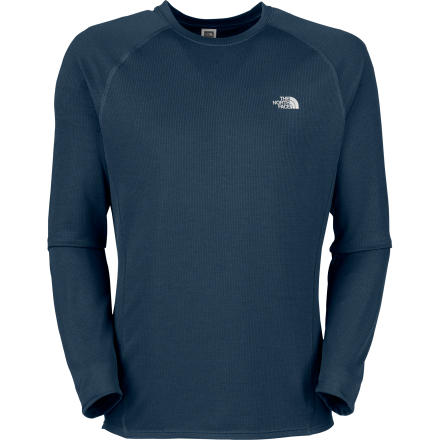 This shirt has a great design and fit. I've been wearing them often during this season's particularly colder and wetter weather. It keeps me warm and dry.
Write your question here...What is the...
Write your question here...What is the diference between "a base layer" & the old thermo underware? Is the purpose of a base layer warmth or something else?
"Base layer" is just a semi-recent term for the layer that you wear closest to your body, generally for warmth, often next-to-skin. Underwear definitely counts as a baselayer. This would be a great baselayer, as would something wool (the Stoic Merino shirts are amazing) or polypro of capilene. Up to you.
This base layer has held up to a brutal beating over the years, good to keep warm, I wore it on a 2000mile motorcycle ride, Whitewater rafting, climbing, Hiking, always served great. 3 years later, its beginning to get loose threads here and there, label has worn off, but it never has odor, doesn't wrinkle, dries fast.
For layering this works just fine, I got mine here at Backcountry.com. I can wear this jogging, to the gym, hiking or backpacking then slip on a windproof fleece and feel perfectly toasty. I also wear equivalents, more affordable off brands that work just as well. However, I do like the anti odor lining which is a huge plus after getting it soaked in sweat and having to wear it again the next day. It dries pretty quickly and is decent quality. I'd consider Nike and UnderArmor in this same category for a light weight, quick dry, long sleeves. I'm not disappointed with the TNF one at all, especially at the sale price I got it at which is competitive with other brands that offer the same functionality.I am 5'7", 40chest/31waist (both fluctuate) and the small fits me perfectly and not loosely.