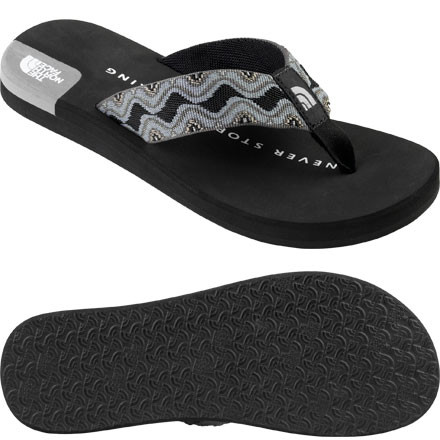 Detail Images

Videos
Put the terrifying notion of rubber-strapped, stiff-soled flip-flops away. The North Face Women's Wohelo Flip-Flops are a totally different breed. The Wohelo's come from the sandal land of soft polyester straps, cushy EVA midsoles, and grippy outsoles. This means you can wear the Wohelo Flip-Flops without your feet getting blistery and cranky after an hour of walking.
Great sandal, perfect color and fit.
Familiarity:

I've used it several times

Fit:

True to size
TNF sandal great for every day use


The North Face Wohelo Sandal - Women's
My wife absolutely loves these sandals! So much so that she has 3 pairs already. She wears them with jeans, shorts, at the beach, even to work when she does not want to get all dressed up! They are comfortable,the colors are great and they fit true to size. I would highly recommend these!
, ☃bcs_badge_alumni_label☃
Perfect
These are great little flip flops, very comfortable and pretty good size sole - not too flimsy.
I normally wear a 7.5. Would you suggest...
I normally wear a 7.5. Would you suggest ordering a 7 or 8 since they only come in whole sizes?
I would personally go up with the 8. There is nothing worse then a flip flop being to short.
Great for beach or daily wear
Bought these in the blue and love them. Cute style. I wear them all day walking around with no issues. Very comfortable (no rub spots). I wear an 8, bought the size 8 and they fit true to size. I would definitely buy these again.
I am buying another pair of these to replace/ add to the pair I already have from last year... or was that two years ago? I don't even remember. I love these they are so comfortable and durable. Mine have been through mud, and a lot of walking, and still look pretty good. A quick rinse off and they are back to beautiful, mine are still looking great just getting a little worn, want to be sure I've got a pair for when these just won't make it any longer.
#1 North Face Fan loves them
I bought my wife a pair of these in brownie brown/corset pink, and she totally loves them! She loves the color, and they are very comfortable, not to mention they look good on her tiny feet. I highly recommend.
I have worn my 1st pair of TNF flip flops (from last summer) so much I needed to get a second pair. I have not worn out the old ones yet, but they are so comfy I just wanted to get a 2nd pair in a different color (and then be ready for the day when the 1st pair does need to be retired).

The straps are really comfy, and the footbeds conforms to your feet so nicely. TNF did a great job with these. I went with a 9, which is sizing down a half size for me from my sneaker size of 9.5 As the footbeds wear-in they get just a touch wider and longer, so they end up perfect.
Write your question here...how thick is...
Write your question here...how thick is the sole
I think the sole is about an inch, inch 1/2 thick.
Love the "cloth" straps - very comfy on the top of your foot. Just a real nice f-flop - and not a lot of "flipping" - probably because of the wider straps (not those real skinny ones). No break-in needed!
They are very comfortable and have a surprising amount of arch support. I got the ones with the brown soles and pink flowered straps which are a really nice combo.
Love them!!! Very comfortable, Really cute.
Everyday Wear & Walks //Update: Still Awesome!
I was surprised by the support these offer. I find them to be more comfortable than my reef sandals. I can't wear leather because my feet sweat too much and am prone to eczema, so the strap is perfect. They are great for long walks, too!Update: I have now purchased 3 more pairs in different colors--I truly love these sandals. When you first put them on they are a bit snug, but they soon mold themselves to your feet. They are always comfortable, even after my coon hound nibbled the edges it did not make a difference in the overall foot bed. Good construction, nice wide straps, meant for doing all the fun things you do in summer.
I love these sandals- cool design on strap!! The black part of the sandals does not make your feet black! Very comfortable
Definitely would recommend to a friend.