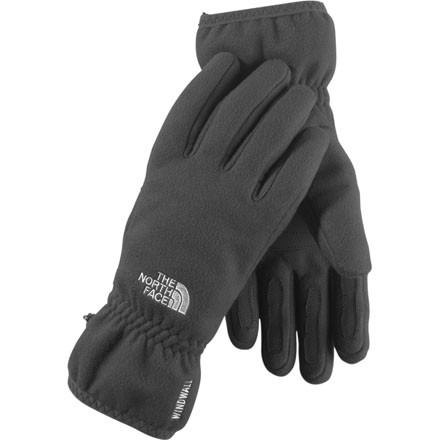 North Face WindWall Gloves
Not what I thought I was ordering. Stiff seams on inside of fingers. Hard to tell when ordering from a picture.

Service was very good. I have returned the 2 pairs and am waiting for credit.
awesome gloves, durable , warm , comfortable, ideal for daily use plus hiking
Once I tried them on... they felt like leather gloves. They probably aren't as warm as Denali gloves (on order as well). :) There are occasions, I'd like to have a pair of thin gloves to wear. Instead of wearing ski gloves. I just wish the black color was more dark black. The black color is more black/brown. :)
I was a little worried these gloves may not feel good on my hands, but I have not experienced the discomfort other reviewers have experienced. I've lived in the Washington, DC area my whole life, and this past winter excluded; wind chill is a far bigger worry than snow in the winter. I use these gloves when I go from my house to my car and from my car to any location because they do a fairly good job with the wind for me. Mainly due to the price I paid, and the feeling that they do the job I bought them for, I feel I got a good deal. Here's a con, sitting in my car on a 10 degree morning, these gloves do little to keep me warm. I've always kept a pair of LL Bean fleece gloves to wear while waiting for the infernal vehicle to warm up inside my glove box, and when the car is warm I put the fleece back in the glove box.
I thought these were women's gloves. I clicked "The North Face" and then "Women's Gloves," found these and ordered them. I was super excited until I got them and realized they were for men - and they are way too big. It would be nice if backcountry clearly labeled each product as specifically for women or men.
I gave these gloves to my 11year old son. He said they are very warm on cold winter days. He says they are just the right size. Fits great.
I know these gloves aren't water proof,...
I know these gloves aren't water proof, but could you put a waterproof spray on these? I want to use them in the snow, but hate to ruin their look.
I would try and go a different route. Although these gloves will stop the wind, buying a shell would definitely ensure that your hands remain dry and your gloves will never get torn up. Though I suppose on those warm spring days a light glove would be just fine.
As a former archaeologist, I used to use these when I was digging in the winter. I also occasionally used them for skiing if I had forgotten my ski gloves. Very durable and effective even if they aren't the most comfortable thing in the world. They worked good enough I bought a second pair.
Good for wind, Bad for deep cold.
I used these during an Everest base camp trek in Nepal during mid-December and we had mild weather, so these were great for daytime on all but the last 2 days before base camp. They did a good job of blocking the wind and cold. At the hightest altitudes and at night, more insulation was generally needed, so I wore my ski gloves. As they are not water-repellent, they weren't suitable for wearing on the one day we had light snowfall.
The North Face WindWall Glove
These are nice gloves, the grip on the palms and fingers work pretty well, but if it gets too cold, you're better off getting something that has more insulation.
The windwall glove is a nice, light glove. I think they are very comfortable. The only downfall I've had with them is that if the temps are really cold, they feel like they turn to paper... if that makes any sense.
I am looking for gloves that are not bulky,...
I am looking for gloves that are not bulky, but warm, for my finger tips get the coldest. Live in Midwest close to Chicago, like North Face produts
Don't get these then. The insulation is very thin.
Would it be possible to wear this over the...
Would it be possible to wear this over the North Face power stretch glove?
Yes, but you must order a size up. The gloves have a slim-cut, like all TNF items.
I use these when I go running in the 20 to 30 degree range, which in MN is often. They keep the wind and cold out but at temps much below this your going to need something heavier. Water does not come thru easily but the outside soaks it up pretty good. I would NOT use these for skiing.
The Windwall Glove keeps the wind out, but that's about it. The interior feels uncomfortable against the skin. The so-called grip is slippery and actually makes it harder to hold onto things. Shell out the extra twenty dollars more and buy the vastly superior Pamir Windstopper model instead.
Had them for one week, ripped at the seam, right between fingers. Definitely more expensive than they're worth.