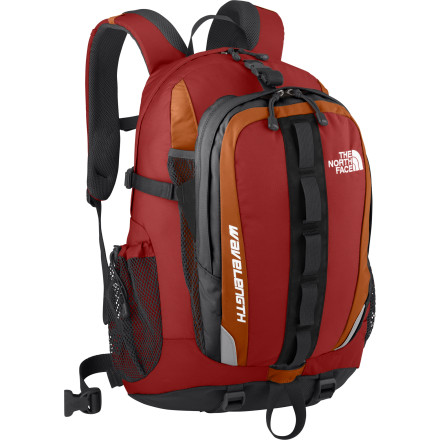 I would have give 5 stars but for my personal use, there was one thing I didn't like. There is a front pack that zips closed. I like that, but just behind that ( and I didn't really notice it on the picture. The pack has an open compartment. The top has a clip to keep it secure, but I would prefer it also zipped closed. just to keep dirt, and or spray, or rain out if it. So if you have anything in that part it is sort of exposed from the top. However in it's defence the compartment behind that 1 does in-fact zip closed. so I keep anything I want dry and secure in there. Over all its a great pack, it's light, stylish, and vert funtional. I am sure anyone wanting a great pack would be happy. this pack is very good quality and will serve my needs perfrectly.
Unanswered Question
hows about shipping to Hawaii??
hows about shipping to Hawaii??
How do the Northface backpacks i.e...
How do the Northface backpacks i.e (wavelength) hold up against water ?
It's not waterproof at all.Both the 420D and 1680D Nylons in this pack have a Durable Water Resistant (DWR) finish.
I got the North Face Wavelength Backpack in Ink Blue, but the picture on backcountry.com is a little bit misleading-- the actual blue color is lighter than shown in the photograph (which is the same photograph shown at the northface.com website, so both are misleading). Other than that, the backpack still looks great!

I was originally choosing between the Wavelength, Recon, and Borealis and I'm really happy I got the Wavelength.

The organizer pocket is really handy and what I really like about this backpack is that there are adjustable side lengths so if you have a lot of stuff, you can expand the side lengths. If you don't plan on carrying too much stuff, you can tighten the sides to "flatten" the backpack and it won't look like you have a huge empty backpack. Also, there's a space between the organizer "zip pocket" and the main compartment where you can put items that need easy access (like a hat, sweater, etc.) which is held in by a handy clip on the top. There's also a small elastic pocket on the backpack shoulder strap that fits my cell phone perfectly!

Great backpack! There are lots of pockets designed for convenient access to your gear.
I purchased this bag for college and and still very happy about the ability to not just hold my very expensive laptop safely but, also the 35 pounds of books I cary five days a week in my pre-med program.

I am also able to keep water and protein shakes safely on the outside of the bag in the netted pockets.

Furthermore, the shoulder straps are very comfortable despite the weight of the bag.

Over all, I am very happy with the decision to purchase the North Face bag through Backcountry.com.