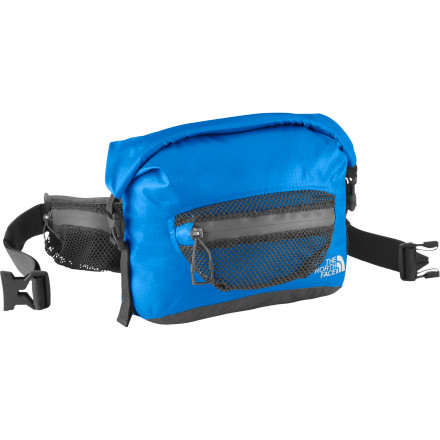 You can't imagine floating Idaho's legendary River of no Return without bagging a few choice photos along the way. You also can't imagine you camera dieing from water damage because your raft flipped. Well, you can imagine it, but it makes you weep openly so you try to shut the thought out of your mind. The North Face Waterproof Lumbar Pack protects your water-sensitive gear when water-exposure is inevitable.
Roll-top design seals out moisture to keep your critical gear dry
Fully taped seams prevent moisture from weaseling in between the stitching
Hipbelt pockets give you easy access to lip balm and sunscreen
What do you think about this product?
Have questions about this product?
Every Day Bag
Familiarity:

I've used it several times
I am a guy that has used a hip bag for years and finally wore my old one out. I was looking for something for checkbooks,lipbalm, wallet, glass case,etc and the large seemed a bit big and the medium worked out perfect. (Still plenty of room.) The smaller side pouches are cool too.Very tough, very secure - zippers will not open unless you want them to and the main pouch has a roll up band - not a zipper. Kinda hard to get used to but I like it better than a zipper - more secure I think. I found this to be the perfect bag for everyday use.
Can I take this snorkeling?
Can I take this snorkeling?
Hey Graydon,



So based off the specs I am only guessing but you should be able to get away with this for snorkeling. The thing is I don't think The North Face has tested this for full submersion as the intended design is for tropical marathons, and other wet weather activities. Again, I I would assume you could get away with using this while snorkeling, but probably not diving, but I would probably test it out before I stuck an IPhone in there.
Best Answer
There is no product from any manufacturer that recommends trusting roll-top dry bags for total submersion. You should always double up for sensitive electronics. Another thing to think about is that it's going to add a lot of buoyancy, especially if you don't get all the air out, which is going to be hard to impossible.