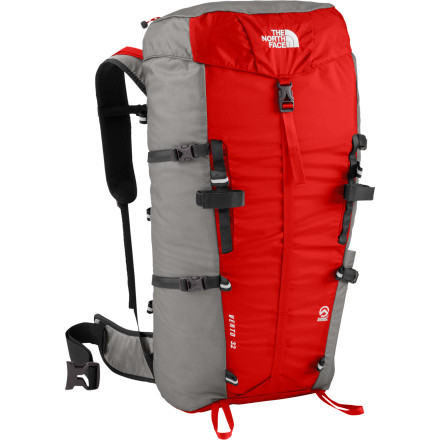 Community Images
After two days on the mountain, the summit is finally in reach. Pull The North Face Verto 32 Backpack out and load it with enough supplies to finish the last leg of your ascent. This compressible, ultralight pack is a smart option when you want to keep your weight low but you don't want to sacrifice features or space.
Frameless construction enhances weight savings and packability at the cost of rigidity, load transfer, and max weight capacity
Cargo chute nylon material is strong, lightweight, and highly packable
Hydration-compatible design lets you keep your beverage of choice handy
Triple-point compression system keeps your load balanced and lets your bag double as a stuff sack for your sleeping bag
Multiple reflective lash points and cinch cord help you attach extra gear
The North Face Summit Series
Has anyone tried to A-frame ski carry with...
Has anyone tried to A-frame ski carry with this? Seems flimsy to do this, but ...
Best Answer
Unfortunately its really not suited to carry skis. Its meant for alpinism and or mountaineering. You could put skis like an A-Frame but if the pack was filled I doubt you would make the "A" and be able to ski strap the tips together. The skis would stay but they would stick straight up or put pressure on the top of the bag if you had the tips connected.
I love this pack! It is so perfect for summit bids, its light, its compact-able! I love it! It looks good too! I do like the little extra padding on the waist straps and the padding in the back!
Great no-nonsense pack, for skiing too!
I was initially drawn to this pack by its no-nonsense, straightforward design. It has everything you need from a pack without the extra bells and whistles that a lot of the time end up being just extra weight. I've used this extensively this spring for ski mountaineering missions as well. While I don't think it's specifically intended for this use, it does the trick, particularly for missions where you're bringing rope and a modest amount of pro. There's no diagonal carry, but the a-frame works just fine. It's the best pack I've come across for its weight.
This is everything I love in a pack; lightweight, simple, and versatile. The verto really grooves with my minimalist philosophy on packs. I've used this pack for everything from cragging to alpine climbing, to bouldering, to cruising around town. If you are a traveler this is the perfect pack to throw in your luggage... the verto packs down to nothing and is ready to be deployed once you touch down. The Verto really is a bad ass versatile pack.
Um, this has 6 extra litres but is twice...
Um, this has 6 extra litres but is twice as heavy as the 26L Verto? 600 grams makes this no longer an "ultra-light summit pack". You can get 30-40 litre proper climbing packs with frames for not much more than that.
is this a question or a statement?
It is a rhetorical question, so both. I'm hoping someone has an idea of why this is so much heavier for only 6 extra litres and no extra carrying capacity that I can see.
Best Answer
I recently bought this pack for ultralight backpacking and I believe I can answer your question. The 32L bag has a waist strap/buckle for stability and two strap/buckles per side to strap gear to and for compression purposes. The description says that it is frameless but it comes with a foam pad in the backpack for comfort whereas the 26L does not have any of the aforementioned buckles/straps nor does it have the foam pad. The 26L bag is much more of TRUE summit pack whereas the 32L is more geared towards ultralight backpacking/overnighters in my opinion. The 32L pack cannot pack down into its own pocket either so it is sturdier than the 26L pack.