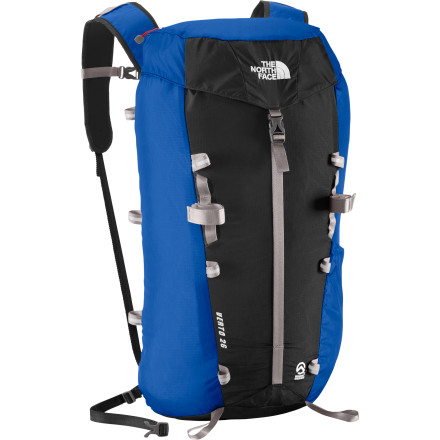 Community Images
Instead of strapping on your heavy expedition pack on the morning of your summit attempt, just slip the essentials into The North Face's lightweight and versatile Verto 26 Backpack and leave your heavy gear at basecamp. In addition to hauling your puffy, camera, and extra calories, the Verta also comes with external attachment loops to carry your ice tools or trekking poles. At just 11 ounces, this strong and highly packable daypack definitely won't weigh you down.
Frameless construction enhances weight savings and packability at the cost of rigidity, load transfer, and max weight capacity
Cargo chute nylon material is strong, lightweight, and highly packable
Hydration-compatible design lets you keep your beverage of choice handy
Triple-point compression system keeps your load balanced and lets your bag double as a stuff sack for your sleeping bag
Multiple reflective lash points and cinch cord help you attach extra gear
The North Face Summit Series
Surprising
Familiarity:

I've put it through the wringer
Surprisingly comfortable. Surprisingly packable. Surprisingly light weight. Surprisingly versatile. It really is an ideal summit day & fast-moving day hike pack.
Great as a travel day pack
Familiarity:

I've used it several times
Ever been out on a day trip while travelling and needed a backpack to hold a few things (extra layers, water, snack, room for knickknacks, etc), but don't want to lug around your normal heavy backpack? This fits the bill perfectly and goes in my main bag now whenever I take a trip.



There are other similar superlight summit packs like the Marmot Kompressor or REI's Flash series, but for me they either seemed a bit too thin on features (essentially being a stuff sack with shoulder straps), or too heavy on them (too many pockets/straps/etc for a lightweight bag). It doesn't compress down super small like a tennis ball as some ultra lightweight bags do (i.e. those marketed as re-useable shopping bags), but conversely, the hardier material is less likely to tear when it grazes against some brush/branches/etc.



It held up well in some light Alaskan rain, though the top compartment layer was getting a bit damp after a few hours. Might need a rain cover in heavier conditions.



If I had to nitpick anything, it'd be nice if the cinch cords were elastic, and some elastic for the side water bottle pocket would be nice too.
Great Lightweight Pack
Gender:

Male

Familiarity:

I've put it through the wringer
The best feature about this pack is that it is able to stow into its own pocket. This makes for a super storable pack. It makes for a great day pack when backpacking or even a great pack for the hike into the crag. It is made out of a bomb proof material that with stands abuse well. The back is a great size and doest bunch up. The pack features compression straps which are great for cinching down your load to prevent sag or even doubling as a sleeping bag stuff sack.
Love it
Familiarity:

I've put it through the wringer
This little pack is awesome. Great as a summit day pack during a backpack. Light and compacts well. Has held up (so far) around town as well as on several summit days scrambling and climbing. No (or little) bunching of the material on your back like a previous Osprey pack, hangs well.
Light & comfy
Familiarity:

I've used it several times
I love that bag, I use it when I travel and want to leave my backpack at the hotel/camp, it does a great day pack. You can cinch the pack with the 2 meshs you can install on it, it makes it more comfortable. I cannot see any flaws in that pack, you just have to be careful on the weight you put, its a light pack.
This pack has been great as a backcountry daypack due to to its abilty to stuff itself quite small. The only issue I have with it, and other people have addressed it before, is that a nalgene will slip out of the side compartment at times depending on how everything is packed.
Great day/summit pack
Gender:

Male

Familiarity:

I've put it through the wringer
Awesome pack. Looks good, very lightweight, holds my gear. Only issue is the water bottle compartment. Holds a 32oz Nalgene, but doesn't have any elasticity on pocket - so it can easily fall out. Not a deal breaker, but the only reason it didn't get 5 stars.
Stellar Pack...
Gender:

Male

Familiarity:

I've used it several times
I'd all but disintegrated my old daypack from 3 years of trail and city out-and-abouting abuse. My girlfriend got me this pack for Christmas and it's been so great to use thus far! I took it snowshoeing in RMNP and on several day hikes since and it swallows all of our cold weather layers, holds extra gear with all of it's lovely webbing and loops as well as sits a whole lot more comfortably on my back than I thought it would! I love the idea of doubling as a compression sack.... I would only suggest swapping out the cord locks for each set of cord webbing, though, as mine always wanna pop off when I cinch them down as tight as I'd like...
could you fit a 60m rope in the bag and...
could you fit a 60m rope in the bag and still have some room for a small sport rack and jacket
Yes you could. It would fit and you might even have a title more room, if you are worried about space check out the Verto 32, same pack with some more space and actually a couple more cool features:)
Fantastic pack, stuffs up in almost nothing. Great to throw in your larger pack for walking around when traveling. Also, fits perfectly in a bike jersey pocket for picking up groceries on the way home from a ride without having to carry a sweaty pack through your whole ride.

Careful though: put a DSLR and a lens in there without a rain shell or something as padding and it's gonna jab you in the back all day. Would be perfect if it had a little more structure to it when in use, but that's the trade-off for portability I guess.
VERTO, I HEART YOU VERY MUCH
OH Verto, You are the Bomb
I couldn't say this with enough Aplomb.
That is why I have written this song.
Everything is right about you nothing is Wrong.
When it's summit or plummet you are my queen.
The best on route pack that I've ever seen.
With perfect design, minimal and clean.
You help me send the gnarly and mean.
From the Himalayas to Alaskas big walls.
From Yosemite to Zion or wherever duty calls.
You are the dreamy pack that I always need.
My love for you is deep, true yes indeed.
And when I need groceries,
Or to cary some Schwag.
Well For those Uses.
Your also a GREAT BAG.
Summary: Great pack, very versatile, durable, useful. Two minor details that are annoying.

I bring this pack on every outdoors trip I take, whether its two weeks of backpacking, a couple of days of skiing, a day of rock climbing, or anything in between. It weighs next to nothing, takes up almost no space when packed, fits enough for a day hike or a day of climbing, and can be very meta. It's held up to four seasons of abuse so far, and looks like it will continue to do so.
I do, however, have two gripes with the pack.
The first is the water bottle compartment. The fact that there is only one means that when your bottle is full, the pack tends to be a little strangely balanced. This isn't a dealbreaker by any means, but it can be uncomfortable and difficult to adjust at times.
Likewise, depending on how the rest of the bag is packed, nalgenes have a tendency to slip out of the compartment after a while. Needless to say, I think that The North Face needs to put a bit more thought into this.

My second problem is the fact that the webbing is shiny smooth. Normally this might be a good thing, but in this case it means that however you adjust any of the straps, they will loosen over time. When you're just walking, this is an eventuality after an hour or two. If you ever end up running, this takes place in a matter of minutes. Again, this isn't awful, but it can be an annoyance. Now that the pack has seen some use and the webbing is a tad dirty, it doesn't happen quite as quickly.

One last thing, is that this pack is not waterproof at all. This becomes a problem if you don't have a drybag in everything beyond light drizzle. I think I'm going to try to treat it with some DWR and I'll post on the efficacy of that after I test it.
Where is the hydration port on the Verto...
Where is the hydration port on the Verto 26? I received one as a gift and for the life of me don't see any route of egress from inside the main compartment except out through the main opening. Is it possible mine is an older model or something?
your's could be the older model?
Can the waist and sternum straps be removed...
Can the waist and sternum straps be removed (without cutting them off of course)?
They could not, they are fixed.
I have been in the market for a summit pack for a long time, most are just too small. The Verto is nice and roomy, tho it is ment to be a summit pack there are times when you need more space, winter clothing, climbing gear etc...
So far have used it once and was pretty happy. The top pocket in the lid is pretty handy as is the pouch it stuffs into, when the pack is unstuffed this pouch turns into a handy internal pocket. Placing a sit pad inside against your back helps make it more comfortable and gives a bit of structure or support when you have a heavy load.
If you're looking for a light, no frills summit pack, then you're in luck. This pack is super light, 13 oz, and packs down fairly small. 1"x4"x6". The straps are all very narrow, 3/4" webbing. Buckles are all small and light. Minimal padding on the shoulders. It has a zipper pocket in the top lid and an open, nalgene size pocket on the back. No padding or frame sheet on the back so be aware that what you stick in the pack may be jabbing you in the back. I had a shell in there that I packed along the back and it kept my extra water and other bits from causing any discomfort. Ultra light backpackers will probably love this pack. The 26 liters seems to be accurate for size. I've only used it once so I can't speak to any durability questions but the material and construction seem to be of a very high quality.
Could anyone tell me the actual measurements...
Could anyone tell me the actual measurements of the pack straps on the Verto measured from where they attach to the pack to the end of the padding?

I have a problem finding rucksacks with straps long enough. I'm a bit thick through shoulders and back, some say head also. I wear a size 48 jacket, and many pack straps fit me so that the buckles are right in my armpits, total misery.
I cant tell you the exact measurements but I can tell you that if you are worried about it being too tight you might want to try the Verto 32, it is slightly longer and therefor you will have a bit more room for your torso.