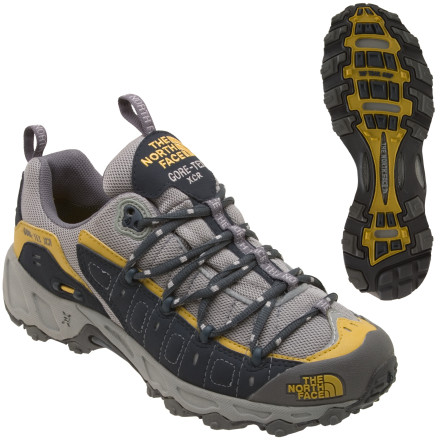 These are my 2nd pair and I cannot say how pleased I am with them. I bought the 1st pair a bit small as they run small so think about that when ordering. This pair came in only 2 days before I was to leave on a 7 day mission trip to Africa. No time for break-in....No worries! They felt great the first day I put them on. Overall in a week of walking the dusty trails of Malawi I put in about 35 miles with no problems. Dew never touched my feet and I had complete comfort and support all day long. I would buy this shoe again if these wore out today.
Best I've worn yet... comfortable, great fit for small feet, durable, cool.
comfortable and solidly built
I also have a pair of la sportiva cardiff shoes and rotate wearing both. The cardiffs are a little lighter fitting but don't seem as solidly built. I haven't truly tested the XCR but it does look like the Gore-Tex will cause them to work better in wet weather. I noticed that sole allows more rubber to make more contact to the surface of the ground. This make result in faster wear but we'll see
I live in cold, wet, and muddy Michigan. I bought the North Face shoes for running on trails. The Gore Tex to keep my toes dry until summer arrives. They have performed as promised. I have run in mud, rain, and slushy "crud."

They are stiffer than my summer running shoes (Asics) - but that is expected in a trail runner.

The size I wear (8) was the size I ordered and they fit great. (I heard sizing was an issue for others with NF)

Only complaint is the sole insert is not adequate for my high arches. I have switched them out for more cushioning and arch support. (Minor thing anyway).

Happy buyer - and got exactly what I was looking for. Dry-warm happy feet.

I will be running a trail half marathon next month in them. They will be great especially if it rains, or snows (possible for Michigan in April).
First, I have to say that I have had my pair a year now and purchased the gaiters from a different source. These will hold-up under normal conditions, but I was running 5/miles per day in these and the soles quickly wore down, so with a little shoe-goo I kept them going. I have since purchased a second pair and I try not to be as hard on them. A couple problems I have had is that one of the bungee cords that hold the gaiters on came loose, but a spot of glue fixed that. I also wore these on a century ride in the rain and even with the gaiters, my feet got soaked through...so much for Gore-Tex water-proof claims! These are a heavier shoe which work well as a trail shoe but as a distance runner you should watch for material wear.
You won't be disappointed w/ these sneakers, I had to pick up an extra pair because they are so comfy and durable. Definitely a worthy purchase...
Good shoes. Note as light as I would have liked however, great traction and support. I highly suggest them to anyone. Might have to play with the lacing system to get the right fit but good over all.
I bought these intending to wear them with a full pack, but haven't done that yet. I do wear a 40-lb weightvest two miles to work several days a week and they are holding that fine. My only real complaint is that my heel is loose, and I get some toe-crunch. I'm hoping that I can solve that by adding another hole up near the top, but a little toward my ankle. Will see.

I also tried the later model, the 103. Did not like that as much as this one.
The XCR Trail Running Shoe is great for hiking. They have good grip and can get you through smaller streams without getting your socks wet. They're comfortable enough to wear all the time. They hold up pretty well to lots of abuse. The only improvement I'd like to see is a closer fit around the top of the foot when needed. That would make for the fit perfect.
best hiking shoes I have ever owned
I have been in search for a wide Gore-Tex trailrunner and I was almost going to give up.I purchased the Salomon XA 3D XCR but they were way to narrow. The NF Gore-Tex XCR shoe doesn't come in wide, but by going up a half size it fits me perfectly!
I'm very excited, going to order the gaiters now.
Great shoe for wet and wintry weather. Very comfortable and seemingly well-made. No disappointments thus far. As I would expect a North Face product to be.
Good shoe but a little bulky for me I have been in the Solomons i will be going back to them.
I've used these shoes now for a while and can conclude that they are one the most comfortable shoes ever to wear. I´ve used them on long hikes and running in bad weather. They do get wet, even though they have water resistant material your going to get wet, there´s no getting away. But for the comfort its worth the price alone, great soles that gets you where you want to go and you don't feel any pain or discomfort after a long time walking or running. The good part is also the shoelaces, running with other shoes like Asics or others have laces that open or break after a "crazy run" but these are treated and wont go up!
To my astonishment, putting these shoes on and starting to lace them up made the sky rumble and clouds part. I thought nothing of it until I was done. I stood up, fully shoe-thed, which must have summoned a blinding beam of light from heaven that focused on me filling my body with limitless power. It was tingly, I liked it. Then an epiphany struck. It's the shoes! They are that bad-ass. Strong as boulders, light and water-proof as if I strapped two otters to my feet! Sexy little otters.

Now, in the future, I tear ass all over the woods. It's definitely more like tearing ass than running because with these shoes it's more like fifty foot double jumps smashing through trees and camp cottages. Those campers looked pissed. One things for sure, I'm out there kicking bikers and wildlife with nary a care in the world. God bless you shoes.
i don't like ordering on line but these shoes are perfect.
I like these shoes a lot. They are really comfy and breathable, waterproof too. I wear them trail running and hiking. They have great traction. They get a 4 cuz they're a little ugly!
Great shoes but not a perfect fit around the ankle.
If I could give it 4.5 stars I would, but I can't so I'll have to go with 4. The shoes are great, I love them so far. I've had some opportunities to use them in wet, snowy weather and they worked great. The only issue I have is that they don't lace up very well. Its difficult to get a great secure feel around your ankle, sometimes it feels like they're not even tied. I've caught myself double and triple checking that they haven't come untied.
Excellent go anywhere shoes!
I bought these shoes for backpack traveling, light hiking, everyday casual wear, and a good all-weather shoe. So far they have been excellent. They are extremely comfortable. After a 2 week Europe trip, they still look brand new. I also intend to use these shoes for wet conditions, rain, snow. Gore-Tex should be right at home in these conditions. I'd definitely own another pair of these in the future.
I bought 3 pair of these shoes and had to return each one since they systematically broke. Each time the shoe was only worn 1 time, and was only under very light hiking. Two pair broke in the same way which was the straps that go around the ankle to attach the very nice ankle gators, broke after only 1 day of hiking. the other pair the sole starting peeling up after one day of hiking. I say buy at your own risk.