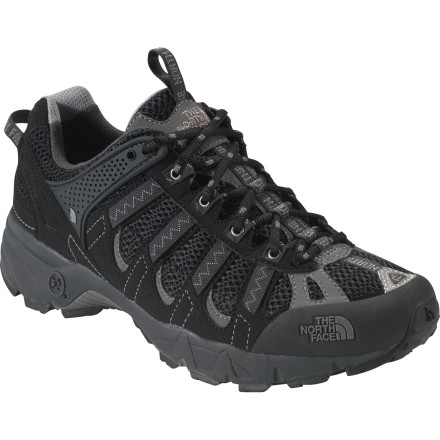 When your taste in trails runs to the rugged, you need the North Face Men's Ultra 105 Trail Running Shoe. A stable, supportive upper and an aggressive tread on the outsole allow you to manage any and all conditions underfoot.
Torque Control design gives medium-arched pronators excellent stability on varied terrain
Extra cushioning in high-impact areas helps you run longer and farther
Northotic footbed enhances stability, support, and comfort
UltrATAC rubber outsole provides excellent traction over rough trails
Molded rubber toe cap protects forefoot against trail hazards
Man Regains Will To Live Because Of North Face 105's!
I was a poor, wretched soul, wallowing in self pity due to a severe case of shoe envy. It seemed that everywhere I looked, humans were circling with their sytlish Trail Running Shoes and leaving me in the dust (or rocks, as the case may be). And then, at my lowest point, the light came on! I think it was on my desktop but it could have been my laptop. Please excuse me for loosing that detail. All I know is that it was love at first sight! Pictured on the screen was a handsome brute who looked a lot like me (in my imagination, anyway). Without further adieu, I pulled out the plastic and ordered! AND NOW... Here I am at my desk in my 105's!!! Chicks dig me and my 105's! My checking account is balanced! My tires no longer need replaced! And I am FULLY aligned with mind, soul and body! Life is Freakin' Good!!! Thanks, backcounty.com!!!

Your pal, Wally
Feel lightweight and stable on the trail. No slipping on dry rock. Feel confident with every stride. Have even been complimented in the gym on their looks...
This is the fourth pair of north face shoes iv'e bought in the last few years and as all the others they feel great out of the box. I have a wide foot but these fit so well I don't have to buy extra wide for a great feel. I dont do as much trail running or hiking as I used to but I definitely recommend these very comfortable shoes.
Hey, just starting to get into trail running...
Hey, just starting to get into trail running and am looking for a good, sturdy, fast drying shoe. I am 230 pounds so they have to be sturdy. I also have feet like Fred Flintstone so I need a wide shoe. Any suggestions?
Thanks
Jim
This will be a great shoe to get you started....
pelase can you let me know if this shoe...
pelase can you let me know if this shoe is waterproof?
thanks
It is more water resistant... You need a shoe with gore-tex...
Very confortable!!Adorable
Very confortable!!Adorable
I dont have anything bad to say about this shoe, I would HIGHLY recommend this to anyone. Cant go wrong with this.
Good fit- poor construction
These shoes fit well and feel comfortable. the big problem is that they are not constructed well at all. I've hardly used them and already they are falling apart. the seam at the toe box is separating from where it meets the rubber/ plastic bumper at the toe. fine for casual walking around or work, but not strong enough for heavy use.
These shoes are definitely for pronators. Which I am not. It took me a few days for my feet to get used to them. They are ok now though. I am in Iraq with temps over 120 degrees. They breathe good and I can actually feel the air flowing in. I would absolutely recommend these shoes.
Buyer needs to be aware that these shoes are specifically made for pronating runners/hikers. I've used custom orthotics for nearly 30 years and found that the last of these shoes is positively posted, resulting in no requirement for use of the orthotics for the first time I can remember in a new pair of shoes. I've put about 100 miles on these shoes, and so far so good. Cushioning could be better in the ankle area, and muscles needed some time to adapt, but no more hip pain that is caused by so many neutrally posted shoes. I'm mid-60's, former long distance/ultra distance runner now putting in 3-5 miles/day easy workouts.
These shoes are great. Light weight but tough enough to hold up to my german shephards teeth.
I had another pair of North Face trail runners and they were a good running shoe. I am currently in Afghanistan where the ground is rocky, uneven and harsh. I left the other pair in the US and purchased this pair the North Face Ultra 105 and they are better than the last. I wear them all the time to include running and working out. They were comfortable out of the box and the fit was spot on. They have held up nicely but it has only been a few months. The other pair were over six months old and were still in great condition. I would recommend this trail runner to anyone who wants a running shoe and more.
how do you clean north face leather ...
how do you clean north face leather shoes
hose and a soft nylon brush while the shoes are still on my feet. air dry in the shade with the insoles out. some people stuff newspaper in the shoe during drying.