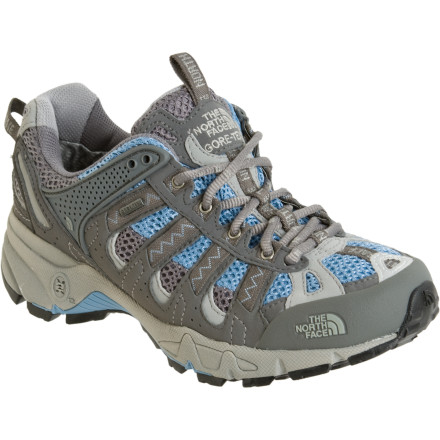 Detail Images
When the trail ahead looks wet, muddy, and unforgiving, The North Face Women's Ultra 105 GTX XCR Trail Running Shoe stays the course. With its Gore-Tex waterproof breathable membrane and a tough upper that's made of leather and mesh, the Ultra 105 has the tools you need to stay dry and protected.
Women's-specific design matches your foot's shape
TPU shank plate and Torque Control platform provides support and stability for those with low arches
Gore-Tex waterproof breathable membrane blocks water, mud, and snow from soaking through the upper
Breathable mesh panels help foot sweat evaporate so your toes stay dry
Lightweight, durable UltraTac rubber provides excellent traction in both wet and dry conditions
Molded rubber toe cap protects your foot from sticks and rocks on trail
Compression-molded EVA midsole absorbs shocks and offers exceptional cushioning over rugged terrain
I picked up these shoes a few months ago for some dryland training before the ski season hit. The first time I put them on, I was amazed at how well they fit my foot, and the support that they offered. I took them out running, and did my drills, and was stoked on their traction and overall comfort.
Since then, I've had to move inside, and have been training in the gym. Still love the shoes just as much!
Overall, a great find. Good for indoor/outdoor training, and would be perfect even for small day hikes. Fits great- very true to size- and offers good support. Super happy with them!
I'm very active ... with running every morning and walking my dogs at various times throughout the day I am always looking for comfortable footwear that is great looking ... these shoes provide all of that. I absolutely love wearing them and that is not an easy thing for me to say when it comes to shoes. Too many foot surgeries. =(
Best winter running shoe for me! I have a wide foot, and the fit is great, true to size. Goretex makes for perfect MN winter running. Snow, slush, ice, rain, whatever. These were perfectly comfortable out of the box. Plus, I got at 1/2 price!
Best trail running shoe I've ever tried!
I LOVE this shoe. I have ordered a pair each summer for the past few years (and the previous model before that.) They are comfortable, durable, reliable, waterproof (but breathable), and I can wear them all day after a trail run and not be uncomfortable. You know, you sometimes want to put on flip flops or slippers after a 2 or 3 hour trail run.... but I can wear these all day and my feet are very happy!
Is the Ultra 105 GTX XCR the exact same...
Is the Ultra 105 GTX XCR the exact same shoe as the Ultra 105, minus the gore-tex lining? Do they weigh the same? Feel the same? I love the Ultra 105's but am having a hard time finding them, so been thinking bout the GTX XCR, just not sure if they will be too much for me.
Hey there, I have the men's versions and the only differences are just that, the Goretex... they fit/feel the same, but the XCR version doesn't breathe as well... but fall is on its way!
I love this shoe. I have the 105 for local runs and the XCR for mountain runs that involve more creek crossings, snowbanks, and puddles. I love them both. They XCR are warmer than the regular ones, but still breathable. Hope that helps? I always have cold feet, so warm shoes are not an issue for me. But the stiffness/ support is exactly the same.
I have a high arch...how's the arch support...
I have a high arch...how's the arch support w/ these?
I use arch supports that I purchase separately b/c I have a high arch, too. I buy SoftSole arch supports and put them in all my athletic shoes. The North Face insoles aren't bad, just not as high as I need them to be. Hope that helps!
Purchased for my girl-friend size (6.5)... "Good fit, tough for hiking and general walking"..."too much tread for street or running unless on soft ground".. "Surprising light"..
great show, solid, light and waterproof!
north face ultra light 105
i just recently received these shoes in a size 6.5. I normally wear a 7 but the rep told me it runs a little big so I decided to get a half size smaller. I got these shoes really quick, fast shipping! I wore these yesterday to work and tried jogging in them for about half an hour and my feet/bunion started to feel the pain. I think I had to break them in first. but these shoes feel a little hard. its not has soft and comfy as those regular running shoes (saucony & etc...). the size 6.5 feels a bit snug....so I ordered a 7, should be coming soon. I will update to see which feels better.
The description here says it is made of...
The description here says it is made of leather, other sites say synthetic leather. Does anyone know what it is?
Thanks!
Good question! TNF had been making it with synthetics, then switched to the real McCoy last spring - it may be that some sites have the synthetic version still and others have the real leather version. Or the sites might be misinformed or otherwise uncertain of what they actually have.