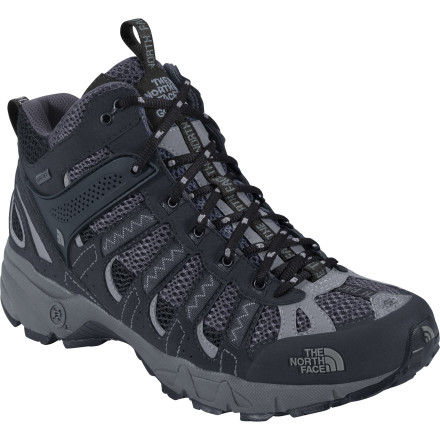 Whether you're using it as a lightweight hiking shoe or as a burly, supportive trail running shoe, The North Face Ultra 105 GTX XCR Mid Shoe isn't one to shy away from mud and puddles. And since you know that the 105's waterproof breathable Gore-Tex XCR membrane is going to block out wet trail gunk and keep your toes dry, you like to treat this shoe to a fresh mud bath every chance you get.
Gore-Tex XCR waterproof breathable membrane is guaranteed to keep you dry in tough conditions while allowing evaporating sweat and excess heat to pass through
Breathable mesh panels help foot sweat evaporate so your toes stay dry
Durable UltraTac rubber provides excellent traction in both wet and dry conditions
Molded rubber toe cap protects your foot from sticks and rocks on trail
Heal Cradle technology stabilizes your foot and provides extra cushioning over rough trails
Compression-molded EVA midsole absorbs shocks and offers exceptional cushioning
TPU stability shank provides lateral (side to side) and torsional (twisting) stability for a firm, but pliable flex
Wish they still made them!!!
Familiarity:

I've put it through the wringer

Fit:

True to size
Had I known that these were going to be no longer available, I would have purchased a few more pairs.

Only complaint was that I had to periodically super glue portions of the sole that would separate.
Excellent shoes, very comfortable , very light and dry. If you go the the rain forest with them you will get wet and your feet will be dry
The North Face ultra GTX XCR mid shoe
Very comfortable , they feel as light as my running shoes and very very dry.After about four months of moderate use the fronts around the toe guard split open.After about a month they began to squeak quite loudly. The retailer outback.com replaced them quickly and without question.Although they said they could not help with the squeak witch is very annoying. The new pair is just as loud.
Hmm...interesting shoe, too many seams...
Hmm...interesting shoe, too many seams every where, but that's the style I guess...durability comes into question because of this, with too many places for these boots to potentially fail.
...however, my big question is: how stiff are they? It sounds like they have a shank in them, thats good, The stiffer the better for me, as I like the extra support and 'spring' a stiffer shoe gives. But I am fine unless they are really very soft/squishy. Not enough support! Any ideas on stiffness, relatively speaking?
Thanks
Thay r not a stiff shoe' it is for light trails
My first pair of XCR's had a squeak in the left shoe. I sent them back to NF. Now my second pair has developed a squeak and again it is only in the left foot.........very aggravating!!!
do these boots make your feet sweat? I had...
do these boots make your feet sweat? I had a pair of gore tex lined boots and I couldn't stand having sweaty feet.
Ed, with about any goretex boot your feet will sweat some, at least in my experience. Goretex breathes ok and waterproof is great but if you don't need them to be GTX choose something with mesh instead. They will breathe much better.
Daughter, son-in-law and grandson moved from TX to CO ~6 months ago so SHE decides the family Xmas will the in CO. I detest cold weather and my feet especially cannot take it. These shoes were the perfect fit for my adventure in the snow. The day before we arrived it snowed a foot. Getting from the airport to the car rental place with the wife, dog, and bags was enough without piles of snow to overcome. These shoes/sneakers made it more than pleasurable. They are warm, waterproof, stylish (not that this mattered) and provided great footing for the terrain. I strongly recommend these for the person that doesn't want to wear heavy boots, is athletic, and is looking for comfort.
if i used these boots during the snow such...
if i used these boots during the snow such as sking,shoveling snow or walking into deep snow will help me out ?
would it effect me ?
This particular style of footwear features a Gore-Tex membrane, as well as a gusseted tongue, and taped seams. It is fully water tight, which will help out greatly in the snow. Do keep in mind that you may want to wear a gaiter with these shoes, as the lower style upper may allow snow to fall in through the top.
These shoes are great for everyday use, hiking and even running long distances. They are very comfortable and well waterproofed. I have had North Face shoes for years now and they are no different than ones I've had in the past; they take a beating and hold up great.
Love em'. Coming from keens, merrells, hi-tec and danners I found these shoes true to size and comfortable. Long term durability is unknown, but they were comfy right out of the box. Ordered the same size as my keens and fit perfect. Love the mid height for support. I use them daily and coming from a Law enforcement background I've worn all kinds of tactical and hiking boots. These were definitely not as warm as my danners which are also waterproof. These are up there in comfort and arch support. Love the low profile look. Order your normal sizing and your good to go.
i want to know if you ship to mexico,...
i want to know if you ship to mexico, thanks
The North Face cannot be shipped out of the US
Anyone know how the sizing on these are?...
Anyone know how the sizing on these are? I usually wear a 8-1/2 salomon(which feel narrow). Wouldn't mind if these fit a little wider in the box like other information I've seen says online.
I own a pair of these shoes....And I would say they have a wider fit...

I should add that I have a narrow foot....
Best Answer
Im 9-1/2 and I bought these on 9-1/2 and fit excellent.
Best trail running/hiking shoe ever
Fantastic shoe! Great traction, weatherproof and support all together. Best shoe I've had - been trail running, hiking, fishing, hunting for over 40 years!
I bought these for my deployment as a civilian in Afghanistan. These shoes are extremely comfortable, and hold up well with all the rocks strewn about. The reflecting toe is a little annoying as it seems to always reflect light, but I guess that just means it does its job. The lacing systems also allows for the shoes to fir extra snug (my preference). I plan on taking these shoes on some of the hikes back home in Colorado.