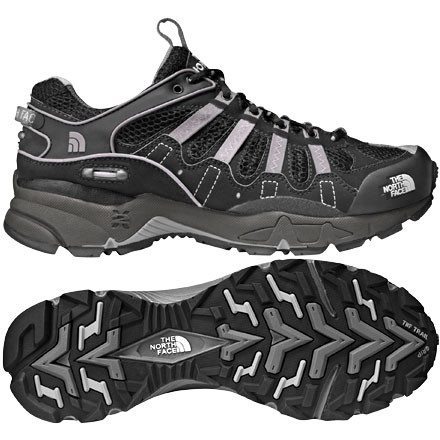 Detail Images
Absolutely LOVE These
Familiarity:

I've put it through the wringer

Fit:

True to size
These are most likely the best shoes I have ever owned! I originally bought these in 2007, and they were just retired this Spring. Although the tread was pretty much worn down and pulling away from the sole at the edges when I finally gave in, the shoes were still very comfortable and waterproof. I originally bought these for light hiking when I moved back to Colorado, but they ended up doing everything from working in a warehouse, "honey-do's", and topping a number of 14er's. I am now searching for more of a minimalist shoe, but I do not think I will ever find a pair of shoes that will provide the provide the comfort, versatility, and longevity I got out of these shoes.
Great shoes especially on rocky uneven terrain where the stiff sole is put to it's best use. They are also on the heavy side. The gore-tex is a great feature and is definitely water proof but you don't really want to go stomping around in any puddles or streams with these, if you go in water above your ankle you'll have to take your shoes off to drain the water out. Other than that these shoes have served me well and been very durable.
This shoe fits, supports and protects my feet. I was a little concerned with how stiff they were out of the box but after a couple of break-in runs the kick arse on the boulder/rubble switch backs. They grip where others can not, my friend was slipping on small DG pebbles where I could stride thru without a spinning a wheel.
SEAYA
Great shoes, durable, and waterproof to the extreme. Definetly a good buy for any rough winter climate area. Great traction with no slippage even on the slickest of ice.
Waterproof but, durability & sole construction = LAME.
Waterproof and great cushioning. HOWEVER, that is the full extent of anything positive I can say about this shoe.

Durability is another thing (and equally, if not more, important). Unfortunately, within 3 weeks of standard use (running/disc golf/day hiking), the soles are falling off BOTH shoes and the rubber toe guard is coming UNGLUED on the right shoe. At this rate, I can only imagine what another month might do...

Initially, I was impressed at keeping dry running through shallow puddles, HOWEVER, having worn them for ONLY 3 weeks now, I can honestly say that North Face should be ashamed for putting this poorly constructed product on the market. 'Good-looking but un-functional' has no place in the outdoors (but, this seems the new standard for North Face). From other users reviews, my experience with the 103 GTX XCR is becoming a common trend with their shoes... buyer beware. Maybe NF will go back to producing durable and functional products some day, but reputations are hard to rebuild so it's likely a long uphill climb (in my opinion).

Lucky for me, backcountry has a great return policy so, after return, I will purchase either the Salomon XA Pro 3D Ultra GTX or the Vasque Velocity VST GTX XCR. From my research, these seem much more durable/functional (I will update this review if not).
This is a correction to my previous review. The XCR 103's didn't last long for me. They started to squeak really badly, fitment was always an issue even at the store... took me 3 pairs before I found a pair that fit right. And then the rubber pieces on the bottom of the shoes started ripping off. North Face warranteed them, and sent me the XCR 104's. GET THE 104's !!!!!!! They are WAY better!
I originally bought these about a year ago, North Face's previous model (same name, slightly different design). I had a hard time getting a comfy fit at the store, the heel was tight on most of the right sneakers... Until I found a pair that I was happy with. I had those for about 5 months, one of them started to squeak really bad and the edges of the bottoms were falling apart. North Face warranteed them (YEAH!!!) and sent me these, so far they are a huge improvement. I use them for work, hiking, random stuff and they are holding up great. They do run a little large, I got 11's and they are a little loose, as I normally take a 10.5. But I'm still happy with them.
I have had these shoe for 3 years now and I still wear them, mostly a winter gym shoe the xcr does keep the water out. The problem I had was that the sole started to delaminate (come unglued) around the ball of my foot on the sides of the shoe, it caused it to catch on carpet and would not be glued back into place even with gorillia glue. The shoes durability is not in question they are 3 years old, but the sole has been having problems for at least 2 years, hence they have been relagated from the field into the city/ town as regular sneakers.
I just used my XCR 103s for elk hunting in the Washington Cascade Mountains after my Danner boots shredded my heels. No joke: a three-mile round trip across uneven terrain; up and down 800 vertical feet of scree and switchback; soaked 'em in a creek on the way up in 25 degree weather . . . they performed with amazing efficiency. I never got to test them with meat on my back, though!
if this is the shoe that fits your foot, then you can't go wrong. I only wish the ultra 102 ws still available. I miss the secondary "gaitor" lacing system. this allowed for custom adjustment of the fit for those of us with different size feet. the combination of sensitivity and durability is hard to beat. hard to find a better performing shoe.
These were the most uncomfortable shoes for the first 2 days. However, they're amazing after the first few days. Very comfortable for everyday use. I haven't taken them on the trail yet, but the traction looks like it could be better.
Love these shoes. They do a great job of controlling mild/moderate pronation. I've worn them on four ultra trail marathons (including two Wasatch 100's) and have been please. Just disappointed the dropped the XCR-free version. If you are running in these size UP. I wear a 11.5 street and wear a 12 (and 13 for 75 mi +)(if they made a 12.5 I'd be in heaven).
Great pair of shoes. I went with a 12 because I had a pair of North Face shoes before that ran a little narrow. These seem to be a little too big, but work great with comfortable socks. Great grip and great for trail running/light hiking.
These shoes are more of a looker than a performer. The waterproofing worked well until tears developed in the crease areas. It only took four months of daily trail use. In addition, part of the tread started to come off in the first month before I ever even wore them on trails. They are definitely not "hardcore trail runners." If you are in the market for a pair of shoes that look good, and temporarily keep your feet dry, then these are the shoes for you.
While they did a good job at keeping my foot dry initially, they basically fell apart after three months of daily (mon-fri.) use. The soles de-laminated and holes developed in the places where the shoe creases. Honestly, I thought I was getting a shoe made for serious use in the outdoors, instead I bought an attractive shoe that performed for a couple of weeks then fell apart. North Face should be ashamed of themselves, they used to pride themselves on making truly reliable outdoor gear. This shoe is worthless for what they advertise. You might as well buy any other sneaker, im sure they will perform as well and will probably cost less.
Like em... but not sure I think they are trail runners
These are great shoes... can be used for hiking, snoeshowing, or just about any sport. In addition, they are great to wear around town (especially in rain/snow)...the waterproofing works well! These shoes are definitely on the heavy end of a running shoe... I would probably go lighter unless you are traversing sloppy terrain. I think of them as more of a lightweight hiking shoe and a great one at that.
I've seen a few reviews mention that these...
I've seen a few reviews mention that these shoes run large. I normally wear a size 12 in most other shoes -- should I stick with the size 12 or get them in size 11.5?
I normally wear a size 11, and I ordered both 10.5 and 11. 11 fit me best.
I've had about 6 pairs and I use them for everything!
Has TNF discontinued the 103 XCR?!?!?!?!...
Has TNF discontinued the 103 XCR?!?!?!?!?
they sure don't stay around long. if you like them, get them while you can, because they've already come out with the ultra 104. I see the 103xcr for sale quite often still.
Freakin' great shoe...yes it is a hiking shoe but I do everything in them...basketball and softball.
They hold up great...extremely tuff shoe!