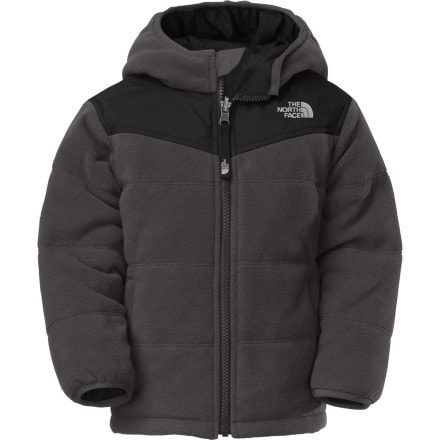 The North Face True Or False Reversible Fleece Jacket - Toddler Boys'
View Larger Image
Detail Images
Description
There are always two sides to every story, even when told by your little boy.
The North Face Toddler Boys' True Or False Reversible Fleece Jacket won't help your little monster tell the truth when it comes to who painted the dog purple or cut his baby sister's hair, but it will help keep him warm. When "someone else" spills a milkshake down the front or puts muddy paw prints all over the sleeves, flip it inside-out for a clean, if not fresh, start.
Constructed with a taffeta body made entirely from recycled polyester, the True or False reverses to soft and snuggly Polartec Classic Micro fleece. The slick polyester side is easy to wipe down, just in case the juice doesn't stay in the box. The fleece side feels soft against his skin, but also puts up a barrier against a light breeze when facing outward. Horizontal quilting through the taffeta side holds Heatseeker Aero insulation in place so your little man doesn't feel any cold spots even after he's been writhing in his car seat for two hours.
Welt hand pockets on both sides give your son hiding places for snowballs, boogers, and dead bugs. A fixed hood adds a touch of warmth, presuming you get him to actually keep the hood atop his head. It's true your little monkey loves to run around outside, but it's entirely false when he tells you he doesn't need a jacket and he doesn't know how the sled got lodged in your neighbor's fence.
100% recycled polyester taffeta, DWR coating
Polartec Classic Micro fleece (160 g/m2)
Heatseeker Aero insulation
Fixed hood
Welt pockets on both sides
Embroidered chest logo on both sides