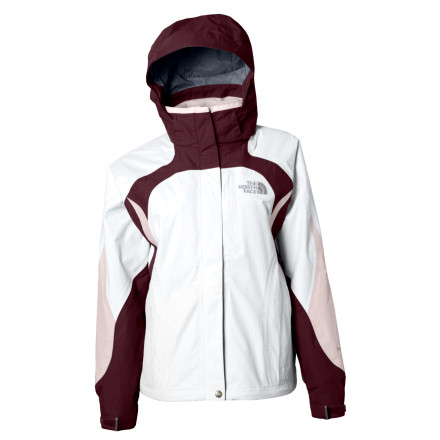 Detail Images
Great everyday jacket and more
This jacket has been great for me. I've used it for years... on an everyday basis and also as a shell for outdoors activities. It seals up nicely at the wrists and the neck. It's also pretty water-proof.
what colors are this jacket available...
what colors are this jacket available in...since i see the white is discontinued?
Unfortunately, That's all for this coat. But make sure to check out the selection of women's Triclimates,you're bound to find one you like. http://search.backcountry.com/?g=Women&i=1&q=triclimate&u1=q&u2=g&x=0&y=0
I need petite sizes. Are they available...
I need petite sizes. Are they available at this web site?
Do you have petite sizes for any of your outerware?
Unanswered Question
what is the best jacket for a freshman at...
what is the best jacket for a freshman at college in Boston- who has to walk a lot and long between classes, can you please recommend gloves and hat to go with it?
will this jacket help me survive the Chicago...
will this jacket help me survive the Chicago winter? (I am here until December), and is it bulky? I am 5'5" and 117lbs, what size should I get?
I don't own this jacket but I'll try to guess for you since I am in Chicago too. It should be warm enough if you are wearing other cold weather gear too, including a scarf, hat, gloves, and maybe thermals. Make sure you're warm before you go outside. It's much easier to stay warm outdoors than it is to *get* warm. Also, if you don't spend much time outside (say you drive a car to work and walk a short distance to get into the building), then it's not completely necessary to have the absolute warmest jacket in December.
Overall, I really liked the jacket. I ordered the Sea Foam color. The liner looks light blue in the picture, but it is actually cream colored. Also, the liner is great to use seperately, but does not zip into the jacket like I thought it would. It does run a bit big, but will be good to fit a sweater under.
Unanswered Question
What are the accent colors on the white...
What are the accent colors on the white jacket? They look maroon and light pink in the picture. Or possibly brown and tan. What are they in real life?
I ordered the moonlight ivory and I must say the picture does not do it justice. It looks like white and tan but it's not white at all it is more tan and has high lights of light blue. The fleece underneath is light blue as well, not white. It fits perfectly. Others seemed to have a problem with the length but the jacket fit me like any other jacket should hitting at mid hip. I'm 5'3" 105 lbs and the XS fit perfectly. LOOOVE THIS JACKET!
I'm 5'8, 125lbs, got a Small. The jacket itself is great, I'm glad I got a Small (even though some people mentioned that it runs larger, but it's actually fine). It could have been an inch or two longer bc it just barely reached my hips, but I didn't want a parka, so it's ok, just something to keep in mind about Trinty vs. other North FAce women's jackets which are a bit longer. Backcountry service is great: fast processing and shipping.
For the petite ladies out there:
The XS is more like a small. There is room for at least two NF 200 fleeces under the fleece it already comes with. I am 5'1" and 117 lbs. and the only North Face jacket that has ever fit me is the XS NF Fleece Masonic Hoodie, which I absolutely adore. Lastly, not only is it too big but it's too short!
It's a great jacket. Lived up to it's description. I stayed warm and dry in several different climates. Good amount of pockets. Highly recommend this jacket
Great jacket, awesome quality
This is a great jacket, it was just as I expected it to be, and I didn't even start to wear it. I will on my trip to Peru next week. Can't wait to try it, I'm sure it will work out fine. It's comfortable, it has a lot of great features: the detachable hood, pockets, arm pits,etc. Great service from this site too!
A wonderful, first class jacket with a great fleece liner and hoodie. Totally recommend it. It does run 1 size bigger than what they claim. So medium is really large, small is really medium. Beware.
I love this jacket! The fleece is so incredibly warm and the jacket has protected me from wind, rain, and snow! I haven't really tested it in really cold temps since I got it in March, but I'm in Chicago, so that's still winter, and it works great for what I need. I definitely reccommend it to anyone.
I love love love this jacket!!! I bought it at the end of winter for next year, I had to throw away my old winter coat and needed a replacement. I was so happy to find this at such an awesome price, I especially love the fleece lining, will definitely come in handy when winter rolls around. Wish it was just alittle bit longer.
I love this jacket. I got it at the end of our winter for the next year. I have been using it as a light spring jacket, and it will also be perfect for snowboarding when I add the inner fleece. Love it!!!
I've been able to wear this coat in very cold and windy conditions, and also some great spring skiing conditions. I stayed warm in the cold and cool in the heat. The sizing seems quite accurate. The jacket has rocked!
i read on another site that the interior...
i read on another site that the interior fleece is actually a vest, not a long-sleeve full fleece. is this true?
No, it's a fleece lightweight fleece jacket. There are some that have vests, but this isn't one of them.
Unanswered Question
is it warm?
Nice jacket, nothing wrong with it. I choose the very similar Boundary Triclimate because the lining was a little softer.