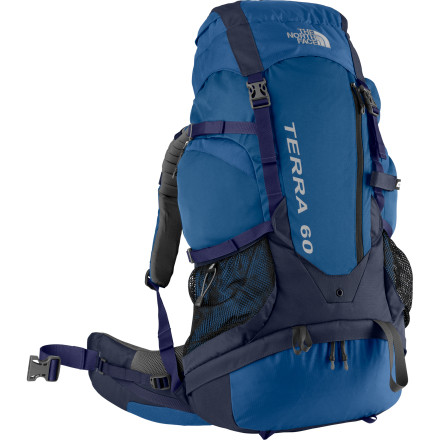 Community Images
THIS PACK IS PERFECT FOR SHORT BACKPACKING TRIPS, GOOD VALUE. THE SUSPENSION IS SUPER COMFORTABLE, PLUSH WAIST AND SHOULDER STRAP(S). DURABLE MATERIAL, STRETCH POCKETS ARE A PLUS. THERE ARE MORE EXPENSIVE PACKS W/ MORE FEATURES AND BETTER SUSPENSION BUT FOR $150 AND TNF YOU CAN'T GO WRONG.
where can you put your tent on this...
where can you put your tent on this pack?
You could take the poles out of you tent's storage bag, and store it horizontally on the exterior of the pack, towards the bottom by the sleeping bag compartment. You may need an extra storage loop or fastener or something to accomplish that but it's a nice way to free up space inside your bag and if your tent is light enough you won't notice the weight being on the outside. Plus with the poles being out, you can compress the crap out of the tent to do this. OR you could remove the poles (store them vertically in the main compartment of your pack) and put them tent in the sleeping bag compartment of the pack. Or you could store it inside the pack on the side, vertically. Or you could store it on the outside of the pack, on the side, vertically- looks like there are some really good gear loops for holding pads and such.
To anyone with this backpack, where do you...
To anyone with this backpack, where do you usually put your sleeping pad, since there doesn't seem to be any tiedowns on the bottom? Just curious.
The zipper on the bottom is the sleeping bag compartment. Thats where most people stash their bag, sometimes I'll stash a jacket there too for easy access if the top is loaded.
a sleeping PAD though? The packs I've used in the past usually had straps to hold it on the outside/bottom of the bag.
Best Answer
Tyson, sorry man, I read your question late yesterday and pad turned into bag in my brain. The two little webbing loops on the bottom would be great if you tie a loop of cording around your sleeping pad. That my suggestion at least. Sorry for the earlier confusion.
very wide,comfortable, padded straps for both the hips and shoulders. has a buckle top cover with a cinch closure to further rain-proof this pack. has a bottom compartment great for wet shoes or as a stuff sack for your sleeping bag. i can fit my TNF cat's meow bag in there with no problem. great for a weekend or half a week..
I'm thinking about buying this pack for...
I'm thinking about buying this pack for my girlfriend for christmas, and I'm wondering if the medium may be too much pack for her. She's about 5'6". We are going to be going on some multi-week travels, and we do some multi-day hikes.
Its possible she'd be fine, but packs that come in different size are really hard to fit for people without having them try them on. Luckily for you, if you order it off backcountry, you can always take it, see if it fits, hike in it, and worse case, send it back if it really doesn't fit her!
THIS PACK ALSO COMES IN A 55 WOMENS VERSION, THATS WHAT I TOLD MY GF TO GET AND SHE FITS ALL HER STUFF JUST FINE.
This is one heck of a backpack for the weekend hikes. I have used it in US as well as in Western Ghats of India. Its a pretty lightweight and the fabric streches, so you can stuff more. Only thing missing is the straps for holding the sleeping mat. Nevertheless, a great backpack serving from last 2 years!
Is a good pack, was comfortable on the last 4 trips I took. The only complaint I would have about it are the exterior pockets. They are fairly flat, even though somewhat stretchy unlike the Kelty pack that have more useful pockets. Overall been a pretty good pack though.
Better then my old USAF pack
I've used this once and love it. Went on a 16 mi hike in Land Between the Lakes, TN with no problems. Packs well with plenty of room. I'm new so I'm sure it will get even better. The outside pouches stretch quite a bit, enough to hold my fuel items and water filter. There's also plenty of straps and loops to attach items. There are plenty of adjustments to get the fit just right. Not sure about the sleeping bag compartment, it fits my light weight military bag, but looking forward to upgrading that next. Any recommendations on a 0-15 degree syn bag that fits would be appreciated.
I took my pack on two trips: One to Jamaica for a 1 week mission and the other on a 4 day camping trip. After these two trips I had two small holes on the bottom of the bag. I sent it back to Northface and I have to see what they'll do for me... Waiting for the results.
Went on a 30 mile hike on the AT and the pack performed great. I think I over packed a little but the pack held everything comfortably! The stretchy spandex outer pockets really allow you to cram a lot more than you might think into little areas. The inner pocket that holds a hydration bladder really came in handy. I put my MSR 4L bladder inside and was still able to put my tent, cooking supplies, a few clothes and food inside the bag. The only thing I put on the outside was my tent poles.. Great bag
does anyone know if i can bring this on a...
does anyone know if i can bring this on a plane as a carry-on luggage?
Probably if it was not full, but doubtful if it is stuffed.
Nope, it's dimensions are too big packed. Even empty the frame will probably make it too tall. I have the Solaris 35 and it is just small enough to fit.
I don't think so, I was considering the Terra 40 but it didn't seem to fit right and the internal frame was pretty lengthy. I'll have to check out the Solaris 35 (2100 cubic inches I think). I did check out the Kelty Redwing 3100 and I think it could pass as carry-on. Backcountry has it and I thought the dimensions and size of it was seriously close enough for carry-on.

Here's the link: http://www.backcountry.com/outdoorgear/Kelty-Redwing-Backpack-2650-3100cu-in/KEL0404M.html
Best Answer
I'm writing this from my phone while on a united flight, my girlfriend and I just successfully brought two of these as carry on
I just used it as a carry on on a Northwest Airlines flight from LAX to Detroit. I was super happy with it!
I've taken it on 3-4 Trips one to Hawaii and I carry it on every flight i go on. Shouldn't be a problem
I was thinking about getting a weekend...
I was thinking about getting a weekend backpack and there is alot of rain where I live. I have narrowed between this backpack and Rei flash 65 backpack. Anyone have recommendation between the two, if so why? I was also wondering if the Northface Terra 60 is 100% waterproof? I'm only 5'4 so would this backpack fits me ok if I get a medium?

Thank you in advance everyone!!
Best Answer
I haven't used the Flash 65 but the feature set looks comparable. I don't know what the REI warranty is, but North Face is lifetime. With regards to waterproofing, the Terra uses a coated nylon fabric, which is waterproof except for the seams- like most packs they aren't seam sealed. I personally don't carry any type of rain cover, and I can tell you from personal experience that it take quite a sustained rainfall to have to worry about any real amount of leakage through seams. If you keep your sleeping bag and clothes in stuff sacks in the pack, then even less to worry about.
I used this for a three-week backpacking trip through Europe. The bag was comfortable, reliable and sturdy. There were plenty of pockets, it was not too bulky, and the weight distributed evenly.

It has military-grade quality; it reminds me of my marine corps backpack.

I highly recommend it to anyone.
, ☃bcs_badge_alumni_label☃
So far so good
I have had no problems with it yet, the suspension system is very easy to fine tune how you like your pack to sit, and it adjusts great on the fly. Very easy to walk all day with it loaded to its max. I would even take it for up to a week, maybe even more.
, ☃bcs_badge_alumni_label☃
Not TOO much not too little
This pack is great. It is very convenient to use and very comfortable. It does not have any features that are too much and it meets all the requirements for a great pack. I have only used it so far on a two nighter but I know this will have no problem with a 3-4 nighter. The front access pocket is very convenient as well as the pocket on the top. This gives you a lot of options for things to put in a quick access spot. It splits in the middle which is always a plus making it so much easier to get things in the bottom of your pack.
Unanswered Question
I am 5'1, and weigh around 95 pounds is...
I am 5'1, and weigh around 95 pounds is this backpack ok for me ?
Unanswered Question
Will the terra 60 work well for a 5'6 113...
Will the terra 60 work well for a 5'6 113 pound female