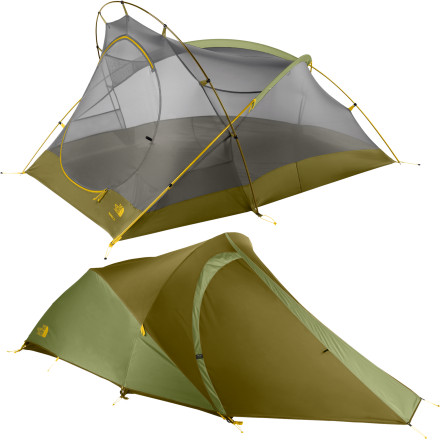 Videos

Community Images
Equally at home in the soggy Pacific Northwest or the arid desert southwest, The North Face Tadpole 23 Bx Tent outfits you and a companion for your outdoor adventures. This lightweight tent won't weigh down your pack on long treks, and the three-pole clip and sleeve pitch system makes setting up camp a breeze. When the weather's so hot and stifling that you're sticking to your sleeping bag, pull back the fly and expose the full-mesh canopy.
Fly and floor fabric features a PU coating and fully taped seams to protect you and your gear from wet weather
Bathtub floor design keeps seams off the ground to help eliminate seepage
Three DAC Pressfit poles provide structure and stability without weighing down your pack
Poles made with DAC's Green Anodizing process, which eliminates the chemical polishing stage, reduces the need for hazardous chemicals, and recycles water throughout the rinsing process
Unique but effective tapered rectangular tent design stands up to wind and harsh weather
D-Shaped door placed at the head of the tent enables easy entry exit with disturbing a sleeping partner
Large front vestibule (9sq ft) lets you keep wet bags and boots outside of your living space
26sq ft floor area provides enough space to fit two adults comfortably, and its cross pole creates a 40.5in ceiling height for sitting up when you get stir-crazy in a storm
Entire tent weighs less than five pounds for easy hauling in the backcountry, especially when you split the weight between a partner
Fully mesh canopy and large door enable superior ventilation during muggy mornings, desert trips, and to cut down on condensation during wet, cold nights
Color-coded poles and clip attachments help you pitch the tent fast, so you can get under cover quickly
Fast-pitch compatible; just carry the poles, fly, and footprint to save weight (footprint sold separately)
Once packed into its included sack, the entire tent package is only 6in x 23in for easy lashing to a pack or fitting inside a dry bag
Interior ceiling pockets and gear loops hold your headlamps, map, or other small accessories close at hand
Steel stakes are ultra durable
Compatible with triangle gear loft (sold separately)
Love it
Gender:

Male

Familiarity:

I've used it several times
Initial setup was intuitive and easy. The Tadpole is 100% free standing and the frame geometry is inherently stable, easily dealing with 30 mph desert winds in Joshua Tree NP. I like the bamboo green color and how the tent looks and build quality seems excellent. It's a bit scary bending the poles so much to fit them into the corner grommets and the mesh surfaces are very taught (perhaps too taught?) without any wrinkles whatsoever. I assume that with more use it will loosen up a bit. The zippered entry works smoothly and getting in and out is easy. The interior feels surprisingly roomy but is just a tad short - at 5'10" my toes or head sometimes touch the mesh. 2 people in this tent? A tight fit. All that mesh means a lot of fresh air and starry nights with no condensation worries, but I haven't had to use the rain fly yet. Inside are 4 conveniently located stash pockets and the additional g-string gear loft I bought from Backcountry.com installs perfectly and is practical. There are 3 guy lines included along with the usual skinny stakes, which seems standard for all tent brands in this price range. I'm supplementing them with some MSR Groundhogs. When packing up I rolled up the tent, rain fly, groundsheet, poles and stakes separately, yet everything fit easily back into the main tent bag. Is this a backpacking tent? Hmmm, might be a bit large and heavy for that but I'm mainly using it for car camping so this isn't an issue for me. By the way, I experienced excellent and prompt service from the gearheads at Backcountry.com - thanks!
hello. where I can get accessories for...
hello. where I can get accessories for this tent? seme lost the awning or covering of the tent
Your best bet would probably be to contact The North Face warranty department and see what they can do for you.
If you need a groundsheet or gear loft, Backcountry.com has them. Otherwise I think Laura is right, get in touch with The North Face.
Tadpole 2 was better
Familiarity:

I've used it several times
First, I will say that this tent is very solid, and stands up well to just about all conditions. I will also say that unless you need protection from bugs, there is virtually no point in carrying the "canopy" part of the tent. It is literally just a mosquito net. The tent stands up just as solidly when set up with only the footprint, poles, and rainfly. In wind, it's very breezy inside. This was not the case with the previous version, with which I had no condensation problems. I'm guessing that the "improved ventilation" version costs less to make. This might sound petty, but in the mountains, in cold winds, it is important. Still a pretty good tent for the money.
Great tent
Familiarity:

I've used it several times
This is a great tent for 1... maybe 1.5. If I were to take someone along of normal size I'd bring a larger tent. With only one door it makes for a tricky exit. It worked very well in Yellowstone (Rain, light snow) and up in Shasta.
Great one man tent
Familiarity:

I've put it through the wringer
This is a great one man tent. It's lightweight durable and easy to pack. However, if you are looking to put 2 people in this little guy than you might be a bit hard-pressed for room.
im looking between this and the big fat...
im looking between this and the big fat frog for high altitude camping and hiking
Best Answer
Hey Figmo,



You've got a thing for out of stock tents. Anyhow, they're basically the same tent, but I'm of the opinion that the Frog has a bigger and better vestibule and entry, even though it raises the profile.




Does anyone have a pic of this thing packed...
Does anyone have a pic of this thing packed down? I'm also on the fence between this and the Alps Mountaineering Zephyer 2.
I dont have a pic of this but I have seen the Zephyer and am a huge fan, but I really like 3 person tents, even for 2 people but the Zephyer is a solid tent! Alps makes some good tents, not the best but pretty good. Hope this helps you out!
My husband and I are looking for a new...
My husband and I are looking for a new lightweight backpacking tent and are debating between this and the Kelty Salida 2. We like the Kelty Salida 2 because it is lighter and a few inches longer (we are both tall), but have seen several reviews mentioning that it has a problem with condensation (our current generic brand tent collects condensation terribly and is greatly irritating). I know with a small tent that is something that is hard to get away from , and I saw a few people mentioned there was a little bit of condensation trouble with this tent, but does anyone have an idea as to how the two might compare? This North Face tent seems to have a lot more mesh; does more mesh always equal less condensation?
Best Answer
Hi Emily,



So why have you guys narrowed it down to just those two choices? I'll throw in a 3rd choice- the TNF Mica FL2. Lighter, longer, faster to pitch and break down, side doors and 2 vestibules, "hi-low" venting. Check it out.



More mesh doesn't always equal less condensation, although it does allow for better air flow than solid nylon. It's largely in how you pitch the tent and the air flow between the shell and the fly. That's not to say that you need to guy it out completely every time, just that spreading the fly out for more air flow is usually the best answer to condensation problems. Sometimes it's as simple as just getting the fly up off the ground a little.



Hope this helps.
I actually own the Tadpole 2 person tent and it is pretty small. It's perfect for just me, so I really like it. But I've had two people in it before and we basically were taking turns suffocating each other throughout the night. Plus, I'm a big fan of Kelty products.


You are both tall.... keep looking. I use my tp 23 as a 1p tent and I am 5'8" .


The tent itself is a great build- it's been holding up strong through years of use and abuse so far, and is still in great condition. I do like that it has a lot of mesh for ventilation, and the zippers are very easy to work. The size of the tent is my biggest challenge. This is technically listed as a 2 person tent- and sure, it does work for 2 people if you want to get REAL nice and cozy. I would personally prefer it as a 1 person tent on the regular. But for myself, I would prefer a little more floor space for 2 folks and for less weight. Overall, this tent is still a solid choice- just not my cup of tea!
The North Face Tadpole 23 Bx Tent
The first time I used this temp was during a torrential downpour while visiting Mammoth Caves National Park. Without any footprint, I figured my night would be at best a little damp. By morning time I realized there was not a drop of water inside. Great little two man tent. It would be a tight fit for two, but at least if someone has to get up they wont be crawling over the other to get out. The vestibule size is very roomy. Happy with the product.
My Tadpole 23 is about 10 years old. There is a reason the design of this tent has barely changed during that time (the internal wall on mine is not fully mesh). I have taken this tent backpacking, back country canoeing, car camping, you name it. It is an incredibly durable and sturdy tent, and 10 years later it barely shows wear and still sheds rain like it was new.



This tent is a bit big and heavy if you're backpacking solo, but is plenty efficient if using it for two. Its not exactly roomy for two but it gets the job done and the vestibule is big enough for two packs in a downpour. The design is good because it gives you room where you want it above your head, not above your crotch like many 2 person backpackers.



The beauty of this tent design is how solid it is when pitched freestanding (no stakes). Many backpacking tents will shake wildly in a serious windstorm but you will feel safe and secure in the Tadpole 23 in all conditions. The structure is so good you can pick up the whole tent and shake it with the door side down to "sweep" out the floor, and you won't feel like you might break a pole doing it. You will not be disappointed with this tent.
Perfect backpacking tent
Gender:

Male

Familiarity:

I've used it several times
Awesome tent, perfect for one, or very cozy for two consenting adults. I was lucky to find this at a discount, but even at full price its worth it. treat it right and footprint it you wont be disappointed.
Just Great
Gender:

Male

Familiarity:

I've put it through the wringer
I have used it several times. It is a great 3-season tent. Easy and quick to put together. I also spent a night in non-stop rain and the tent kept me dry. A few things to think about:

1. The tent might be too small for a very tall person.

2. No footprint - which is usually needed.
Great Tent!
Gender:

Male

Familiarity:

I've used it once or twice and have initial impressions
I just got back from my first run with this tent on a trip to Mt Feathertop here in Australia. This is a good tent with basic features suited to most non complex situations.



I did find that the tent is a little short however. I am around 6 ft 2 in tall, and found that when I was in my sleeping bag, i was pushing my hear against the door, and my feet against the end of the tent. Not a massive issue, however as the tent has limited airflow, condensation can result in the foot of your sleeping bag to get a little wet.



For condensation however, I did find that by leaving the vestibule door open slightly, this created enough airflow to stop most of the condensation.



The tent is also not 100% suitable for bad weather. The set up is not exactly simple, and due to the mesh inner, this means that a set up in the rain means you will definitely get a wet interior.



All in all, a good tent, one that I will use time and time again, however, only when the forecast is nice.
Great Tent
Gender:

Male

Familiarity:

I've used it several times
My fiancé was kind enoughto buy me this tent for valentines day. The tent is great. Don't let other websites fool you or steer you wrong with low ratings because the "tent is small". Yes, this is a small, know that when you buy it. It's a great tent, there is a reason the tent has been around for over 18 years. They thought of everything with this tent, no snag zippers, reflectors on the stake down spots, pockets for the door and even loops on the inside of the tent to hang things from. You may read "issues" with condensation, 2 easy steps to stop this with the understanding that you are in a small tent in which your body heat will inevitably heat the tent up and cause a small amount of condensation. Step one, use the guy lines and steak the side of the rain fly (2 extra straps) down and away from the tent. This will stop it from pooling up near the bottom. Second, the top of the rain fly zipper can be undone a few inches and the rain over hang is large enough to stop anything from getting in, but allowing air to ventilate in and help disipitate the moisture. My tent held up in the rain and wind of the beaches. I even sleep with my dog in it. The vestibule is large enough for your gear and the tent is spacious. If camping with a dog I recommend a drop towel to help protect against nails. I just use a old bed sheet, it has proven tough enough for a dog to walk on without fear of nails puncturing the tent floor. This tent is great and I truly recommend it.
After a lot of research and much deciding I finally came to the conclusion to get this tent. I was going on a 30 mile backpacking trip in the Rockies of Colorado. The weight, cost, reviews, and brand name were what sold me in the beginning. After 3 days of constant colorado rain at about 12,000 ft. I can honestly say I slept great and remained 100% dry. I can't say the same for my camping partners in their tent I wont name. Many people are saying this tent is crowded for two people Me(6' 175lb) and my tent partner(5'11" 150lb) had more than enough room in this tent. However on the last night of the trip it stopped raining and my tent partner did not know the universal rule of 'No food in the tent." He left a cliff bar in the side pocket, a mouse had climbed up the mesh and chewed a 1.5" diamater hole in the tent. Needless to say waking up at 2:30am to a mouse crawling on my face made me a little, um furious. So dont leave any food in the side pocket!!

Two thing I would buy and replace right from the get-go is the tent spikes, not very good for the sometimes hard CO ground. BUY the footprint you will be happy!

I contacted BC about getting a mesh repair kit because I did not expect anyone to give me a new one for something that was 'my' fault. They located the mesh repair kit for me, and said they would completely replace the tent altogether....WOW backcountry HIGHLY impress with the costumer service - you earned yourself a long time costumer!!!