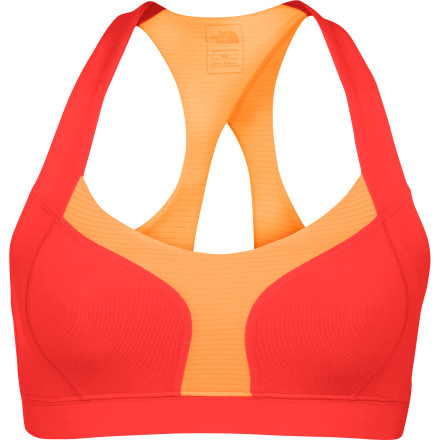 Your upcoming Bikram session is going to be a doozy, so make sure that you have the support and ventilation you need to endure the heat with The North Face Women's Tadasana VPR Bra. Designed with a unique back-strap design that's ideal for medium-impact sports like yoga and body-mapped ventilation to keep you cooler, this slim-fitting bra helps supply an extra smidgen of comfort during your otherwise-totally-uncomfortable workout.
This bra is so awesome. If they weren't out of stock I would order another for sure. I'm 5'6" and about 110 pounds with a pretty small bust situation, so it's been hard in the past to find something tight enough. The xs fits like it was made for me, and it is super cute. It also feels quite high quality and is supportive without constricting breathing or movement. Awesome!
I absolutely love this bra - covers enough without feeling too much like I'm still wearing a shirt and keeps everything in check. The ventilated back is stylish as well as comfortable. The front is still supportive even though the back is made of a softer/stretchier material.



Not good for larger cup sizes, I'd say good for A, B. XS fits my 5'3" 32A frame just right.
this bra is very supportive and tight. quality is High and look great. I have 32A and it helps for better look. Hope it is helpful.
great looking but built for a long torso
This is a great looking bra top and the material is comfortable. Unfortunately the length of the straps is too much for my normal size frame so there was nothing to keep my size B from bouncing. Would have been great if I could have adjusted those front straps