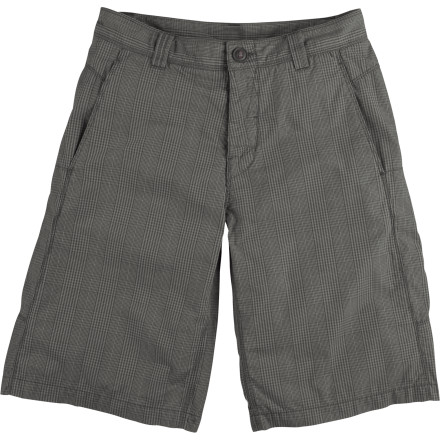 You live for your commute —there's no better way to get to work than your two-wheeled speed cycle. The only bummer is rocking the orange reflective vest on the way home in the dark. It really cramps your style when you pull up to your favorite watering hole. Ditch the vest and don The North Face Synkros Hayes Short. The Synkros Hayes features reflective taping, and the plaid versions even have 3M reflective nylon woven into the fabric, so when headlights or streetlights shine on you, you light up like a Festivus bush. A U-lock friendly back pocket and lightweight cotton blend make this short ideal for everything from the daily grind to midsummer night bike-powered pub crawls.
Reflective tape beneath flaps at belt loops lets you decide when you want to be seen
Ergonomic side seams are designed for riding
Button-fly closure means no more accidental zipper grinding
Nice stylish shorts with a nice button up function for the fly. reflective hints work well too.
These shorts have become the go-to in the closet. Nice light weight, great slimmer fit. The 11" inseam is longer than I usually wear (and I'm short) but they are very comfortable just at the bottom of my kneecap and look great. Good pockets with nice stripe/reflective detail when the back pockets are buttoned up. Yeah, they button opened or closed which is a cool detail. Have worn them hiking and they seem to be pretty durable too. The button fly is a bit of a pain because of the way the buttons are attached, but it is a small price to pay. Just to be clear, they are bike LIFESTYLE shorts, for commuting or just around town, they are not padded in any way.
What's the inseam length on the Synkros...
What's the inseam length on the Synkros Hayes, size 38, short?
About 11 inches my friend
These are very comfortable shorts. They couldn't fit better. Seem very durable, but still light weight and soft.